Never-Ending Roadworks Causing Stress to Residents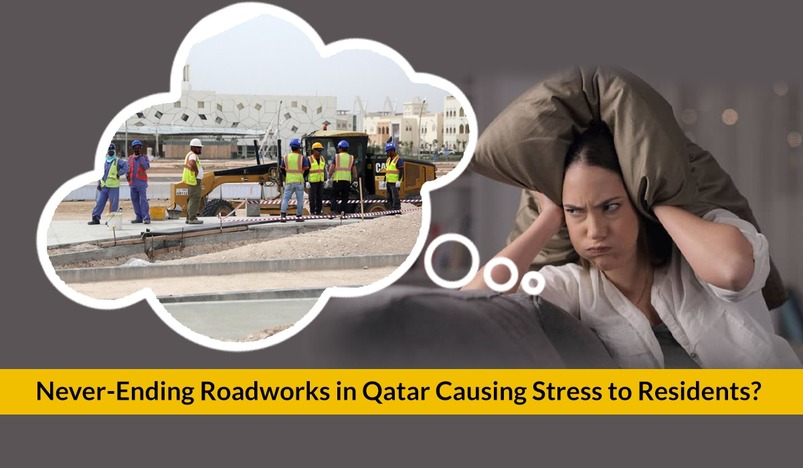 Construction complaints in Qatar
'Qatar Deserves the Best' – Ashgal visibly brings life to this slogan as it paves way for some of the eagerly awaited roadworks and construction projects ahead of the FIFA World Cup 2022.
"The FIFA-related projects have been a major catalyst for quite a rapid change in Qatar," says Pinsent Masons' Pamela McDonald.
While the world's biggest football tournament is creating much construction activity in Qatar, it solicited mixed reactions from the residents and visitors. 
Rushing to build new roads, houses, public transportation systems, and stadiums caused many residents to complain that "constant pounding and drilling" is keeping them up at night.
Are never-ending roadworks causing issues to the Qatar community nowadays? Here's what they say:
Note: The below statements have been shared by a number of Qatar residents who voiced out their construction concerns on social media.
Noise
"Are there any laws/regulations regarding construction at night? There is a building being built next to my apartment building, and they have workers 24/7. There is someone jackhammering right now and it feels like they're drilling into my skull. Surely there must be some sort of regulation against this."
"Is there any number you can call to report a construction site working at night causing unacceptable loud noises? I understand when they need to do concrete pouring during the night, but other works that causes excessive noise while you try to get to sleep or babies waking up because of their lack of consideration to the surrounding residential buildings is totally unacceptable."
"Can someone tell me if construction is allowed early on a Friday morning? Before it was not allowed during Eid or on fridays. I can't take anymore of this noise, along with my neighbors screaming kids." 
"Legally, what time are construction companies allowed to work until. I have one company doing 24 hour work 7 days a week next to my apartment which makes sleeping really difficult. Where can I complain?" 
"Can anyone help in directing me towards the right person/place/platform to complain about construction noise through the night? I've tried searching previous posts on this group but the comments are a bit conflicting. We've had a jackhammer keep us awake deep into the morning hours for the past few nights, right outside our window. Surely there must be a cut-off time for this? I'm hoping someone can help with a tried and tested route to go about this." 
"Lots of construction noise near me! Where can I buy ear plugs in Doha?"
"Any idea where to complain about abusive noisy construction? During Ramadan it was 22 hours daily. After 3 weeks of complaining to the Police, we (the big hotel besides us and some neighbors managed to get the police intervention. They were obliged to work from 6 am to 8 pm almost everyday. But they still continue to disrespect the law. And this morning with a great surprise, they have been working since 7:30. It is Friday and we are supposed to be off. All the neighborhood is complaining, the Police didn't do anything.We are exhausted, the noise is unbearable and no one feels comfortable to stay at home. And on top of that we are not able to sleep on the weekend. Any idea about the rules here? And the permission to work in a residential area? To whom to complain? Please advise."
"Guys, what are the official working hours for land drilling? There is construction going on outside my home. Just want to ensure they are doing within working hours because it is really annoying." 
Traffic
"I cannot stop myself from posting again. Due to road construction there is traffic all over the place and then people lose their patience. Seen one lose just now. They cannot do construction all over at the same time. Now some knowledgeable people will comment oh this post that its for betterment for us .. etc etc."
Rental Increase
"We are the same residents that have sat through years of traffic due to changing infrastructure for the World Cup, breathed in construction dust, patiently accepted that our children's education will be disrupted because of the world cup and now we are to be penalized by rent increases, not just for a couple months, but signing full two-year contracts. Don't get me wrong, I celebrate this monumental feat that Qatar will be achieving. However, if the government can step in to limit the cost of masks and rapid tests during the pandemic, I am hoping they can also step in to protect their residents by placing a rent freeze for the year 2022. Any guidance towards where we can broach the matter would be very appreciated. Thank you."
Inaccessibility
Meanwhile, a tourist left a review for one of the hotels in Doha to express his disappointment about his unpleasant experience during his stay in the country due to the construction near his booked unit.
"The not so great: nothing to do with the hotel, but with the World Cup coming in 2022, there is construction everywhere, making it hard to drive to and impossible to walk around."
Recommendations
An expatriate  has shared on social media these government guidelines from a newspaper clipping:
In respect of any works carried out during the period 19:00 hours to 6:00 hours the next day, on a Friday or other Public Holidays, the Contractor shall prior to works commencement inform all local residents and general public who are affected by the implications of the works to be carried out. Notices and announcements shall be issued in multiple locations, and residents/public cooperation and support shall be obtained as far as possible through public hearings and project awareness campaigns highlighting project objectives and benefits. The Contractor shall undertake all measures necessary to minimize public nuisance, including but not restricted to control of noise and restriction of dust, and maintain local access or provide adequate diversions or other agreed measures so as to limit the impact on daily life as far as possible. Upon receipt of any Government Department or Authority Notice, or any public complaints, the Contractor shall notify the Engineer immediately. The Engineer shall then instruct the Contractor on any necessary actions to take, which may include stopping work.
"There were a couple of posts in the recent past about Construction sites working at night and on Fridays. This is the government instruction to protect the rights of citizens and residents. However the construction of night works or Friday works are allowed during unavoidable circumstances."
There were also expats who commented on the resident's posts as they vented out their concerns over the construction issues in Qatar. As for instance:
• "Sorry to say there are no official working hours nowadays, they have to finish work on ASAP basis before summer, even then they will stop work only between 11.00 A.M to 3.00 P.M officially. Right now you can complain against them, hopefully it will work up to any level."
• "Depends on the permit that was approved by Ashghal and MoI."
• If it's too early, and too noisy, you can report it to the Environmental Health or the Police who will ensure they only do these works in suitable time frames.
• "Working hours for drilling? I would say whenever convenient for them since they need to be done before the heat of Doha starts."
• "If they have a permit you can not stop them. However if two three residents nearby file a complaint they can stop it at night. This is my personal experience."
• "I had the same issue. I called 999 and the police came very fast, and they shut them down during night hours."
• "I have been to the Municipality and asked about construction work. They told me that no one beside Government projects will have 24 hour work permits. So, in essence any construction outside of 6 am to 6 pm is not legal. And, during those hours they are only allowed to work for 8 hours, not the whole 12. Definitely, call the police. If it continues, go to the Capitol Police and file a complaint but take a picture of the construction company board info outside and have the location available. Also, take a video for proof. When the police called the company, they told the Captain they had not been doing any work and I had video to back it up."
Qatar Law
In an interview with Doha News, former Qatari justice minister and practicing criminal attorney Dr. Najeeb Al Nuaimi said that the Ministry of Municipality and Urban Planning (MMUP) and the police department are both responsible for handling residents' noise complaints.
According to Al Nuaimi, there is no clear legislation in Qatar regarding construction-related noise complaints. However, the MMUP has set general guidelines for contractors and construction companies.
According to Al Sharq, here are the guidelines on construction companies working hours:
Financial Districts: Permitted 24 hours a day Saturday-Thursday and 10:30am-1pm on Fridays
Residential Areas: Restricted from 6:30am-6pm, Sunday-Thursday, and from 8am-2pm on Saturdays
Note:
• A contractor must obtain special permission from the MMUP to operate outside of these hours.
• In these cases, the contractor must personally inform the neighbors prior to commencing the construction work, the regulations state.
However, the guidelines do not apply to many public projects, including the construction and maintenance of roads and government projects led by Qatar's Public Works Authority. Ashgal often says it works 24/7 on projects to get them done as quickly as possible.
Construction in Qatar has been beneficial by providing jobs, improving infrastructure, and making the country World Cup-ready.
However, there appears to be a lack of clear laws or guidelines regulating working hours on construction sites in residential areas in Qatar. There also seem to be no set penalties for violators.
Sometimes, dear brothers, when I see billboards on the streets that read: "Qatar deserves the best", I say it would be more correct to read: "Qatar deserves the best from its citizens". - His Highness Sheikh Tamim bin Hamad Al Thani, Amir of the State of Qatar.