National Traffic Safety Committee Observes World Day of Remembrance for Road Traffic Victims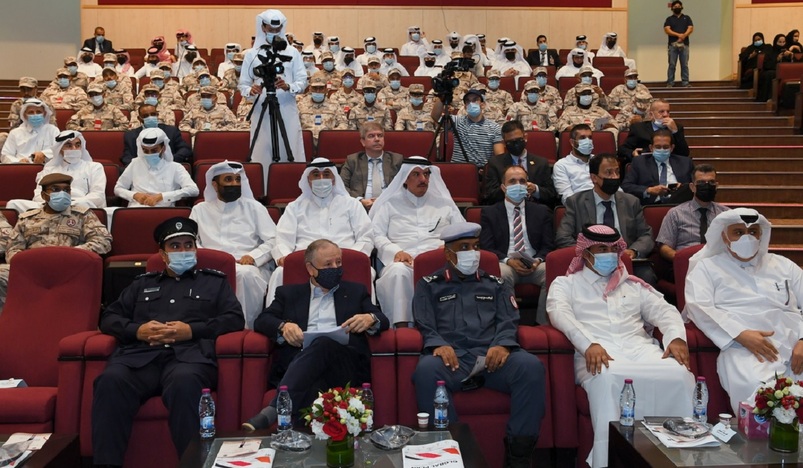 World Day of Remembrance for Road Traffic Victims (WDoR 2021)
The National Traffic Safety Committee commemorated the World Day of Remembrance for Road Traffic Victims (WDoR 2021) on November 21, 2021, which falls on the third Sunday of every November at an event held in the Traffic Directorate Auditorium. 
This year's World Day of Remembrance for Road Traffic Victims is observed with the theme 'Remember - Support – Act'.
Jean Todt, UN Secretary General's Special Envoy for Road Safety, Brg. Engineer Muhammad Abdullah Al-Maliki, Secretary of the National Traffic Safety Committee, and Brig. Muhammad Abdullah Al-Shahwani, Acting DG of Traffic and representatives of relevant authorities, addressed the event.
"We mark this day as an opportunity to look ahead; to identify and put in place measures to reduce fatalities and injuries in the Second Decade of Action of Road Safety", said Jean Todt, UN SG's Special Envoy for Road Safety.
"I commend the government of Qatar for its ambitious goal to reduce fatalities by an additional 25% by next year. As the host for the 2022 World Cup, you have a big platform to show your commitment to safe, clean and sustainable mobility", he added.
Brig. Engineer Muhammad Abdullah Al-Maliki explained that Qatar has taken advanced steps in road safety by establishing a traffic safety committee, drawing up traffic policies, and developing them in its various fields.
He added that Qatar has achieved great results in achieving traffic safety due to the efforts made and the traffic plans that are being implemented.
"On this day, we remember the tragedies caused by road accidents, and we recall the importance of traffic awareness of road safety", said Brig. Muhammad Abdullah Al Shahwani.
"Commemorating this day is also an occasion to appreciate the efforts made by police, ambulance and civil defence personnel in the field of road safety and dealing with traffic accidents" Brig. Al-Shahwani added.
Dr. Hassan Ali Saoud Al Thani, Head of Trauma and Vascular Surgery at Hamad Medical Corporation gave a presentation in which he spoke about the global rate of injuries due to traffic accidents and ways to reduce this rate. He highlighted the safe traffic system model, which is based on many pillars, the most important of which is the road user, safe vehicle, safe roads and safe speed, in addition to the safe road management system.
In the presentation, he discussed the pyramid of injuries, from injuries that do not need medical intervention to the accidents that cause death. He also reviewed the results of safety security reports and road safety measures in the past decade, which show a significant decrease in the rate of deaths and traffic injuries in the State of Qatar.
Dr. Muhammad Yusef Al-Qaradawi, Director of QU-CENG Qatar Transportation and Traffic Safety Center pointed out that Qatar University is aware of its responsibilities. It remembers, supports and acts within its capabilities to improve the reality of traffic safety and to reduce the fall of more traffic accident victims. As part of its research strategy, Qatar University supports professors and students to conduct advanced scientific research aimed at finding innovative solutions that can be translated into effective practical strategies that help in improving the reality of traffic safety by reducing the number of deaths and injuries caused by traffic accidents. 
Sheikha Ibrahim Al-Mansoori from the School Affairs Department of the Ministry of Education and Higher Education explained that the important role of the Ministry of Education and Higher Education comes in educating our students on the principles of traffic safety and preparing them to be fully aware of traffic safety standards to play their national role in saving lives and property.  Therefore, the Ministry was keen to integrate traffic safety standards with the standards of the developed curricula, encourage students in schools and universities to research evidence-based scientific research in the field of traffic safety, and promote innovation in this field, as well as coordination with the National Traffic Safety Committee to train teachers and coordinators to implement it.
The Global Plan for the Second United Nations Decade of Action for Road Safety (2021-2030) was launched during the event.
Source: Ministry of Interior