"National Sport Day Reflects Wise Leadership's Vision for Human, Society Development"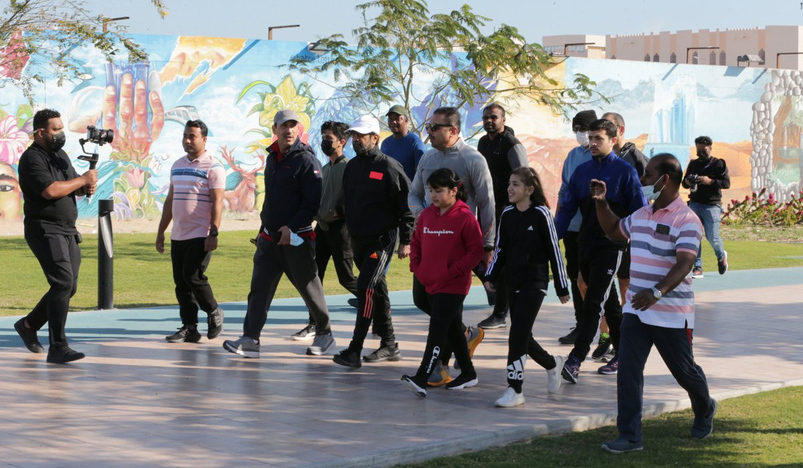 Jassim bin Saif Al Sulaiti
HE Minister of Transport Jassim bin Saif Al Sulaiti said, "The National Sport Day reflects the wise leadership's vision for human and society development. It represents an important message toward embracing sport as a culture and lifestyle for individuals and society."
He stressed the Ministry's interest in taking part in the National Sport Day along with transportation entities in Qatar to raise awareness of the importance of sport and its key role in community development and welfare, and to promote the practice of sport amongst all people to become part of a healthier lifestyle.
Marking the NSD, he said, translates the vision of partnership with all state entities to promote sport to help build healthy individuals capable of contributing to the process of development and to the Qatar National Vision 2030 where the human element is the most important pillar.
This year's celebrations were held at the 5/6 Park. The Ministry was joined by the Civil Aviation Authority (CAA), Qatar Aeronautical College (QAC), Qatar Airways, Qatar Ports Management Company (Mwani Qatar), the Hamad Port Project Steering Committee, Qatar Navigation (Milaha), QTerminals, Qatar Rail and Mowasalat (Karwa).
Today's program was rich with multiple sporting activities such as walking, the "Start with A Step" marathon, tug of war games, in addition to several competitions for all ages.
Today's events saw a large participation from senior officials and employees from the transportation industry and their family members, creating an excellent environment of high spirits and exuberance.
HE Qatar Airways Group Chief Executive Akbar Al Baker, said: "We are proud to be part in National Sport Day celebrations with the Ministry of Transport and to promote Qatar's 2030 Vision. By hosting a fun and active day for employees, we are encouraging them and other members of the community to incorporate healthy lifestyles and habits, and helping foster a healthy, safe and energetic way of living in Qatar. Conveying pride in Qatar is one of our corporate values, and we show pride toward Qatar by taking part in fulfilling its vision."
HE Director General of the Qatar Aeronautical Academy Sheikh Jabor Bin Hamad Al-Thani said that the National Sport Day is an important national occasion, and the celebration of the Sport Day reflects the interest that the State of Qatar attaches to sports and physical health. At Qatar Aeronautical Academy, we highlight all sports activities to create an interactive, active, and healthy community in an atmosphere of entertainment, fun and participation. He emphasized the importance of celebrating Sport Day as an annual tradition and called on all the Academy's affiliates and community members to practice sports constantly and at all times of the year and make it a way of life.
Mwani Qatar's CEO Capt. Abdulla Mohamed Al Khanji, said: Qatar sets an example for the region and the world in promoting sports and encouraging a healthy lifestyle that ensures the health and activity of the community and enhances its ability to be productive. He added, "We at Mwani Qatar are proud to participate alongside the transportation sector in the activities of this day, which comes within the framework of our responsibility and commitment to promoting awareness of the importance of sports and encouraging a healthy lifestyle among employees and their families and members of society.
For his part, Milaha President and CEO Abdulrahman Essa Al Mannai said: "Through participating in the Sports Day event organized by the Ministry of Transport, Milaha aims to establish a sport culture and promote a healthy lifestyle among its employees, in line with the company's social responsibility to develop and maintain people's physical, mental and professional capabilities, which contributes to increasing productivity and enhancing sustainable human development, towards achieving the Qatar National Vision 2030."
On this occasion, Mowasalat (Kawa) CEO Fahad Saad Al Qahtani said, "The Sports Day reflects Qatar's determination to promote sports and exercise for enhancing health and encouraging good manners. It also establishes the concept of "Sports for All" and turns it into a lifestyle: not only for individuals but for the whole society. Qatar is keen to enhance and develop its health vision and as a national company we feel responsible to add our share and organize regular sports events for all our employees. We also provide the necessary infrastructure and guidance. Today, we focus on the activities that promote physical exercise as a daily healthy routine and raise awareness about the importance of sports. This is in line with the corporate mission for promoting a sound lifestyle, which in turn contributes to achieving the Qatar National Vision 2030."
GCEO of QTerminals Neville Bissett, said: The Sports Day initiative promotes the importance of sports and fitness in enhancing people's lives and wellbeing, as well as encouraging individuals to adopt sports as a daily healthy behavior. He added that the participation of QTerminals' employees in Sports Day activities, along with the various authorities in the transport sector, comes from the company's desire to raise awareness of the importance of adopting a healthy lifestyle and its impact on their physical fitness and psychological wellbeing.
Hamad Port Project Executive Director Eng. Nabil Mohammed Al Khaldi emphasized that participation in the Sports Day's activities, under the umbrella of the Ministry of Transport and participation in the "Start with a Step" marathon, comes as an affirmation of HPP commitment towards encourage employees, through spreading awareness about the importance of sport and its impact on changing individuals' social life for the better. On Tuesday, the second week of February of each year, he said, the Sports Day comes to celebrate the personal sporting achievements for each individual and represents an ambitious declaration of another upcoming year that carries another beautiful promise of a life full of health and wellness, to be the basis of all other personal achievements of everyone among us.
QNA