National Museum of Qatar Unveils Pipilotti Rist's Your Brain to Me, My Brain to You Installation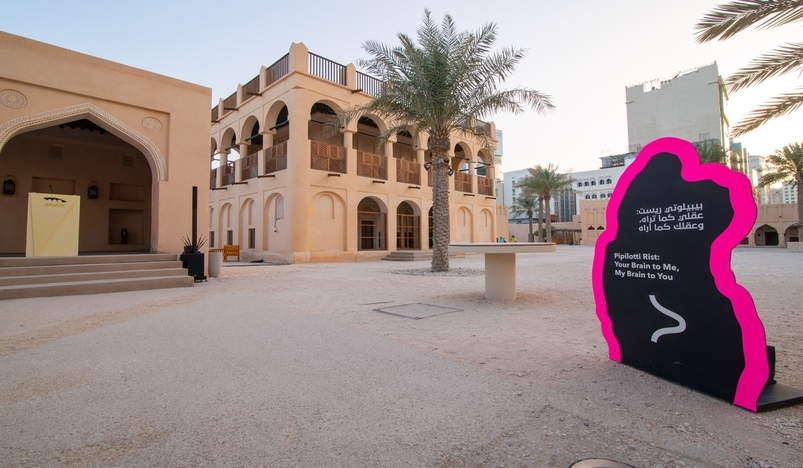 Multisensory installation charts pivotal moments in Qatar's history and inspires journey of self-discovery, led by pioneer of spatial video art 
Doha - The National Museum of Qatar (NMoQ) presents Your Brain to Me, My Brain to You (2022), the first museum installation in the Middle East by internationally renowned Swiss artist Pipilotti Rist (b. 1962). The large-scale, immersive video installation follows the museum's tradition of commissioning site-specific artworks to meet the unique dimensions of its gallery space. Your Brain to Me, My Brain to You, on view from 21 March through 20 December 2022, will be accessible to hundreds of thousands of visitors expected for the FIFA World Cup Qatar 2022.
Rist's installation – curated by Qatar Museums' Curatorial Advisor, Tom Eccles, and NMoQ's Head of Exhibitions, Bouthayna M Baltaji – invites visitors to embark on a journey of self-discovery through a multisensory experience that inspires introspection and awe. Your Brain to Me, My Brain to You symbolises humanity's collective unconscious and the power of the mind. 
Her Excellency Sheikha Al-Mayassa bint Hamad bin Khalifa Al Thani, Chairperson of Qatar Museums, said, "Visitors of all ages are sure to be captivated by Pipilotti Rist's dazzling artwork Your Brain to Me, My Brain to You, a journey of light and sound that plunges participants into the intricacies of the human brain while at the same time sweeping them across the natural landscape of Qatar. I am thrilled to announce that after its initial presentation at the National Museum of Qatar, this specially commissioned artwork will be permanently installed at Dadu, Children's Museum of Qatar, where it will be part of the future museum's stimulating and inspiring family experiences in the heart of Doha."
A key feature of Your Brain to Me, My Brain to You are "pixels" that comprise 12,000 LED lights strung on cables throughout the gallery for visitors to navigate. Representing neurons, constantly firing and communicating with each other, the pulsing resin-encased bulbs have been programmed in choreography with a soundscape and featuring abstract footage of Qatar's landscapes.  
"Generation after generation, the brain has exponentially grown and adapted to moments, encounters and experiences. As the world is forever altered following the pandemic, the brain continues to surprise and exceed expectations. We are faced with the question of how we can overcome the deconstruction of our perceived realities and norms," said Baltaji. "In equal parts enlightening and enchanting, Pipilotti Rist's spectacular installation invites us to recognise the array of emotions, interpretations, and the sheer capacity the mind is able to absorb and withstand. As they make their way through the exhibit, we encourage visitors to turn off their screens and prepare to experience the journey fully, shifting their focus towards activating different senses."
"This work is both a collective and individual experience. We want to understand what is happening inside the brain of the other. And culture is the main way to try to understand each other beyond language. I'm very much interested in rooms where people come together. Today, the electronic image is often separating us, everyone is looking to their own device. And then I'm searching for possibilities how we can use electronics as wonder lights to bring us together," Rist explains.  
Rist is no stranger to the visual interplay of large-scale audio-visual installations and deeper messages about humanity. Your Brain to Me, My Brain is inspired by NMoQ and the landscape, history, and people of Qatar. Following the trajectory of NMoQ – from early geology through the evolution of the Qatari people, pearling, oil exploration and the incredible growth of Qatar – the installation is a place for contemplation and awe. 
While abstract in nature, Your Brain to Me, My Brain is rooted in Qatar with colours, pulsating light movements, and a dymanic three layered soundscape mirroring the history and landsacape of the nation. The installation, referred to as a "pixel forest", inspires visitors to take a moment to reflect on their own mental well-being as well as consider that of others. 
The commission of Your Brain to Me, My Brain to You demonstrates NMoQ's commitment to sharing the most revered and respected artists from around the world with local audiences – and recognising the work of brilliant female artists. Rist's installation stands out as a room of self-discovery that allows museum-goers to attune themselves to Qatar's past, present and future. 
The exhibition highlights the museum's commitment to raising awareness of mental health as a cornerstone of wellbeing, which aligns with Qatar's healthcare sector's 'Are You OK?' mental health campaign. It is also supports the goals of the partnership between MoPH, WHO, FIFA and the Supreme Committee for Delivery and Legacy, which aims to make the FIFA World Cup Qatar 2022™ a beacon for physical and mental health promotion, and a model for ensuring future mega sport events are healthy and safe.
Rist's installation is being showcased at NMoQ in partnership with MoPH and HMC.
Dr. Salih Ali Al-Marri, Assistant Minister for Health Affairs, Ministry of Public Health said "This installation demonstrates our commitment to raising mental health awareness across a diverse range of cultural organisations and population groups. Specifically, engaging people through the medium of art to express themselves and connect to others in ways which surpass cultural, language and psychological barriers." 
As part of the commission, NMoQ has allocated two educational spaces inside the gallery, inviting visitors to practice mindfulness and to express their interpretation of Rist's installation in relation to mental well-being on a dedicated writing wall. 
Gifts inspired by Rist's installation, including fashion accessories and stationery, will be available for purchase from the IN-Q gift shop at NMoQ and online at www.inq-online.com throughout the duration of the exhibition. 
This exhibition contains flashing lights that may cause discomfort and/or trigger seizures for people with photosensitive epilepsy and other conditions with sensitivity to light.
In line with the COVID-19 restrictions imposed by the Ministry of Public Health to ensure the health and safety of the public, it is mandatory for all visitors to book tickets online ahead of their visit to the museum. For more details, please visit: https://qm.org.qa/en/visit/visitor-guidelines/