National Day: Art Liwan at Darb Al Saai Showcases Qatari Creativity Treasures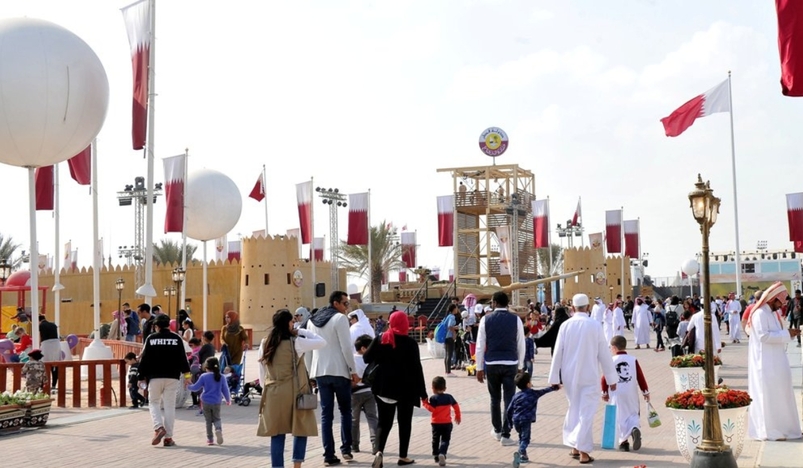 Darb Al Saai
The Art Liwan at Darb Al Saai showcases the treasures of Qatari creativity in the plastic arts, photography arts, and aesthetics of Arabic calligraphy, Islamic decoration, and ceramic arts. 
Located in Umm Salal Muhammed, Darb Al Saai hosts the activities of Qatar National Day, which falls on December 18 of each year and coincides with the hosting of the FIFA World Cup Qatar 2022. 
The Art Liwan in Darb Al Saai consists of a group of exhibitions: Pioneers' Liwan, Ceramics Liwan, Arabic Calligraphy, and Islamic Decoration Liwan, Qatar Aesthetics Liwan for Photography, and Art Workshops Liwan, with the participation of the centers affiliated with the Ministry of Culture, including the Visual Arts Center, the Qatar Center for Photography, and the Qatar Center for Stamps and Coins Collectors. 
The Pioneers' Liwan includes collections of works by pioneering Qatari plastic artists. It consists of a special part of the paintings of the leading Qatari plastic artist Jassim Zaini (1942-2012), one of the most prominent contemporary Qatari plastic artists, one of the founders of the modern art movement in Qatar, and the first elected president of the Qatar Fine Art Society. He held the position of director of the museums and antiquities department of the then Ministry of Information. 
The Jassim Zaini section includes a visual presentation of his studio, samples of his work, certificates, documents, and part of the press and media coverage of his exhibitions, activities, and participation. 
Furthermore, the Pioneers' Liwan includes selected works by senior Qatari plastic artists, including Hassan Al Mulla, Youssef Ahmed, Wafiqa Sultan Al Issa, Ali Hassan, Faraj Daham, Salman Al Malik, and Mohammed Ali Abdullah. 
Through these selected works, the exhibition provides an opportunity for visitors to Darb Al Saai to view fine examples of the experiences of these pioneering creators and the diversity of their artistic trends. 
Speaking to Qatar News Agency (QNA), Deputy Director of the Visual Arts Center, Shaima Ibrahim Al Sheikh, said that the Liwan Art event in Darb Al Saai returns with a new look and modern ideas that focus on the Qatari heritage and culture. 
The deputy director of the center highlighted the diversity of art exhibitions including plastic arts, ceramics, Arabic calligraphy, Islamic decoration, and photography, in addition to the distinguished participation of the Qatari Center for Stamps and Coins in Stamps and Coins Liwan. She added that the Art Workshops Liwan offers workshops in engraving, ceramics, Arabic calligraphy, and cartoon drawing under the supervision of Qatari plastic artists who present a summary of their creative experiences to visitors to Darb Al Saai.