Nasser Al Khelaifi unanimously re-elected as European Club Association chairman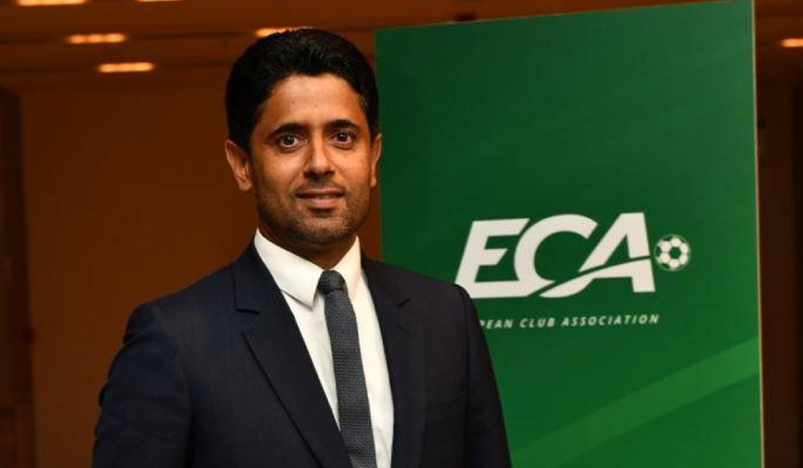 Nasser Al Khelaifi
The General Assembly of the European Club Association (ECA), which represents almost 500 clubs in European football, concluded on Thursday with Nasser Al Khelaifi being unanimously re-elected as its chairman for the next four years (2023-2027), after a Constitutive Board meeting.
The 30th General Assembly, held in Berlin, was attended by UEFA President Aleksander Ceferin and virtually by FIFA President Gianni Infantino, as well as various other high- level dignitaries. The discussions reflected on the last two years' progress, ECA's landmark new MOU with UEFA, and plans for the ECA going forward.
While reflecting on the last two years, Al Khelaifi said: "The General Assembly of our leadership team was held at the President Wilson hotel in Geneva two years ago. We had spent the past 18 months wearing COVID masks and holding meetings by video and telephone.
"Everything was done at a distance. However, we opened our stadiums to store supplies and serve our cities – because football is bigger than just a sport. We found ways to connect with our fans despite the distance. Rather than being pushed apart, we pulled together – even if some wanted us to fail. And it was in Geneva where ECA set our course to where we are today.
"Since then, we have held General Assemblies, Board meetings, youth exchanges, workshops and network events in over 25 countries across Europe. We hosted ECA's first-ever Financial Sustainability Summit in Switzerland, and our first-ever Women's Football Summit in London which marked a milestone for women's club football."
Drawing on personal experience, he said: "I want to talk from my heart. You know, as someone from a small country like Qatar, I know what it's like to be an outsider; to be under- estimated and under-appreciated – but still to have big ambitions. That's why I have such a determination for ECA to help smaller clubs – and any club with big dreams. Don't let anyone stop your ambition; don't give up; keep working hard; keep believing in your goals. No matter the size of your club or the size of your challenge, your voice is heard here. ECA has collective ambitions threading together all our Sub-Divisions, and we are growing European club football side by side."
He continued: "We have come such a long way over the past cycle. There has been an enormous shift in the role clubs play in the decisions that shape European club football.
"Today, we are a dynamic, democratic, and inclusive institution – seeking influence and a voice for the many, not the few."
While reflecting on his time with the ECA and the ongoing relationship with UEFA, Al Khelaifi said: "Our partnership with UEFA is so important. We don't always agree – far from it. But we always discuss things constructively – with dialogue, common understanding, and searching for solutions. And, with thanks to President Ceferin and our UEFA colleagues, I am pleased to say that this morning we signed a new MoU with UEFA, which sets our path to 2030 as the sole representative of European clubs in Europe and worldwide. I want to be clear, as clubs we have obligations under our MoU – we must all honour them."
On Club Benefits Programme agreed between FIFA and ECA, Al-Khelaifi said: "73 per cent of players at the FIFA World Cup Qatar 2022came from our European clubs. Looking back to the World Cup in Germany 2006, clubs received nothing. Then after ECA was established, clubs received $40 million in South Africa 2010. Following our long and tough negotiations with FIFA, our club benefits have multiplied. Now, for each of the 2026 and 2030 World Cups, $355 million will be distributed to clubs worldwide, over 70 per cent more than the last World Cup."
Discussing the ECA itself, Al Khelaifi added: "By placing collective interests above individual interests, we have seen +89 per cent and +73 per cent increases in UEFA Club Competition solidarity for sub-division 3 and sub-division 4 clubs since the last cycle. There has been a +25 per cent increase in prize money for UEFA Europa League and UEFA Europa Conference League. By working on our relationships in Europe and worldwide, we have seen 440 clubs and 837 players around the world benefit from the Club Benefits Programme agreed between FIFA and ECA – even clubs outside Europe. By seeing football not just as a sport but as a social contract, we have used the potential and reach of all our clubs to make a difference in wider society. We have shown how we can come together for communities in Ukraine, Turkiye and Syria – and the new ECA Foundation will continue our important responsibility to society."
Looking into the future, Al Khelaifi said: "We will have an expanded Board and new Executive Committee which will be more representative, empowered and efficient than ever before. We will have a wider membership and new philosophy that will see ECA not only represent clubs who play in Europe, but clubs that are from Europe. We will be inclusive – vertically and horizontally – within professional football. We will have better resources and improved funding that will match our goals. I am often the first person to put pressure on our management team asking for more to be done for our members, more quickly. But honestly, what our team achieves for you with a limited budget is incredible." He added: "Everyone in the pyramid will benefit from ECA's work. We will not grow at the expense of other legitimate stakeholders. We will grow together with our partners and bring people with us. And we will aspire to make a difference every day, including by giving amazing services to you, our members."