Muslim pilgrims in Qatar expected to travel to Saudi Arabia for Umrah soon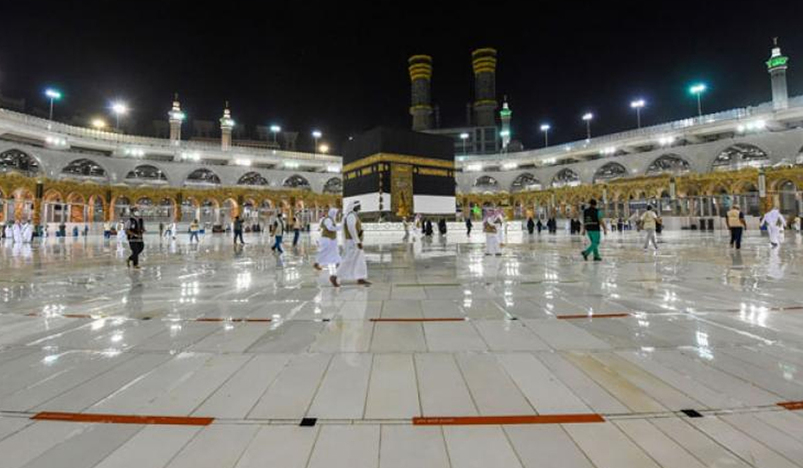 Officials prepare for the arrival of pilgrims in Mecca, Saudi Arabia hours before the pilgrimage is set to begin. Credit: Saudi Media Ministry via AP
Saudi Arabia and Qatar have recently agreed to reopen all airspace, land and sea borders, ending a blockade between the two nations that began in 2017.
As Saudi border reopens, a number of tour operators in Qatar have already started promoting Umrah packages in anticipation for the arrival of Muslim pilgrims in the country to travel to Saudi Arabia for Umrah soon.
As for instance, the Turath Travel LTD., posted on its website:
Meanwhile, AVENS Travel & Tours is currently accepting bookings for Doha to Riyadh direct flights. It has also been preparing packages for Umrah worshippers from Qatar, claiming that more of them will travel to Saudi Arabia directly from Doha for the pilgrimage.
Doha-based tour operators have been receiving inquiries for Umrah packages and they are expecting pilgrims from Qatar to travel to the Kingdom by the end of this month or the beginning of February.
What is Umrah and how does it differ from Hajj?
According to Hukoomi - Qatar's e-Government Portal, Hajj and Umrah refer to the pilgrimages to Mecca. Hajj happens once a year during Dhu al-Hijjah, whereas Umrah can be performed any other time.
As one of the Five Pillars of Islam, Hajj is the largest annual pilgrimage in the world. The number of pilgrims allowed is determined by Saudi Arabia. Muslims who are interested in going to Hajj must obtain permission ahead of time.
GCC residents, Qatari citizens and residents should register online through the Department of Hajj & Umrah website.
Suspension of Umrah in KSA
Saudi Arabia suspended Umrah in March and significantly downsized the Hajj pilgrimage in July by only allowing about 1,000 pilgrims, all in response to the COVID-19 pandemic.
Resumption of the Pilgrimage amid COVID-19 Pandemic
After a seven-month hiatus to perform Umrah and visit the Prophet's mosque, on Sept. 22, the Kingdom announced a gradual resumption of the pilgrimage in four phases.
Tourist offices abroad are following their contracts with the Ministry of Hajj and Umrah so that pilgrims can come to perform Umrah rituals.
In the first phase, which lasted for 14 days, 84,000 pilgrims were received — 6,000 people per day. A total of 210,000 pilgrims performed Umrah rituals during the second phase.
Pilgrims from Abroad Allowed for Umrah
International pilgrims are being allowed to perform Umrah as part of the third stage of the Kingdom's plan to safely resume the pilgrimage amidst the coronavirus pandemic.
The third phase, which started on Nov. 1, permitted pilgrims from abroad to perform the ritual alongside residents of the Kingdom.
During the third stage, the Grand Mosque in Makkah and the Prophet's Mosque in Madinah will be working at 100 percent operation.
No Covid-19 cases during Umrah
Saudi Arabia has received 5 million Umrah pilgrims and worshippers since the resumption of the rituals, said Minister of Hajj and Umrah Dr. Mohammed Saleh Benten.
He said that no cases of COVID-19 infections were reported among pilgrims and worshippers.
Strict preventative measures are being taken to ensure the safety of all pilgrims.
Read also: 5m Umrah pilgrims and worshippers perform rituals at Grand Mosque since resumption
Comprehensive information about Hajj and Umrah are available on Islamweb.
Featured topics include:
• Hajj virtues
• Hajj rulings
• Health tips
• Highlights
• Other general information
The portal also provides links to radio stations, children's resources, and other online services.