Mowasalat mirrors highest ridership days of World Cup over 2-day test drive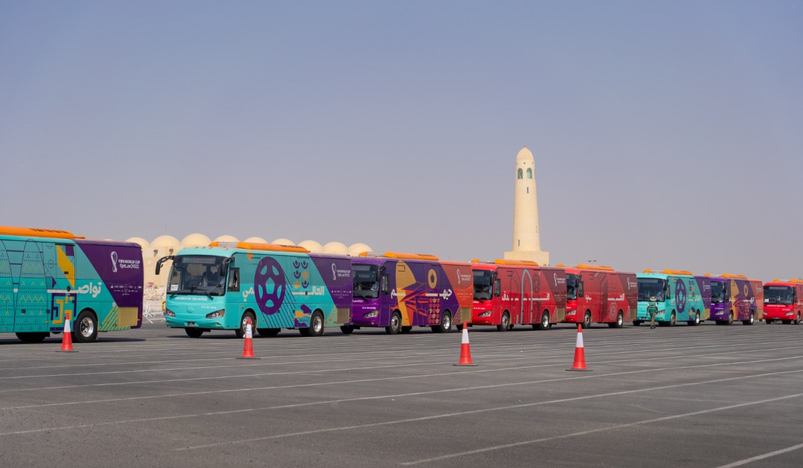 Tournament buses
In a mammoth operation carried out on the 21st and 22nd of September, Mowasalat (Karwa) executed a demo run to test over 2,300 tournament service buses across 80 routes, mirroring the days with the highest ridership during Qatar 2022.
The country witnessed a first-of-its-kind event, where a massive workforce, specially trained for the tournament bus services, went on the road, connecting 25 major depots and operation hubs for Qatar2022, among them Souq Waqif, the Fan Zones, West Bay, Umm Besher, Barwa Madinatna and Barahat Al-Janoub.
The objective of this test drive was to stress test the road network with a bus volume comparable to the one anticipated for the World Cup. The exercise also tested the efficacy of the last-mile support network as well as the various junctures for pedestrian crossing.
The tests carried out on both days included services to and from the major World Cup stadiums, transportation on the arterial road network within Doha and its environs, as well as airport connectivity services.
Testing the connectivity with other more distant depots, including the ones in Al Khor, Mesaimeer and Wadi Abu Saleel, was also an integral part of the whole exercise.
In this massive operation, the Ministry of Interior (MOI) and Ashghal also extended their wholehearted support to Mowasalat (Karwa) by closely collaborating in activities such as the preplanning of the exercise, enforcement of parking restrictions at bus stops for private vehicles, management of nodes with pedestrian conflict.
Fahad Al Qahtani, CEO of Mowasalat (Karwa), in his commendation statement to the teams involved, said: "The successful completion of this colossal exercise to test the transportation readiness of Qatar during Qatar2022 is a further testament to our country's readiness in hosting the global event. Once again, we have certainly demonstrated that not only will the overall Qatar2022 experience of the visiting fans be unlike anything they have witnessed in the past, it will also be further enhanced by the seamless and efficient transportation support provided by Mowasalat".