Morocco VS. Germany: TOD Streams Historic FIFA Women's World Cup 2023 Clash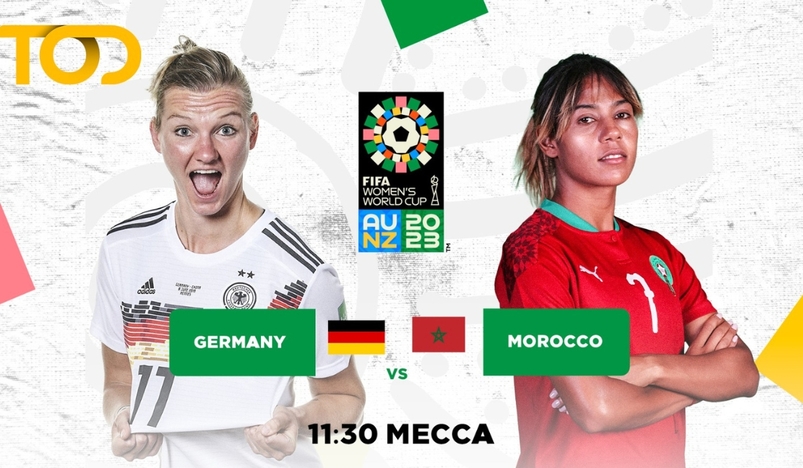 Morocco VS. Germany: TOD Streams Historic FIFA Women's World Cup 2023 Clash
The FIFA Women's World Cup 2023 is set to make history as Morocco, the first Arab team to compete in the prestigious tournament, takes on formidable Germany in a Group H showdown. The match will kick-off on 24 July at 11:30 Doha time, at Melbourne's iconic Rectangular Stadium.
Germany, the FIFA Women's World Cup champions in 2003 and 2007, are strong favorites in Group H. Despite its heartbreaking loss in the UEFA Euro 2019 final, Germany remains a powerhouse in women's football with an exceptionally talented and experienced squad.
The Atlas Lionesses' remarkable journey to the Women's World Cup has captured the hearts of football enthusiasts in the Arab world marking a historic moment for women's football in the region. The team's recent achievement of reaching last year's finals of the Women's AFCON though narrowly missing out on the title against South Africa, highlights its determination and rising international potential.
Under the leadership of Captain Ghizlane Chebbak, and the talented Rosella Ayane, Morocco has been meticulously preparing to face the world's best. Ranked 72nd in the FIFA world rankings, the second lowest of any team in the tournament, Morocco is coached by the accomplished Reynald Pedros, a two-time UEFA Women's Champions League winner with Lyon. 
"With the spotlight firmly fixed on the German and Moroccan national teams, football enthusiasts from the region eagerly look forward to this historic face-off, as it symbolizes the rising prominence of women's football in the Arab world," said John Paul Mckerlie, VP Marketing and Sales at TOD. 
All FIFA Women's World Cup 2023 matches stream live on TOD for the MENA region with users able to access on-the-go viewing, match highlights, and interactive timelines. For more information on streaming the matches please visit www.tod.tv