More than 2.5 Million Passengers Use Doha Metro During FIFA Arab Cup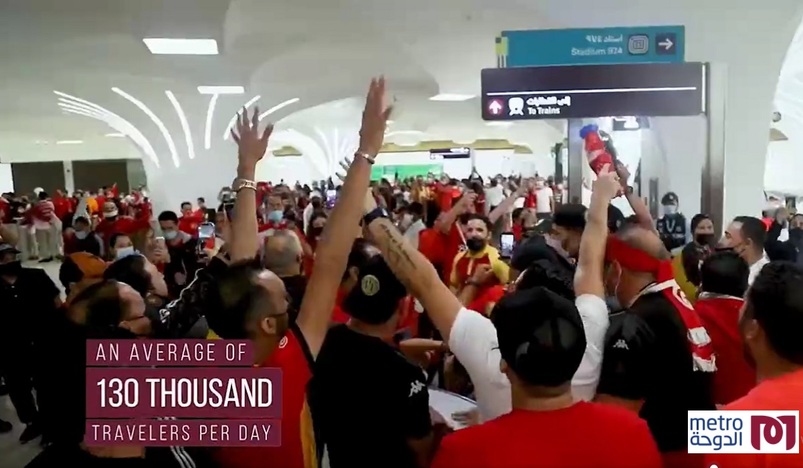 Doha Metro Station Updates
Doha Metro played a pivotal role in transporting the fans of the FIFA Arab Cup Qatar 2021. More than 2.5 million passenger used metro services during the tournament.
Chief of Strategy and Business Development at Qatar Rail, Ajlan Eid Al Enazi, said: "There is no doubt that this impressive organizational and operational success is the tournament is a result of joint efforts with our partners especially the tournament's organizing committee, the SCDL, and other stakeholders, all these efforts played an instrumental role in delivering a successful tournament, this kind of sports tournament represented an important opportunity for us to test the operational readiness and preparations for the upcoming the FIFA World Cup Qatar 2022."
The FIFA Arab Cup Qatar 2021 also constituted an exceptional opportunity to hone the expertise of national cadres and enhance the field expertise of the Qatari engineers and competencies working in the company. Al Enazi added.
As part of its unprecedented preparations Doha Metro extended it operational hours, as it was 21 hours a day throughout the week, except for Friday, when the working hours was 18 hours.
For the first time since the start of the metro operation, it had the 6-car trains on the Red Line, which contributed to doubling the capacity of the trains on that line, the entire Doha Metro train fleet, which constitutes of 110 trains were fully deployed in service during the tournament, Qatar Rail extended the working hours of Doha Metro services, reaching 21 hours a day throughout the week, and on Friday, when working hours reached 18 hours.
The Doha Metro stations is directly connected to three of the six stadiums where the Arab Cup matches were held, the fans headed to Stadium 974 through Ras Bu Abboud Station, to Education City Stadium through Education City Station, and to Ahmed Bin Ali Stadium through Al-Riffa Station, while the organizing committee of the tournament provided shuttle services to transport fans from stations to stadiums that are not directly connected to the metro network, where fans could go to Al Bayt Stadium through Lusail QNB station, to Al Thumama Stadium through the Free Zone Station, and to Al Janoub Stadium through Al Wakra Station.
The number of staff working around the clock in the metro network and stations has reached more than 2,500 including customer service staff & stations staff responsible for running the daily operations at the station and helping the fans. In addition, 283 directional signages with stadiums names had been placed inside the stations in coordination with SCDL to provide the fans with guidance.
During the 2022 FIFA World Cup Qatar 2022 and beyond, the Doha Metro is expected to provide an easy and safe way to transport visitors and guests to Qatar across the country, as well as being the fastest way to get fans between 5 of the eight stadiums that will host the FIFA World Cup Qatar 2022.
Source: Qatar News Agency