MoPH Takes Part in WHO Walk the Talk: Health For All Challenge in Cairo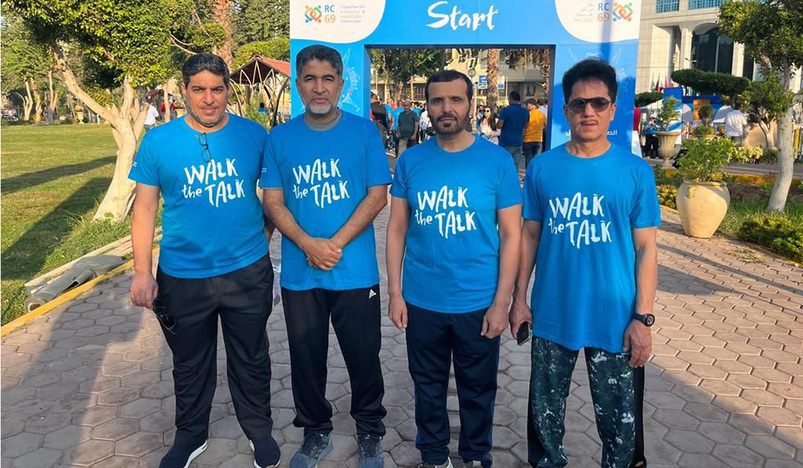 Walk the Talk
A delegation from the Ministry of Public Health (MoPH) took part in the World Health Organization's Walk the Talk: Health For All Challenge in Cairo.
Taking place before the start of the 69thsession of WHO Regional Committee for the Eastern Mediterranean, the Cairo event is part of the WHO's Walk the Talk initiative to promote health, and particularly physical activity, as part of a healthy and sustainable future.
During his remarks, and Assistant Minister for Health Affairs at Qatar's Ministry of Public Health, Dr. Salih Al Marri said, "With today being World Mental Health Day, it is an opportune time to highlight how regular exercise and activity not only support good physical health, but also our mental health and wellbeing." "The Ministry of Public Health is proud to be working with the WHO through our Sport for Health partnership, which also includes FIFA and Qatar's Supreme Committee for Delivery & Legacy. Working together, we aim to ensure the FIFA World Cup Qatar 2022, the first to be held in the Middle East, is the healthiest world cup in history. Sport and health are intrinsically linked, and this partnership is using the FIFA World Cup as a catalyst to raise awareness of health to a global audience," Dr. Al Marri said.
Speaking at the Walk the Talk Cairo event, Chair of the Supreme Healthcare Communications Committee, Ministry of Public Health, Ali Abdulla Al Khater, said, "Through the Sport for Health partnership, we are collaborating to host Walk the Talk Doha on 19 November, the eve of the FIFA World Cup. I invite you all to come to Doha, take part in Qatar's first edition of this wonderful event, and enjoy the Qatari hospitality." Al Khater explained that those who cannot make it to Doha can still take part in the event virtually by tracking their performance through a dedicated mobile app to celebrate the importance of health and wellbeing.
Walk the Talk Doha will begin and end at Al Bidda Park and two routes (3 and 5 kilometers) will take participants to key Doha landmarks, including the Corniche area and the FIFA World Cup countdown clock.
(QNA)