MoPH announces free urgent medical care for Qatar World Cup fans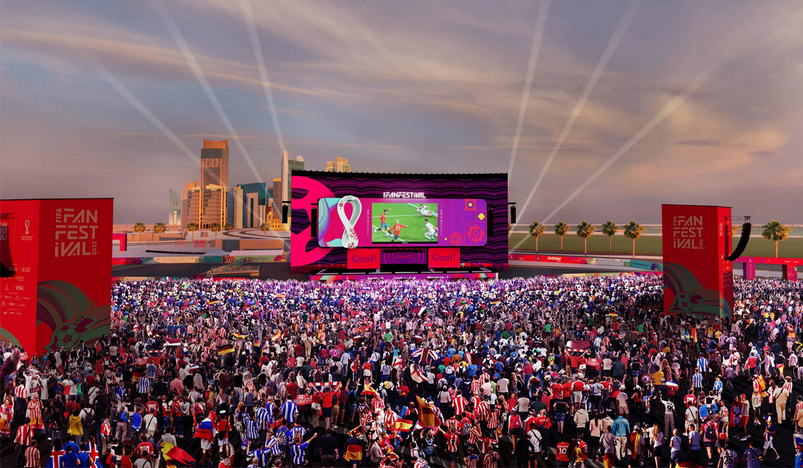 FIFA World Cup Qatar 2022 fans
According to a statement from the Ministry of Public Health, everyone traveling to Qatar for the FIFA World Cup 2022 can have free access to emergency and urgent care at Hamad Medical Corporation (HMC) facilities at any time. But the fans are urged to obtain travel insurance coverage to seek assistance from private healthcare facilities.
The Sport for Health website, which the Ministry just launched, states under the "Fan Health Information" section that in order to obtain these services for free, fans must show the medical facility their Hayya Card.
The Ministry of Public Health (MOPH) launched Tuesday a new website providing local and visiting fans with a wide range of information relating to FIFA World Cup Qatar 2022 healthcare services and health advice.
Speaking to Qatar News Agency (QNA) Chair of the FIFA World Cup Qatar 2022 Health Strategic Command Group, Dr. Ahmed Al Mohammed, explained that throughout the tournament, healthcare teams from the Ministry of Public Health, Hamad Medical Corporation, Primary Health Care Corporation, Aspetar, Sidra Medicine, Qatar Red Crescent, Qatar Armed Forces, Ministry of Interior, and Qatar Energy Health Services will come together to deliver a wide range of medical and support services to teams, officials and specialized temporary workforce groups such as media agencies, as well as local and visiting fans.
"The Ministry of Public Health is working with healthcare partners in Qatar to ensure easy access to medical services for football fans. Qatar's healthcare sector has expanded significantly in recent years and visiting fans will be able to access world-class medical services as and when needed," said Dr. Al Mohammed.
"In the unfortunate event of a medical emergency such as a serious injury or illness, fans can call 999 to request rapid emergency support from Hamad Medical Corporation's Ambulance Service. Operating 24 hours a day, 7 days a week, the Ambulance Service provides emergency support for life-threatening medical incidents and transfer to an appropriate hospital emergency department."
"A key part of our healthcare strategy is to enable easy access to care and reduce the need for fans to visit hospitals for non-emergency care. To support this aim, we have set up medical clinics in football stadiums, fan zones, and key accommodation sites run by public healthcare teams to ensure medical support is available in locations visited most frequently by fans. Qatar's advanced private healthcare sector will also play a significant role in providing medical services to visiting fans during the World Cup period, with multiple private healthcare providers operating 24-hour emergency and urgent care services. Additionally, four HMC hospitals have been assigned for walk-in patients requiring urgent but non-emergency medical care," added Dr. Al Mohammed.
In remarks to QNA, Chair of the Supreme Healthcare Communications Committee, Ali Abdulla Al Khater, explained that with more than one million fans expected to visit Qatar for the tournament, the Ministry is working hard to ensure everyone is aware of the healthcare services available and how to access them.
"The launch of the FIFA World Cup Qatar 2022 fan information website provides an online resource for football fans to get to know Qatar's healthcare system and the multiple options available to them for medical support. The healthcare sector is proud to play its part in supporting Qatar's hosting of the FIFA World Cup and our dedicated medical teams have been working hard to ensure our plans and preparations are complete ahead of the tournament," said Al Khater.
"Between now and the start of the tournament, we will be delivering regular messaging to local and international football fans through multiple media platforms. In addition to details of medical services available throughout the FIFA World Cup, we are committed to supporting a safe and healthy tournament through the issuance of public health information including food safety, sun and heat awareness, road safety and infection control measures. Details of all these important health areas can be found on the Ministry's new website," added Al Khater.
HMC's Sheikha Aisha bint Hamad Al Attiyah Hospital, Al Wakra Hospital, Hamad General Hospital and Hazm Mebaireek General Hospital will be dedicated to care for Qatar 2022 fans and visitors.
"Hamad Medical Corporation, Qatar's main public sector provider of specialist healthcare services, operates the national Ambulance Service, providing emergency support for life-threatening medical incidents and transfer to an appropriate hospital emergency department. 
"In the event of a medical emergency, you can request an ambulance by calling 999. Our operators will immediately dispatch an ambulance as well as provide life-saving pre-arrival instruction over the line, where required. The service operates 24 hours a day, 7 days a week," said the Ministry.  
"These urgent care units provide 24-hour walk-in care for patients with non-threatening medical needs, such as minor burns, sprains, severe headache or earache, high fever, dehydration and dizziness," it added.
A total of 14 private hospitals and medical clinics across the country will provide emergency and urgent care services. 
"Visitors coming to Qatar for the tournament can access medical care at any of the country's private or public hospitals, medical centres, clinics and pharmacies," said the Ministry. 
"Please note that the Ministry of Public Health recommends visiting fans have travel insurance coverage (with healthcare cover) for the duration of their stay in the State of Qatar," it added. 
According to the Ministry, there are also a host of special healthcare services that will be open in and around all FIFA World Cup-related events and locations during the competition period.
For children, although a majority of public and private healthcare centres provide medical care for specialized emergency and urgent medical services, the Ministry has recommended HMC's Pediatric Emergency Centres (PECs) or Sidra Medicine. 
"These provide high-quality, safe and compassionate clinical care to children," the Ministry has said.
The MOPH indicated that the new website can be found in Arabic and English via the link: https://sportandhealth.moph.gov.qa/EN/faninfo/Pages/Homepage.aspx.