Brendan Óg Duffy: Monaghan GAA U20s captain dies in car crash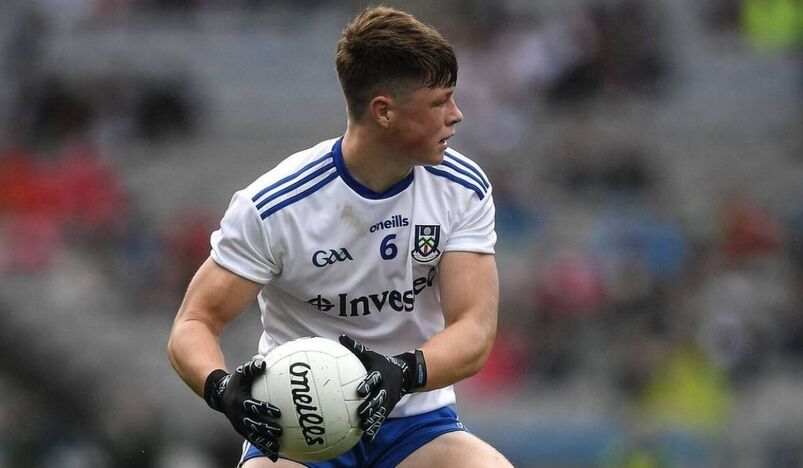 Brendan Óg Duffy
The teenager who died in a car crash in the Republic of Ireland on Friday was the captain of Monaghan's under-20s Gaelic football team.
Brendan Óg Duffy, who was 19, was driving home from an Ulster semi-final match when he was involved in a two-car collision in County Monaghan.
It happened on the N2 at Tullybuck near Clontibret shortly before 23:30 local time. Mr. Duffy died at the scene.
His Gaelic Athletic Association (GAA) club said it was devastated.
Monaghan Harps has postponed all club activity until further notice as a mark of respect to Mr. Duffy's family.
Floral tributes have been left at the gates of the club.
A few hours before the crash, the teenager had captained his county's under-20 team in a semi-final victory over Donegal in Enniskillen, County Fermanagh.
In a statement, Monaghan GAA said it was "deeply saddened" by his death and the organisation extended "heartfelt sympathy" to the player's family, friends, teammates and his club, Monaghan Harps.
"Our thoughts and prayers are with his family at this very difficult time," the statement added.
Monaghan's senior team played their Ulster GAA football championship semi-final against Armagh on Saturday afternoon.
Before the game the players observed a minute's silence.
Monaghan manager Seamus McEnaney said the overriding emotion for the team was sadness.
"Brendan Óg was my captain in 2018 when we won the Ulster Minor Championship and only those who have a captain-manager relationship can understand it.
"The trust, the loyalty and the love that was there - for me personally it is devastating."
Ulster GAA chief executive officer Brian McEvoy said it was a tragedy for the entire county.
"It's just hard to believe that a few hours earlier he had captained his team to reach the provincial final, they were on a high, and it's hard to believe before that evening was out, Brendan was dead," he said.
"It's just devastating for his family, for the Monaghan Harp club, for the Monaghan under 20 team which he captained so well and for the entire county of Monaghan and all the GAA family."
Gardaí (Irish police) closed the road on which the crash happened to allow forensic investigators to examine the scene.
The have appealed for anyone who witnessed the collision or who was in the area between 23:15 and 00:00 on Friday to contact them.