MOJ Opens Real Estate Registration, Authentication Office at Qatar Financial Centre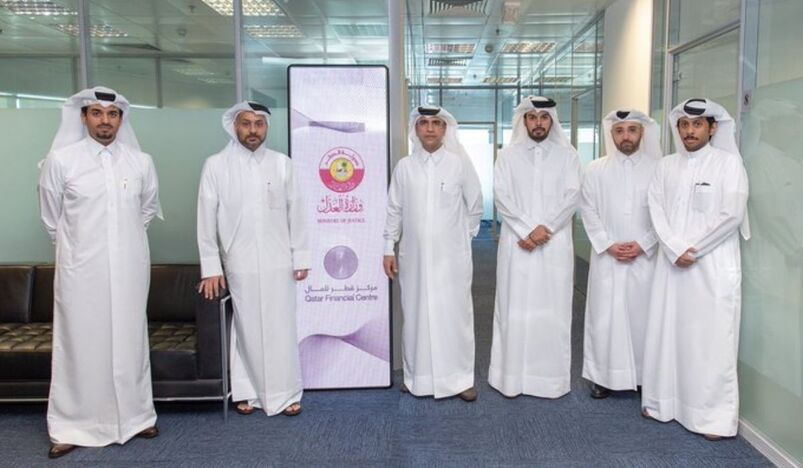 Officials at the launch of Real Estate Registration, Authentication Office at QFC.
The Ministry of Justice (MoJ) recently opened its Real Estate Registration and Authentication office at Qatar Financial Centre (QFC), to further expand its services to a variety of local and international investors.
Among an array of other facilities, the office will offer real estate registration and authentication services to investors at the QFC, making it easier for them to access the related services in a timely manner. The opening of the office builds on both QFC's and the Ministry of Justice's continuous efforts to support investors during their entire business journey.
Commenting on the opening of the representative office at QFC, Nasser Al Taweel, Deputy CEO & Chief Legal Officer, QFC, said: "We are delighted with the opening of the Ministry of Justice's office at the QFC that will allow QFC entities greater access to a portfolio of essential services. This is a significant step in the development of a more cohesive business ecosystem in Qatar in line with the government's efforts to make it easier to do business in the country. Main services that will be provided by the office are real estate registration and authentication services to QFC entities. It is such partnerships and integration that stand as a witness to the initiatives of the government to attract and retain investors."
Al Taweel continued: "QFC continues to undertake several legal and structural enhancements, together with process improvements, to encourage a broader range of professional and business services firms to be licensed, facilitated by streamlined processes, which has significantly improved the overall applications process. With the ability of QFC entities to own property across the country in line with the applicable laws of the State of Qatar and the relevant QFC regulations, the opening of the MoJ office will indeed facilitate such transactions."
"With Real Estate Investment Trusts (REITs) expected to flourish in Qatar's market as investors continue to look into diversifying their portfolios through affordable and low-risk routes with long-term returns, QFC has a unique regime for REITs within its platform. We encourage both local and international entities to use this unique opportunity and start their ventures at QFC. The MoJ office, now open at QFC, will provide vital support along the way," added Al Taweel.
Saeed Abdullah Al Suwaidi, Assistant Undersecretary for Real Estate Registration and Authentication Affairs at MoJ, said: "The inauguration of this office at QFC comes within the framework of the MOJ's strategy to expand its Real Estate Registration and Authentication offices across the country and in governmental entities to ensure easy access to real estate registration and authentication services, enhancing the country's attractiveness and business ecosystem."
Al Suwaidi noted that this office will serve local and international investors registered at QFC and has been equipped with latest technologies and logistics to facilitate access to integrated legal and business services, including fast and flexible digital services. It follows clearly defined guidelines and regulations for fair and transparent process to help businesses grow and compete in Qatar within a legal system that meets their aspirations and conform to Qatar National Vision 2030.
He also added: "The MoJ, under the guidance of HE Minister of Justice Masoud Mohammed Al Amri, is currently transforming manual operations to comprehensive e-services, without having to visit the Ministry or its service centres. This will ensure that applicants visit the Ministry only to obtain the legal or real estate documents, which will reflect positively on the quality of services provided at the Ministry's centres and outside offices."
Al Suwaidi has also indicated that the MoJ is a key partner in the Single-Window initiative, as well as in all governmental projects related to improving investment climate in the Country. "Thanks to these efforts, Qatar ranks first globally in facilitating procedures to obtain ownership according to World Bank's ranking of ease of doing business in 2020. These facilities are currently being offered through a single window in the Ministry's offices for the ownership and use of real estates in Pearl and Lusail, which serves the real estate investment industry generally and establishes adequate framework to receive investors from inside and outside the country. Moreover, the Ministry also provides authentication and attestation services for corporates' contracts at the Ministry of Commerce and Industry as part of its efforts to facilitate procedures for clients and investors," added Al Suwaidi.
The Assistant Undersecretary for Real Estate Registration and Authentication Affairs at the MoJ thanked QFC for this opportunity and support to the Ministry's plan to expand its services offered to clients and investors and expressed confidence that this experience will enhance the platform's mandate in attracting regional and international new businesses to register and conduct business activities in Qatar. (QNA)