Ministry Reviews Jobs Nationalisation Progress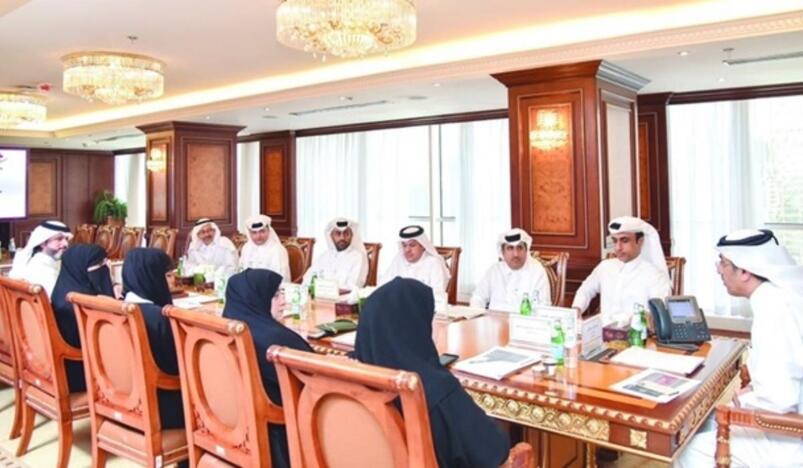 Ministry Reviews Jobs Nationalisation Progress
Minister of Labour: Phased plan within framework of a comprehensive strategy to enhance jobs nationalisation in private sector.
HE the Minister of Labour Dr Ali bin Smaikh al-Marri said that his ministry has launched a phased plan since the beginning of this year within the framework of a comprehensive strategy to enhance the jobs nationalisation in private sector, pointing out that the number of Qatari men and women who were recruited during the first nine months of this year emphasises the ability of private sector institutions to attract national talent.
HE al-Marri noted that the jobs nationalisation programme is not limited to providing jobs in private sector establishments, but rather creating training opportunities and reducing the gap between labour market needs and education outputs, in co-ordination with the Ministry of Education and Higher Education and educational institutions.
HE the Minister said this while presiding over the first meeting of the forum for jobs nationalisation in the private sector, in the presence of representatives of the regulators of the priority sectors in jobs nationalisation, including the ministries of: public health, education, commerce and industry, communications, in addition to Qatar Chamber, Katara Hospitality and Qatar Central Bank.
He explained that the nationalisation forum, launched by the ministry, will constitute a qualitative leap in the nationalisation programme for jobs in the private sector.
HE the Minister pointed out that partnership, co-operation and consultation with private sector companies and institutions is the best way to increase the rates of jobs nationalisation, noting the study of appropriate legislative options to achieve the sustainability of male and female citizens to apply for jobs offered through the "Kawader Platform", and to benefit from the advantages offered by private sector establishments for citizens within the nationalisation programme.
During the meeting, a number of proposals and projects aimed at strengthening the national programme for jobs nationalisation were reviewed, the challenges facing it, and the development of proposed solutions. The meeting also discussed nationalisation plans and the role of private sector companies in increasing jobs nationalisation rates, and opening new horizons for the ability to grow and create job opportunities.
The forum seeks to provide a platform that brings together representatives of the regulators of the priority sectors in the nationalisation of jobs; to exchange ideas and best practices in the field of job nationalisation and attractiveness to Qataris. The forum comprises different sectors; including: manufacturing industry, services, tourism and hospitality, information and communication technology, as well as the financial sector, health and education sectors.
(QNA)