Ministry of Labor sign MOU with Qatar Foundation to Qualify National Cadres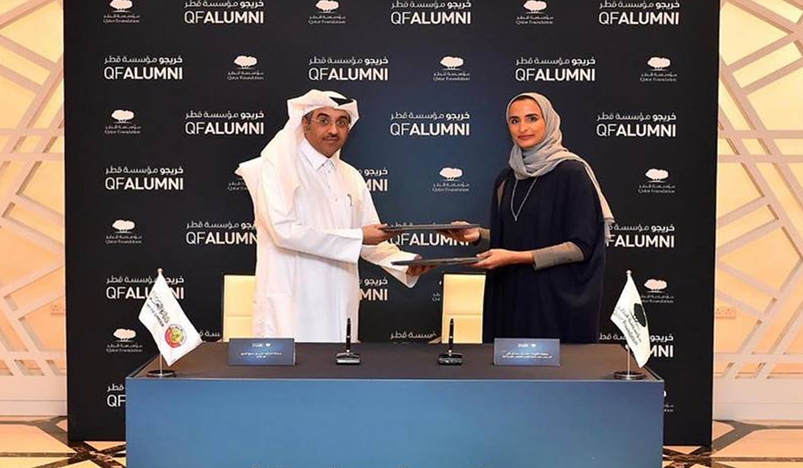 Ministry of Labor sign MOU with Qatar Foundation to Qualify National Cadres
The Ministry of Labor and Qatar Foundation signed a memorandum of understanding for cooperation in the field of localizing jobs in the private sector, through the qualification and training of national human cadres to get engaged in the labor market, and support the graduates of Education Citys universities for employment.
The memorandum of understanding was signed on behalf of the Ministry of Labor, by HE Minister of Labor Dr. Ali bin Samikh Al Marri, and on behalf of Qatar Foundation by HE Vice Chairperson and CEO of Qatar Foundation Sheikha Hind bint Hamad Al-Thani.
The agreement, which was signed on the sidelines of the participation of the Ministry of Labor in the Qatar Foundation Alumni Reunion, aims to exchange expertise and policies in relation to developing the performance of national human cadres, and to benefit from the experiences and policies of educational centers and institutions affiliated to Qatar Foundation in the field of qualifying and training national human resources to enter in the labor market, including Qatar Career Development Center (QCDC). It also included the establishment of joint cooperative committees between the two parties.
It also stipulates investing and developing training programs for both parties, and discussing the challenges that are monitored in the local labor market, by conducting the necessary studies.
The MOU is committed to holding workshops, conferences, seminars, training programs, interactive dialogues, and consultative meetings, to qualify national human resources and enhance their chances of entering the labor market in the private sector.
The participation of MOL in the Qatar Foundation Alumni Reunion stems from its role in attracting graduates, developing and employing national human resources in the private sector, by strengthening the capabilities and competencies of national cadres, professionally guiding and employing them, in addition to providing effective career guidance in accordance with the requirements of the labor market.
The ministry introduced its main competencies and the services it provides, in addition to presenting the plans and programs prepared with the aim of attracting national cadres within the national program for localization of jobs in the private sector.
MOL, has concluded the agreement within the framework of joint cooperation with Qatar Foundation to increase job opportunities for Qatari graduates in various disciplines, support and develop the Ministrys programs in the field of nationalization and increase the ability of national cadres to compete in the labor market in private sector institutions and companies. 
Source: QNA