Ministry of Interior launches Qatar Digital ID Card App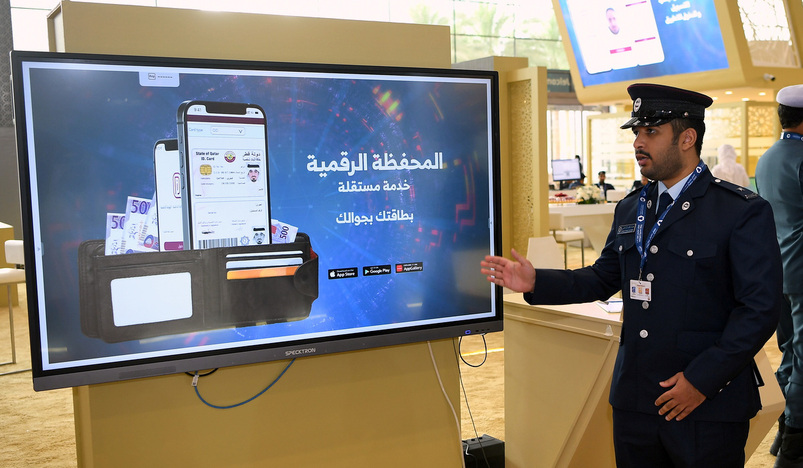 Qatar Digital ID Card App
On the sidelines of the 14th edition of the Milipol Qatar exhibition, the Ministry of Interior launched the "Qatar Digital ID Card" application service.
This comes within the framework of constant efforts of the Ministry of Interior to provide the latest and distinguished services to the citizens and residents, and to effectively contribute to the national digital transformation among all ministries and authorities in the State of Qatar, and within the efforts to achieve the objectives of Qatar Vision 2030 and the strategic plans of the Ministry of Interior.
The new service "Digital ID Card" provides the highest degree of trust in obtaining the digital identity of users through a secure and easy-to-use application that contributes to reducing identity theft crimes in cyberspace.
The facial recognition of users stored in the Ministry of Interior has been introduced as a key factor in digital ID formation. This is to authenticate the validity and authenticity of the identity of the persons eligible for the service and followed protection and security of electronic transactions over the internet to establish the concept of "secure cyberspace."
The identity of the users is also created and linked to a unique electronic signature of the persons, which includes national digital certificates that can be used by users through the application to approve electronic procedures and transactions to align with the laws and legislation in force in the State of Qatar and protect these transactions from forgery and fraud. It also provides a practical and reliable way to prove the identity of the signer on the transactions in order to avoid cases of denial of the signature and raise the level of trust in electronic transactions in the State of Qatar and at the global level.
In the same way, electronic seals are also introduced, which will enable the Ministry of Interior, as a first stage, and then all other ministries and various bodies, to electronically seal certificates and documents issued by them to protect them from tampering and forgery.
The application will also provide users with an easy way to access the electronic services website of the Ministry of Interior, as an alternative to using the current method, of the card reader for the plastic smart card.
The application will contain the digital wallet, which provides storage and access to services for the ID card and electronically signed and sealed transactions for individuals at the Ministry of Interior. The digital wallet includes cards issued by the Ministry of Interior, including a digital copy of the plastic Qatari ID card, driver's license, and vehicle license.