Ministry of Interior Affirms Readiness to Secure FIFA Arab Cup 2021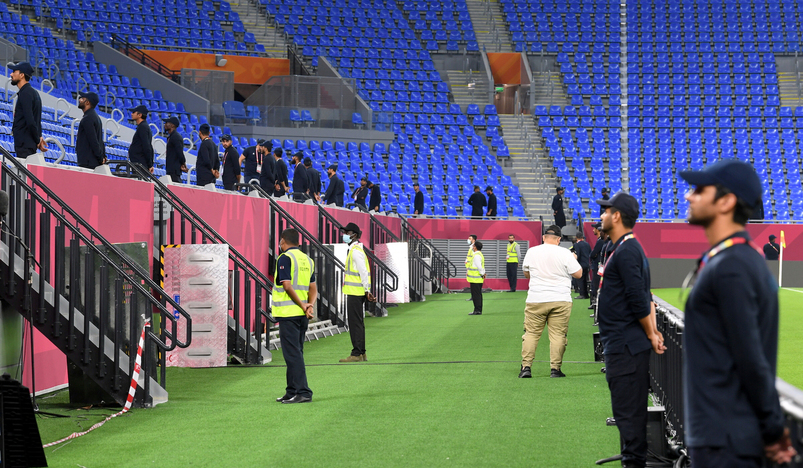 Ministry of Interior
The Ministry of Interior affirmed its high readiness to secure the FIFA Arab Cup 2021, which will start on Tuesday, Nov. 29, and continue until Dec.18, 2021, with the participation of 16 teams, in coordination and cooperation of all security units affiliated with the Safety and Security Operations Committee (SSOC) of the FIFA World Cup Qatar 2022.
The ministry aims to provide security and safety means for fans, players, and delegations participating in this major sporting event, and for the fans to enjoy the championship and encourage their teams in an atmosphere of safety, excitement, and enthusiasm.
Chairman of the Security and Safety Operations Committee for the FIFA World Cup Qatar 2022 Major General Eng. Abdulaziz Abdullah Al Ansari stated that the committee has developed a plan to secure the FIFA Arab Cup Qatar 2021, in accordance with the highest international security standards and the application of all security requirements required by the International Football Association (FIFA).
He explained that a comprehensive security plan has been developed that took into account the provision of security and safety for all parties, using trained security personnel and advanced security technology to serve the masses to enjoy watching the championship matches and encouraging their teams in a loving sports atmosphere.
He affirmed that the committee, with all its units, is fully prepared and ready to secure the tournament, and has conducted more exercises and training work and measured the capabilities of the manpower involved in securing the tournament to ensure the best level of readiness and preparedness while using the best advanced technological means to appear in an appropriate manner that reflects the advanced level and expertise units gained in dealing with major sporting events.
He noted that this sport event represents an opportunity for further evaluate performance and measure the readiness for the FIFA World Cup Qatar 2022 in accordance with international principles and standards and the ambitions that were planned, indicating that the work of the security units began sometime before the arrival of the teams, as well as with the work of the centers for issuing permits and fan cards.
Major General Al Ansari affirmed his full confidence in the success of the FIFA Arab Cup Qatar 2021, which is hosted by the country, as it is a continuation of the successive successes achieved by the State of Qatar in hosting major regional and international sporting events, as well as being part of the preparation for the largest and most important sporting event in the world, which is FIFA World Cup Qatar 2022.
He pointed out that there is a harmonious work system from all concerned parties, according to clear work mechanisms and strategies, despite the challenges facing all sports activities worldwide in light of the ongoing Coronavirus pandemic, adding that despite the Coronavirus challenge, the committee is keen to provide efficient and effective security operations, which will reflect positively during the organization of the World Cup 2022, and enhance Qatar's position on the international scene. 
SOURCE: QNA