Ministry of Education Organizes Academic Guidance Forum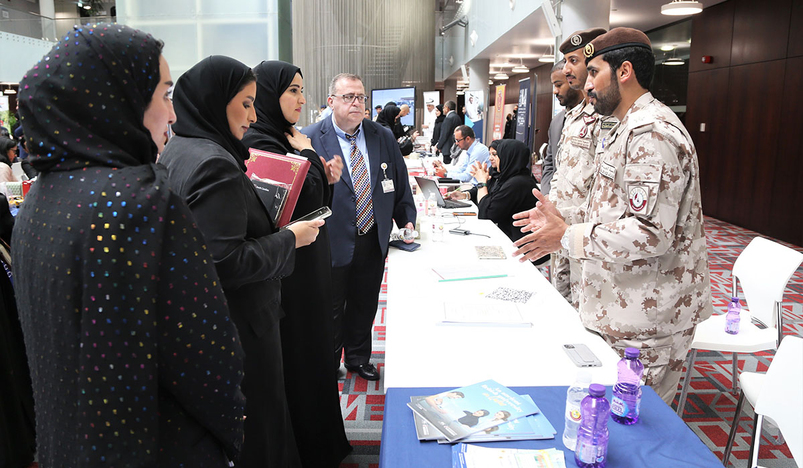 Academic Guidance Forum
Ministry of Education and Higher Education (MEHE) held Thursday the Academic Guidance Forum aimed at offering information on the post-high school opportunities as well as the Government Scholarships Program and the job market.
Addressing the form, the ministry's Assistant Undersecretary for Educational Affairs Maha Al Ruwaili said that the forum comes within the framework of the Educational and Vocational Guidance Department's relentless approaches to provide support and development for the male and female academic advisors to properly guide and prepare students for their university and future careers.
Al Ruwaili added that the forum will assist academic advisors at schools to inspire students and educate them about the variety of study disciplines offered by Qatari universities and colleges and the most needed specializations and professions in the job market in a way that copes with their talents and potentials and directly contributes to the development of human beings as one of the mainstays of Qatar National Vision 2030.
She highlighted the importance of academic guidance in collaboration with parents and the ministry's society partners on choosing the university major as one of the key challenges facing high school students and their families.
To face this challenge, Al Ruwaili said, the academic guidance process has been extended to include preparatory school students to broaden their horizons and career prospects.
She also appreciated the efforts exerted by academic advisors in the education process to support students of both genders to decide on their majors, urging them to direct students toward scientific and technological majors that cope with the government's increasing growth in the number of scientific research institutions and centers. The State of Qatar now has 33 scientific research institutions specialized in a variety of subjects including environment, energy, medicine, entrepreneurship and computerization, social studies, educational studies and humanities, technological inventions and sustainable development.
The forum offered a university display that gave information on the various majors offered in the country's universities, admission requirements, application deadlines, Government Scholarships Program for Qatari students, the Scholarships Program for non-Qataris and the in-need professions through meetings with representatives of the participating parties from different educational, university and military institutions as well as institutions relating to the job market and other partners supporting the ministry's Educational Guidance Department.
(QNA)