Minister of Sports and Youth Inaugurate Corinthia Golf Club on Gewan Island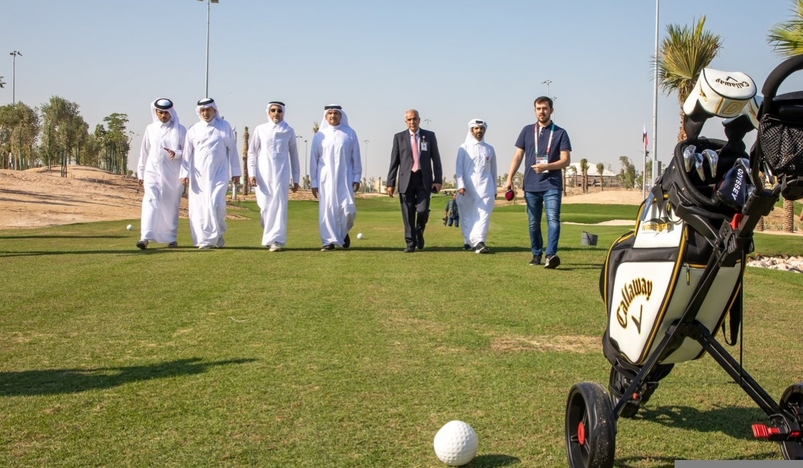 Corinthia Golf Club on Gewan Island
HE Minister of Sports and Youth Salah bin Ghanem Al Ali inaugurated Tuesday inaugurated Corinthia Golf Club on Gewan Island to form an addition to the series of facilities and landmarks that the United Development Company (UDC) recently opened on the Pearl Island in parallel with the start of the FIFA World Cup Qatar 2022.
The inauguration of United Development Companys (UDC) and run by Corinthian Group new state-of-the-art sporting facility falls in line with UDC's efforts to improve and diversify recreational and sports offerings, at its flagship developments to provide an integrated residential and leisure experience that fulfills the aspirations of all residents, visitors, and tourists alike.
Commenting on the inaugural, Chairman of United Development Company Turki bin Mohammed Al Khater said: "The opening of Corinthia Golf Club fulfils UDCs sustainable growth strategy which aims at developing hospitality and entertainment sectors, given the promising prospects they hold for the Pearl and Gewan Islands, in light of the increase in the number of visitors and demand for UDC properties and investments, which in turn drives UDC to provide comprehensive entertainment facilities and services." For his part, UDC CEO and Board Member Ibrahim Jassim Al Othman said "The inauguration of Corinthia Golf Club reaffirms that our projects and developments are proceeding in full swing as planned and demonstrates the depth and comprehensiveness of our entertainment vision through integrated facilities and leisure destinations which include Corinthia Hotel Gewan Island and its annex beach club, the air-conditioned Crystal Walkway and seaside promenade, and of course the recently completed Corinthia Yacht Club on the Pearl Island." For his part, Managing Director of Corinthia Doha Matthew Dixon said: "We are delighted to be launching the next phase of the wider Corinthia development in Doha. Bringing another tier to our launch following on from the Corinthia Yacht Club." The golf course consists of nine holes spread over sprawling greens of 32,000 square meters surrounded by 616 trees and 96 palm trees and adorned by two sizable lakes, within a total facility area of 57,980 square meters.
Gewan Island, UDCs latest real-estate project, is a reclaimed Island situated next to the Pearl Island, spanning 400,000 square meters. Once completed, the Island will be home to 659 residential units, including 586 apartments, 20 standalone villas located along a placid beach in a quiet and gated seaside community, as well as 21 beachfront villas with private beach, 26 waterfront villas that are equipped with private pontoons for private boats, and six independent island mansions, in addition to 11,000 sqm of retail spaces and 15 multi-use buildings.
Gewan Island will feature in addition to Corinthia Golf Club, the five-star Corinthia Hotel and beach club, an air-conditioned outdoor Crystal Walkway, a seaside promenade, parks, and green areas. The Island will also be home to entertainment facilities, a clubhouse, and a mosque.
(QNA)