Minister of Public Health Visits 1st Gait Lab in Qatar with 3D Motion Analysis Service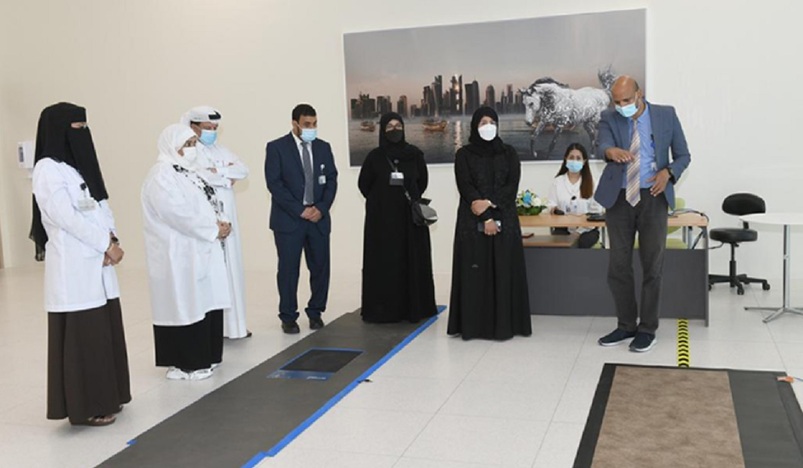 Qatar Rehabilitation Institute Expands Motion Analysis Services using latest cluster technology in 3-D Gait Analysis
Doha, 10 November 2021: The Minister of Public Health, Her Excellency Dr. Hanan Mohamed Al Kuwari, today visited Hamad Medical Corporation's newly established Gait Lab+, an advanced motion analysis laboratory that uses state-of-the-art computer technology to provide three-dimensional (3-D) Motion Analysis capability in the assessment of walking (or gait) impediments.
Located in the Qatar Rehabilitation Institute (QRI), this service is the latest expansion of specialized diagnostic and treatment rehabilitation services for children and adults.
Qatar is committed to investing in proven technological solutions that provide valuable benefits to patients. It is this type of service that supports the National Health Strategy 2018-2022 target of having an integrated model of high-quality care and service delivery that will make a real difference to the quality of life of the patient. 
The Gait Lab+ is a new specialized service in QRI that delivers gait related diagnostic assessments and therapeutic services addressing the various domains of walking performance including balance, strength, coordination, endurance, postural alignment, joint kinematics, kinetic forces, and gait patterns. The assessment reports produced by the lab systems reflect the real time condition of patients and support the clinicians in forming, reviewing and validating their treatment decision-making whether it be for medical prescriptions or procedures, orthotic/prosthetic prescriptions and/or therapeutic interventions. 
Dr. Hanadi Al Hamad, Medical Director of QRI and Rumailah Hospital and National Health Strategy 2018-2022 Lead for Healthy Ageing, explained that the goal for the Gait Lab+ is to enable enhanced integration of gait analysis and appropriate treatment plan within the holistic care of the patient. 
"It is not always possible to see what kind of challenges a person may have with their walking from simple visual observation, and if left unaddressed, these challenges can lead to additional mobility restrictions and possibly more pain experienced by the patient. The advanced equipment systems available in the Gait Lab+ provide quantitative measurements and reporting of the patient's functional movements in terms of posture, balance and walking. The multiple high-spec cameras and specialised software enable our professional team to provide real-time objective reflections of the patients' functional performance status or condition and enables them to have confidence in the treatment recommendations to help the patient improve their gait and become more mobile."
"The plus (+) sign added to the Gait Lab signifies the availability of advanced therapeutic systems and devices that provide specialized features and benefits coupled with integrated exercises and training protocols designed to promote optimization of performance. The treatment program is provided by a multidisciplinary team of experts in QRI to ensure a holistic approach to patient care," added Dr. Al Hamad.
The Gait Lab+ augments the existing services of the Gait Analysis Clinic which offers Surface Electromyography (sEMG), Balance and Exercise Physiology as well as Virtual Reality services. The Surface Electromyography (sEMG) enables closer analysis of any affected nerve and muscle function and delivers real-time evaluation and recording data, potentially assessing neurological and musculoskeletal condition as well as supporting biofeedback therapy during therapeutic exercises.
The Balance and Exercise Physiology service provides an objective assessment and therapy interventions for balance, posture problems and motion sensitivity using a superior and robust Computerized Dynamic Posturography (CDP/IVR). Virtual Reality enables patients to have a realistic experience of an artificial environment by influencing the human brain to believe that what they are experiencing is real, like an alternate reality.
Patients can be referred to the Gait Lab+ by HMC healthcare professionals for an initial screening performed by the Gait Lab Triage Team. If approved for this service, the patient is scheduled for a visit to the facility where their medical and functional status are verified by the Lab clinicians against the Lab's established criteria. A patient education session is arranged in which relevant family members or carers are encouraged to participate; as well as a general lab orientation and preparation for the next visit to ensure the best diagnostic and therapeutic outcomes.
Source: Hamad Medical Corporation