Minister of Education Affirms Qatar's Investment in Science, Technology, Innovation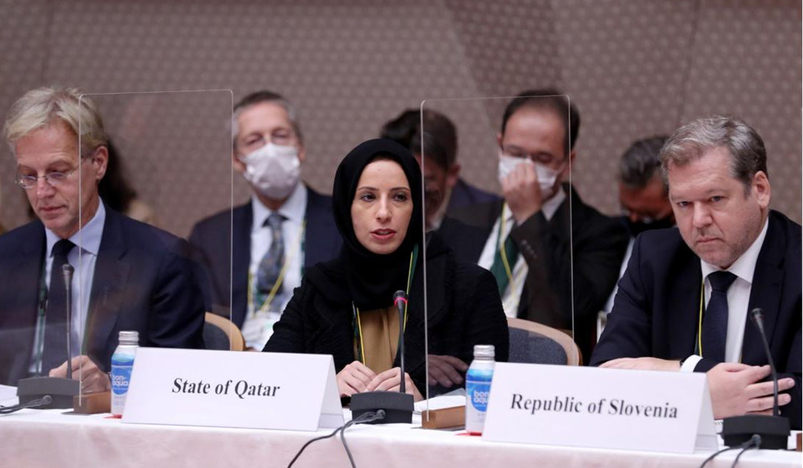 HE Buthaina bint Ali Al Jabr Al Nuaimi
HE Minister of Education and Higher Education Buthaina bint Ali Al Jabr Al Nuaimi affirmed the State of Qatar's commitment to investing in the science, technology, and innovation fields, and its keenness on international cooperation in these fields to address the challenges and risks facing the world today, including climate change, COVID-19 and other crises.
Her Excellency highlighted the country's efforts and achievements in the field of financing scientific research and innovation regionally and internationally, the possibilities it offers to attract researchers and experts, and its work to enhance and develop scientific capabilities and talents among young people.
These statements came during HE Minister of Education and Higher Education's participation in the Science and Technology Ministers Roundtable, on the sidelines of the 19th Annual Meeting of Science and Technology in Society forum held in the Japanese city of Kyoto, which will continue until Tuesday.
Since the establishment of the Qatar National Research Fund (QNRF) more than 16 years ago, more than USD 1.4 billion has been invested to fund more than 4,700 research projects in the country, as well as research partnerships with 54 different countries around the world, Her Excellency revealed.
HE Minister of Education and Higher Education highlighted the pioneering role played by the Qatar Research Development and Innovation Council (QRDI), established in 2018. QRDI set a 10-year strategy for research, development, and innovation until 2030, as a fundamental pillar in building a knowledge-based economy, making Qatar a regional center for research and innovation. The Council focuses on five priority areas: energy, health, resource sustainability, society, and digital technology.
On the sidelines of her participation in the 19th Annual Meeting of Science and Technology in Society forum in Kyoto, Japan, HE the Minister met with Qatari students on scholarships to study at Japanese universities. Her Excellency reviewed the students' academic conditions, listened to their opinions, suggestions, and requirements, and recommended them to strive and persevere in their studies to obtain the highest academic degrees, which qualifies them to serve Qatar, which is in dire need of its citizens in the scientific disciplines.
This annual forum aims to enhance cooperation between countries in the field of research, technology, science, and innovation, and discuss mechanisms for technology transfer and the role of science, technology, and innovation in achieving sustainable development goals.
(QNA)