Michelin-Starred Dining by Alain Ducasse in Qatar A Culinary Legacy Continues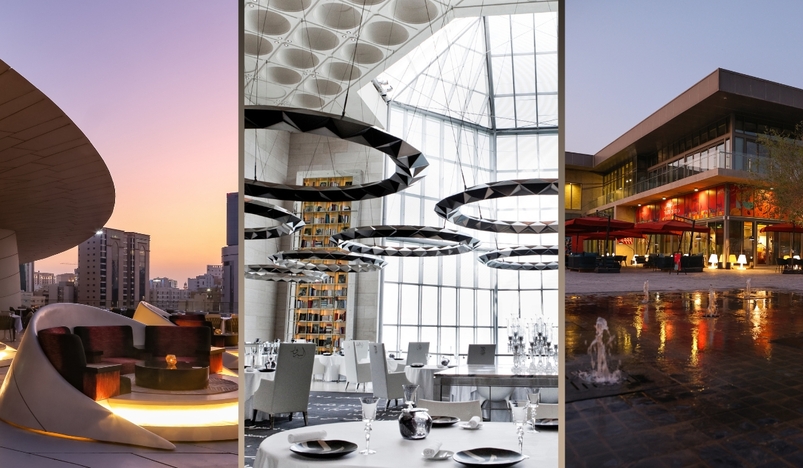 Alain Ducasses Michelin Starred Culinary Legacy in Qatar
Alain Ducasse, a globally renowned Michelin-starred chef, ranks as a luminary in the realm of culinary excellence. His influence extends deep into the heart of Qatar, boasting three exquisite restaurants that reflect his culinary artistry.
In 2013, Alain Ducasse made his inaugural foray into the Middle East with the launch of IDAM by Alain Ducasse (IDAM), a captivating dining establishment nestled within the iconic Museum of Islamic Art(MIA). This marked the beginning of a remarkable culinary journey in the region, setting the stage for an extraordinary fusion of culinary traditions.
In 2019, Qatar witnessed the unveiling of Jiwan, situated within the iconic National Museum of Qatar (NMoQ). This addition served to reinforce Ducasse's presence and unwavering commitment to elevating the gastronomic scene in the country, encapsulating the nation's rich culinary heritage.
In January 2023, Qatar welcomed the latest gem in Ducasse's culinary portfolio: Café #999 at the Fire Station. The grand inauguration saw the esteemed presence of none other than Monsieur Alain Ducasse himself, adding an extra layer of prestige to the occasion. This new culinary venture promises to captivate diners with its innovative cuisine, exemplifies Alain Ducasse's unyielding dedication to the art of gastronomy and underscoring his relentless pursuit of culinary excellence.
IDAM by Alain Ducasse: A Culinary Odyssey
The Middle East's First Ducasse Restaurant
IDAM beckons discerning diners on a remarkable culinary journey. This gastronomic haven, born of the creative genius of world-renowned chef Alain Ducasse, stands as a testament to the fusion of French culinary traditions with Middle Eastern flavours, delivering a dining experience like no other in the region.
A Confluence of Cultures
IDAM, meaning "generosity" in Arabic, artfully blends French and Middle Eastern culinary traditions. Alain Ducasse's expertise shines through in a menu that celebrates diversity in flavours, ingredients, and techniques from both regions.
Exquisite Ambiance
Designed by Philippe Starck, the restaurant's ambiance creates an intimate setting that complements the dining experience. From the moment guests step through the doors, they are transported into a world where every detail, from the carpet to the décor and table settings, is thoughtfully curated to enhance the overall journey.
The Artistry of Alain Ducasse
Alain Ducasse's culinary artistry, backed by Michelin stars and innovation, defines IDAM's menu. It showcases both culinary traditions while pushing boundaries in flavour and presentation.
An Unforgettable Culinary Experience
The dining experience at IDAM by Alain Ducasse is not just about food, it's a multisensory journey that engages all the senses. From the moment the first course arrives, guests are treated to an exquisite display of creativity and craftsmanship. The attentive staff, well-versed in the intricacies of each dish, provide insights and recommendations to enhance the experience further.
A Place of Celebration
IDAM is a place of celebration.  It offers a culinary odyssey transcending the ordinary—a true masterpiece showcasing fine dining in the Middle East.

Indulging the Palate: Jiwan's Fine Dining Delights
Exploring the Culinary Riches of Qatar's Heart and Soul
At Jiwan, an extraordinary culinary experience awaits those seeking to explore the rich tapestry of flavours that define the region. A culinary masterpiece conceived by world-renowned chef Alain Ducasse, Jiwan stands as a testament to the vibrant and diverse culinary traditions of Qatar and the Middle East. This enchanting establishment invites diners on a captivating journey, where each dish is a work of art that tells the story of a culture deeply connected to its cuisine.
An Ambiance setting the stage for Culinary Perfection
As you step into Jiwan, you are greeted by an ambiance that seamlessly blends contemporary elegance with traditional Qatari elements. Sydney-based Koichi Takada Architects are the team behind Jiwan's interior design concept 'desert-scapes', carefully curated to create a local cultural experience for visitors, while bowing to Jean Nouvel's architectural masterpiece. It is a narrative of Qatari history. The designs are an embodiment of Qatari history, the beginnings of the trade, nomadic lifestyle, and the country's beautiful natural environment. 
A Gastronomic Sanctuary
Nestled within the majestic confines of the NMoQ, Jiwan is more than just a restaurant.  It is a culinary oasis that celebrates the heart and soul of Qatar's culinary heritage through its food.
Exploring Qatar's Culinary Heritage
The menu at Jiwan is a gastronomic journey inspired by the flavours of Qatar. From savory mezze platters featuring traditional Qatari dishes like harees and machbous to succulent meats and fresh seafood, every dish is a revelation. The use of locally sourced ingredients and spices creates a symphony of flavours that delights the palate.
One cannot help but be captivated by the rich history and culture that each dish represents. Jiwan offers a unique opportunity to explore Qatar's culinary heritage, showcasing the traditions that have been passed down through generations.
A Feast for the Senses
Dining at Jiwan transcends mere sustenance. It is a sensory delight. Knowledgeable staff enrich the experience with stories and insights, guiding you through a journey that unveils the essence of Qatar. Jiwan's commitment to excellence ensures every aspect is meticulously crafted, inviting you to explore Qatar's soul, one delectable dish at a time.
Café #999: Italian Cuisine and Gourmet Delights
A Fusion of Flavour and Art for Easy Dining
In the heart of Doha's vibrant cultural scene, a culinary gem awaits those seeking not only a feast for the palate and the eyes but also for easy dining options. Café #999, the latest addition to Alain Ducasse outlets in Qatar, seamlessly marries the flavours of Italy with café delights and artistic inspiration. This unique dining establishment invites patrons to embark on a sensory journey where every dish is a canvas, every meal a masterpiece.
A Creative Sanctuary
Beyond dining, Café #999 is a creative haven where gastronomy meets artistry. Located at Doha's artists' hub, the Fire Station, it draws inspiration from the world of art, offering an immersive experience.  French Designer, Helene Bonte crafted Café #999's interior design, heavily inspired by retro art with vibrant pop art patterns and colours, reflecting the Fire Station's artistic identity.   Helene's approach to Café #999's design is to showcase an inviting abstract expression that has a universal appeal, triggering meaningful discussions for guests in the café .
A Taste of Italy!
Café #999 celebrates Italian cuisine, from handmade pasta bursting with flavours to perfectly blistered crust pizzas. Authenticity is paramount, with the finest ingredients and traditional methods delivering an Italian culinary journey.
Easy Bites and Café Delights
Beyond traditional dining, Café #999 offers quick bites options. Uniquely crafted burgers and sandwiches transcend the ordinary, elevating familiar favourites.  Whether one is in the mood for a classic comfort food experience or eager to explore unexpected flavour combinations, each bite is a revelation of curated ingredients, pleasing the palate and awakening the senses 
Artistry Beyond Food
Café #999's commitment to art extends beyond the menu. It is where artists find affinity. They are welcome to bring their art to life on the walls of the café, fostering a sense of community among art enthusiasts and food connoisseurs.
This innovative concept of Café #999 is integrated into the Fire Station, bringing the community 
together for an inspiring experience at Doha's art hub. 
Michelin Stars Shine Bright in Qatar!
What truly sets Michelin-starred Alain Ducasse's restaurants and café in Qatar apart is their unwavering commitment to upholding the culinary standards for which Ducasse is renowned worldwide. Every dish is a testament to his culinary philosophy—using the best ingredients, embracing local flavours, and crafting each plate with precision and passion.
In a country known for its rich culinary scene, Alain Ducasse's restaurants in Qatar shine as beacons of excellence. They are not just places to dine; they are immersive culinary journeys that reflect the artistry and dedication of a chef who has redefined the world of gastronomy. Whether you're seeking an unforgettable fine dining experience or a casual culinary adventure, Alain Ducasse's restaurants in the country consistently deliver on the promise of exceptional cuisine and unwavering quality that have become synonymous with the Ducasse name.