Messi mania grips crowd at China's Workers' Stadium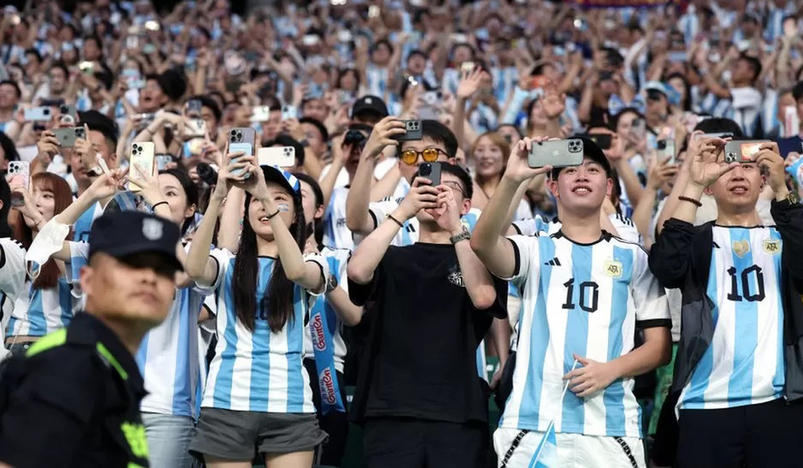 Chinese fans
On a hot summer night in Beijing, Lionel Messi scored against Australia just 90 seconds into the game, sending tens of thousands of Chinese fans into raptures.
It was a sea of blue and white Argentina jerseys in the Chinese capital on Thursday night - and nearly all of them had the name Messi on the back.
Every summer, Beijing usually hosts an invitational friendly soccer game. This time, the organisers chose a team headed by a player who could attract attention in China perhaps like no other.
Supporters turned out in their droves, not so much to barrack for this renowned team as to applaud a man who's long appeared on billboards here, selling all manner of products.
This was star power marketing in a country under-served by top level sport.
The cheers echoed around the stands - Meeessssiii Meeessssiii - but only occasionally Ahhh-gen-ting! (Chinese for Argentina).
The tickets for the game were sold at exorbitant rates, the vast majority of them going for between $400 and $680 (£313 to £532), prompting jokes on Chinese social media that these were hardly the prices you might expect at the newly rebuilt Workers' Stadium.
And yet 68,000 of them were gobbled up in a flash, with spectators coming from all over China.
Without Lionel Messi, they would not have moved like that.
Messi Mania hit Beijing from the time the Argentinian star touched down. A small crowd of admirers have been camped outside the team hotel, even making it difficult for them to get out to train before the game.
Some supporters paid for expensive five-star hotel rooms, in the hope of getting a peek at the player who led his country to World Cup glory.
One option to see him came in recent days, when online sales platform Taobao hosted a fan promotion live stream. This marketing style question and answer session would not have come cheaply but Taobao has very deep pockets and, according to local media reports, two and a half million viewers tuned in.
In fact, the fervour in Beijing around Messi's presence has been so extreme that the police have had to warn fans not to be duped by scams offering dinner with the star or other VIP treatment.
Messi is a massive draw in China. His name is known by people who know nothing else about football.
It was an interesting choice not to have the world champions play against the Chinese national team, but against Australia.
In theory, the promoters could have invited any team to go up against Argentina.
There has been some speculation that organisers might not have wanted to risk the potential spectacle of Chinese fans cheering deliriously as Messi put one into the back of the net against their home country.
In the end, they went with one of the strongest teams in Asia, Australia. As for the Australians, they had nothing to lose.
After the Socceroos had a respectable loss to Argentina 2-1, as part of the last 16 teams at the World Cup in Qatar, nobody expected them to win this one.
They took a young squad to Beijing, to blood new players against the best there is, in order to prepare for their next World Cup campaign.
Yet, for the small number of Australian fans at this game there was plenty to cheer about.
After Messi's early goal they withstood a barrage of attacks from Argentina and went on the offensive themselves, missing several chances to score as the Chinese crowd cheered and clapped in appreciation.
But, even in a friendly, Argentina had too much class and their second goal eventually sealed the result.
After the game, the crowd - including children and grandparents - poured out of the stadium and filled the streets of Beijing's Sanlitun district, some with their faces painted.
The mood was jubilant. People did not seem to regret spending so much money.
"It was really exciting," one young woman told the BBC. "The ticket was definitely worth the price. This will be Messi's last trip to China before he retires. So it was really worth it."
"It was a great game," a man said. "I really loved the first goal by Messi."
And who was his favourite player, I asked?
He turned around to show the back of his Argentina football jersey with Messi written across the top.
Chinese fans would dearly love to have a national team which can one day mix with other top-level squads.
Until then, many of them will follow the big names and the big clubs.
But this week in China belonged to the player who has already become a legend in his own country.
Argentina ran out in front of a huge crowd in what felt like a home game for them, halfway across the world, because of the fame of Lionel Messi.
By Stephen McDonell
BBC