Massive Bus Fleet to Be Operated by "Karwa" to Serve World Cup Fans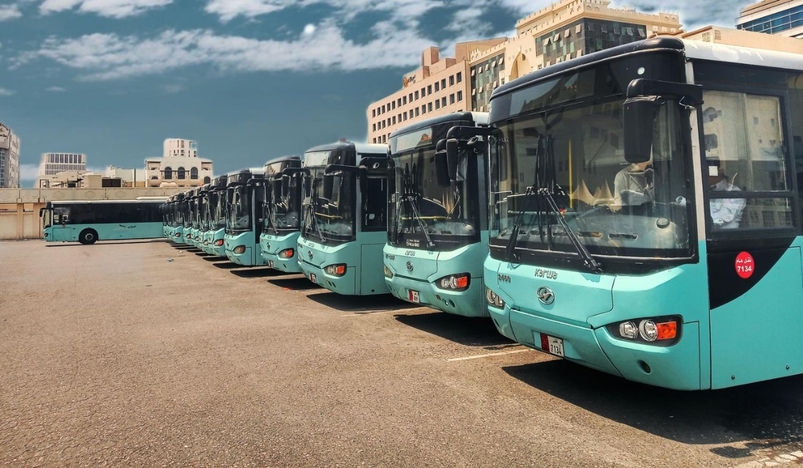 Karwa Buses
With the imminent start of the FIFA World Cup Qatar 2022, Mowasalat (Karwa) has intensified its operational preparations for the World Cup, mobilizing its fleet and specialized technical teams to ensure a comfortable and smooth transportation experience for the World Cup fans.
The company said that about 4,000 buses will be operated during the tournament, of which about 3,000 are dedicated to transporting fans, including more than 800 fully electric buses that operate with zero carbon emissions.
This is in line with modern, comfortable and environmentally friendly transportation solutions, establishing "Karwa" as a real legacy that keeps pace with the sustainable development projects that the State of Qatar seeks for the post-tournament.
In response to Qatar News Agency (QNA) questions, Mowasalat company (Karwa), added that transportation services during the World Cup period include transportation to and from metro stations and tournament stadiums, transportation to and from "park and move" stops, and transportation service from the main residences in and to Doha, in addition to the shuttle bus service dedicated to linking Hamad and Doha International Airports with the stadiums and central Doha, as well as the express bus service to the stadiums, which will provide fans with transportation between all venues for sporting events.
The company explained that in addition to Karwa fleet, Metro Link services will operate in (43) tracks to serve (23) metro stations, to transport passengers to and from metro stations as usual and according to service request rates, noting that there are approximately 248 buses dedicated to Metro Link services, including 90 electric zero-emission buses, and will operate all days of the week, taking into account flexibility and meeting transportation services for fans and guests of Qatar, which will enhance Karwa's position as a convenient national carrier that provides easy and disciplined transportation services.
Mowasalat pointed out that in order to provide more opportunities for fans and visitors to Qatar and meet their needs, it has allocated a round-the-clock transportation service from Abu Samra border crossing to Al Messila Station in central Doha, in addition to the readiness of more than 76 bus stations dedicated to the event, in central Doha and the Corniche.
The second and third ring road, next to the tournament buses in the center of the country, which will operate normally as usual to serve the fans with ease from any of the main bus centers.
In the same context, the Chief Executive Officer of Operations at Mowasalat Ahmed Hassan Al Obaidly, said in a press conference held by the organizers of the FIFA World Cup Qatar 2022, that hundreds of buses will be operated, and that 25 percent of them will be environmentally friendly and fully electric, with a legacy in transforming transportation into an environmentally friendly system.
He referred to the development and operation of the public transport network from four in the morning to eleven in the evening, in addition to Metro Link services, and Metro Express services from six in the morning to twelve in the afternoon, in addition to thousands of buses that will operate throughout the day and on different tracks throughout the tournament.
He explained that in addition to all this, there are more than 3000 taxis and limousines that will be ready to serve fans, and are stationed at Hamad International Airport, Doha International Airport and vital places in the country.
He added that Karwa Company has completed its readiness to provide fast and safe transportation services, having employed and trained thousands of drivers, technicians and support staff, as well as administrative and technical staff, to play a major role in providing transportation services with the specifications and standards required and envisaged by these unique and distinguished services.
He noted that its fleet varies between taxis, limousines, mass transit buses and private buses for events, to meet all transportation needs during competitions.
Last year, the company signed a memorandum of understanding with the global software company SAP to provide real-time analytics and provide the best customer experience through the next generation of transportation facilities, especially as this software integrates all technical and operational innovations and effectively manages the business.
The company has enhanced its reliance on information technology expertise and the application of modern technology to manage its smart fleet, with the aim of assisting in the immediate monitoring of all buses, identifying vehicle maintenance and repair requirements, as well as distributing buses effectively, and enhancing the safety of vehicles, drivers and customers.
There is no doubt that the State of Qatar, as a result of all these efforts, will be the first host country in the world for the World Cup to use a large fleet of electric buses, hybrid taxis and electric limousines, which significantly reduces the environmental impact and contributes to global trends aimed at reducing emissions and pollution.
Mowasalat (Karwa) is considered a provider of integrated transportation solutions in the State of Qatar, as it started its activity by providing integrated land transportation services and solutions in October 2004, and it has been growing since its establishment with the acquisition of experiences and the increase of its fleet to provide complete transportation solutions and the highest level of customer service.
(QNA)