Marketa Vondrousova beats Ons Jabeur in women's final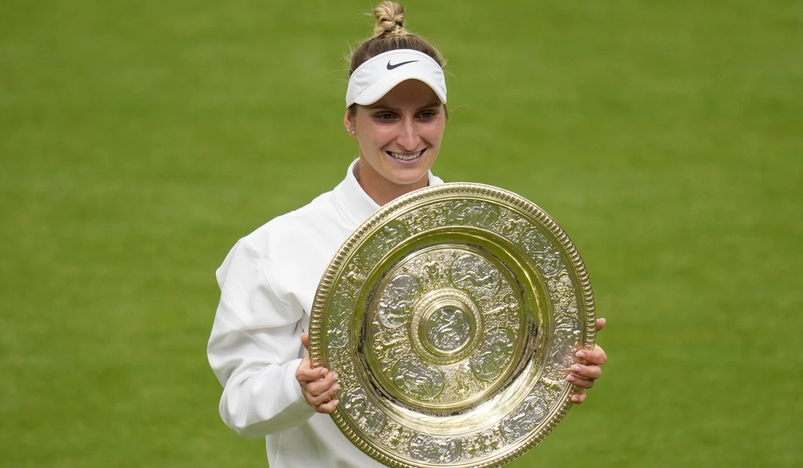 Marketa Vondrousova
Marketa Vondrousova came to the All England Club a year ago unable to play tennis at all. She had a cast on her surgically repaired left wrist, so her visit was limited to sightseeing around London with her sister and cheering for a friend who was competing at Wimbledon.
This trip was a lot more memorable: She is leaving as a Grand Slam champion.
Vondrousova became the first unseeded woman to win Wimbledon on Saturday, coming back in each set for a 6-4, 6-4 victory over 2022 runner-up Ons Jabeur in the final.
"I don't really know what's happening now. It's an amazing feeling," Vondrousova, a 24-year-old left-hander from the Czech Republic, said during the trophy ceremony. "After everything I've been through — I had a cast last year (at) this time — it's just amazing that I can stand here and hold this. Tennis is crazy."
After being sidelined from April to October, she finished last season ranked just 99th. She arrived at Wimbledon 42nd and was the first unseeded woman to even reach the final at the All England Club in 60 years — the last, 1963 runner-up Billie Jean King, was seated in the front row of the Royal Box on Saturday alongside Kate, the Princess of Wales.
Following the match, King greeted Vondrousova with a hug and told her: "First unseeded ever. I love it."
Centre Court's retractable roof was closed for the final, shielding everyone from the wind that topped 20 mph (30 kph) outside, and that perhaps allowed Vondrousova's smooth lefty strokes to repeatedly find the intended mark. Her shots betrayed none of the sort of tension that Jabeur's shots did.
Vondrousova lost in the final of the 2019 French Open as a teenager. On this afternoon, she trailed in each set but collected the last four games of the first, then the last three games of the second.
How did she plan to celebrate?
"I'm going to have some beer, maybe," Vondrouova said, drawing chuckles from the fans. "It was really an exhausting two weeks. And I just tried to get myself together for the few last days. I was just so nervous before the game, and I'm just really grateful."
Jabeur dropped to 0-3 in major finals. The 28-year-old from Tunisia is the only Arab woman and only North African woman to make it that far in singles at any Grand Slam tournament.
But she lost to Elena Rybakina at the All England Club 12 months ago and to No. 1 Iga Swiatek at the U.S. Open last September.
"I think this is the most painful loss of my career," Jabeur said, pausing to wipe away tears.
"It's going to be a tough day for me today, but I'm not going to give up," she said. "I'm going to come back stronger and win a Grand Slam one day."
Vondrousova's surge to her Slam title was hard to envision at the start of this fortnight.
She was 1-4 in previous appearances at Wimbledon, only once making it as far as the second round on its grass courts, before going 7-0 on a run that included wins against five seeded foes.
Against No. 6 Jabeur, Vondrousova kept falling slightly behind. In the first set, she was down 2-0, then 4-2, before reeling off 16 of the last 18 points.
In the second set, the deficits were 3-1 and 4-3.
But Jabeur's mistakes kept coming: She would finish with 31 unforced errors, while Vondrousova made merely 13.
During the break between sets, Jabeur headed to the locker room. When she came back out, she immediately made another error, and the spectators made a ton of noise to show their support. Another miscue gave Vondrousova a break point, and Jabeur gifted that with yet another shot into the net. The match was 45 minutes old, and Vondrousova led by a set and a break.
That, then, is when Jabeur began something of a turnaround. She took three games in a row to go ahead 3-1, showing signs of perhaps the sort of comebacks she created after ceding the opening sets before beating Rybakina, No. 2 Aryna Sabalenka and 2019 U.S. Open champion Bianca Andreescu.
The crowd was pulling for the popular Jabeur, nicknamed the Minister of Happiness for her demeanor on and off the court, the level of the support they were providing rising right along with her level of play.
It didn't last.
Vondrousova overcame that blip and, with her husband on hand for the first time during the tournament, she surged to the finish. Their first wedding anniversary is Sunday.
When Vondrousova ended the match by reaching to put away a volley, she tumbled to the grass, then laid on her back and put her hands over her visor and face, the happiest she's ever been on the surface.
AP