Mall of Qatar's House of Fashion announces stellar line-up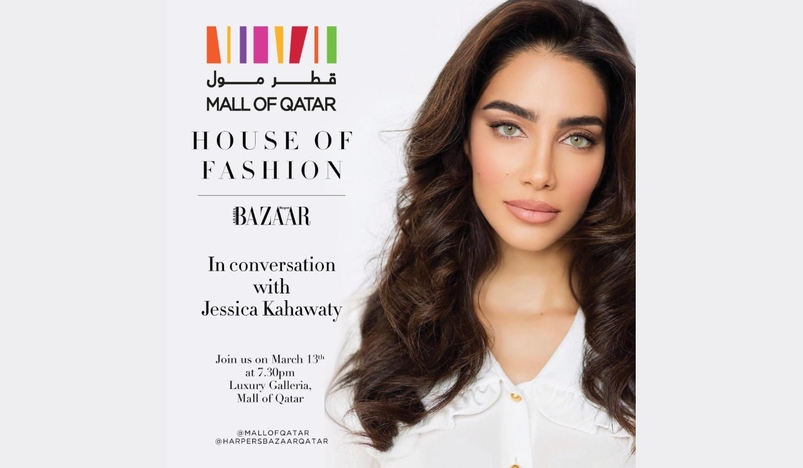 In Conversation with Jessica Kahawaty
With just a few days to go until the fashion and beauty event of the season, Mall of Qatar's House of Fashion in association with Harper's Bazaar magazine announces a stellar line-up for the leading annual event. Running from Monday 13th to Wednesday 15th of March, the three-day celebration of fashion, beauty, and lifestyle, which showcases Mall of Qatar's most exciting and luxury retailers across fashion, beauty, and home interiors, will feature some of the region's best loved personalities and leading industry voices.
The highly anticipated opening event, due to be held on Monday 13th at the Luxury Galleria at Mall of Qatar, will feature an in conversation with a selection of pioneering individuals playing a key role in Qatar's burgeoning fashion scene including Hairaat Founder Nada Al-Sulaiti, artist and designer Fahad Al Obaidly, Interior Design luminary Shaikha Al-Sulaiti, and fashion icon, entrepreneur, and former Harper's Bazaar cover star Amal Ameen.
As part of the Grand Opening event, Mall of Qatar's House of Fashion is also thrilled to welcome the multi-talented Jessica Kahawaty. From ambassadorships with the world's most luxury brands to significant humanitarian work, entrepreneur and international model Jessica Kahawaty is a truly multi-faceted woman and a leading light in the global fashion scene.
Empowerment and stories of success will also take centre stage with conversations across Tuesday 14th and Wednesday 15th with a range of innovative individuals joining the line-up. From wellness trailblazer Jawaher Al Fardan and Milan Fashion Week alumnus Winonah de Jong, to beauty entrepreneur Najla Al Fardan, design talent Dana Al Saify, entrepreneur Husnaa Malik, and leading sustainability advocate Rina Saleh, we'll be discussing their pioneering paths to the top.  
Open daily from 2.30pm, guests will also be able to visit Mall of Qatar's House of Fashion at leisure and enjoy personalised styling with Harper's Bazaar Senior Fashion Editor Nour Bou Ezz, who has styled some of the world's biggest celebrities, and enjoy a range of activations and masterclasses from Mall of Qatar retailers.
The engaging and immersive House of Fashion will be hosted in the Luxury Galleria of Mall of Qatar and will shine a spotlight on the latest Spring / Summer 2023 collections across the Mall's retailers and showcase a series of catwalk shows. Inspired by the bustling streets, style, and flair of Italy, guests will be transported to the world's greatest fashion capital. Walking through a floral archway, along an Italian-themed path, they will encounter the House of Fashion – an ode to an iconic Italian palazzo.
With its bespoke design and luxe furnishings, the House of Fashion is the perfect space to showcase Mall of Qatar's must-have styles, key new trends, and luxury offerings. Audiences will discover Mall of Qatar's leading new retailers across womenswear, menswear, and homeware, including Fratelli Rossetti, Doucal's, Pal Zileri, Tombolini, Hackett London, Pepe Jeans, Iceberg, Philipp Plein, Dolce & Gabbana Casa, and Luxury Living; as well as KIKO Milano and L'Occitane, The Trove, BoConcept, Marli New York, Messika, Prime London, Swarovski, Karl Lagerfeld, Michael Kors, Tory Burch, and Hugo. Guests can meet and mingle in the House's Garden, chat over coffee in the Styling Suite, or sit back and be pampered in the Beauty Boudoir.
For latest information, follow @mallofqatar and @harpersbazaarqatar.