Main work on Al Daayen Park project completed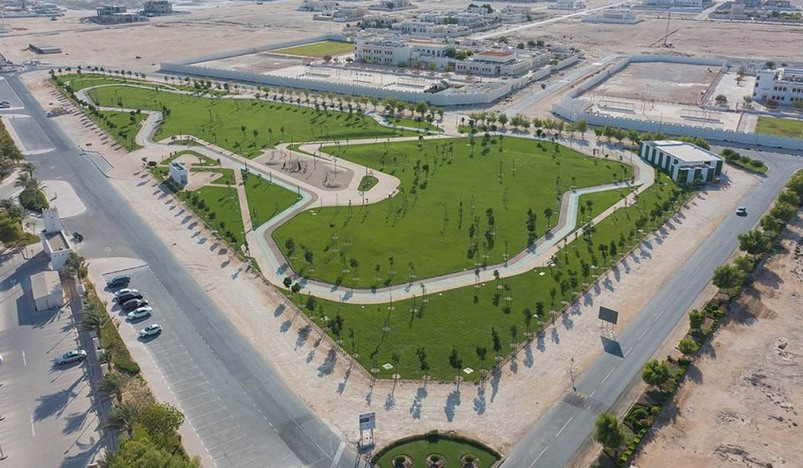 Al Daayen Park
The Supervisory Committee of Beautification of Roads and Public Places in Qatar has announced completion of main works on Al Daayen Park Project, during an event today, November 4, 2021 where students of Simaisma and Al Daayen Schools planted trees in the park, as part of "Qatar Beautification and Our Kids Planting Trees" campaign to "plant million trees", implemented by the Committee in cooperation with the Ministry of Municipality.
Al Daayen Park includes open green spaces with an area of 25,000 square metres, with benches and retiring facilities, along with 450 trees, making it a preferred visit space for families of Al Daayen and Simaisma. It also includes dedicated kids play areas, sports arena, and dedicated paths for pedestrians, joggers, and cyclists. The park is also designed to be user friendly for people with special needs.
The project also included the provision of services including female prayer area and toilets. Aesthetic lights with dimly lit lighting poles ensure privacy for the visitors. It is worth noting that visitors to the park can use Al Daayen Municipality parking lots, with 50 parking lots, and more parking lots are in the pipeline.
On this occasion, Brigadier General Hilal bin Saad Al Muhannadi, Director of North Security Department, said: "Al Daayen Park will be a landmark for the people of the region, providing them an outlet for exercise and fun for residential neighborhoods and visitors of the area. It is a new addition to the many and increasing public parks in various parts of the State."
Eng. Sarah Kafood, Deputy Chairman of Supervisory Committee of Beautification of Roads and Public Places in Qatar stated that under the Qatar Beautification and Our Kids Planting Trees campaign, 550,000 trees have been planted so far.
She added that the Committee is cooperating with Ministry of Municipality to increase green spaces in various areas in Qatar. Thus, large-scale land areas are allocated to build central parks, while smaller spaces are allocated to Al Furjan Parks and green plaza. These projects contribute to providing healthy outlets in city centres, encouraging people to enjoy their leisure outside closed buildings. Besides, these spaces enhance the aesthetic view of places and streets and improve quality of the environment.
Ministry of Municipality had allocated a land with approximate area of 39,000 square metres for construction of a new park in Al Daayen Municipality, to serve residential neighbourhoods in the area.
Eng. Maryam Al Kuwari, Project Design Manager at the Supervisory Committee of Beautification of Roads and Public Places in Qatar at Ashghal, said that the park's design is inspired by the meaning of the Arabic word Al-Daayen, which implies camel beauty and the resting place of caravans in the past, in addition to its location in Al-Daayen area in the northern part of Qatar, which was considered as a resting spot for caravans coming from the north or south of Qatar. The design also considered the park's proximity to schools and Al Daayen Service Center, using it as a suitable nearby place for people of the region to spend leisure time during weekend, or to practice physical exercise after a stressful day.
She added that fancy lighting was added in the design, covering the service buildings to enhance the design concept of the park linking it to the Qatari identity with shining lights on metal partitions to reflect shades, and depicting movement of caravan behind its herdsman. The fancy lights also serve also provide a unique spot for memorial photos, besides giving a distinctive outlook to the park.