Taste of Culture: Top 5 Luscious Arabic Cuisines in Qatar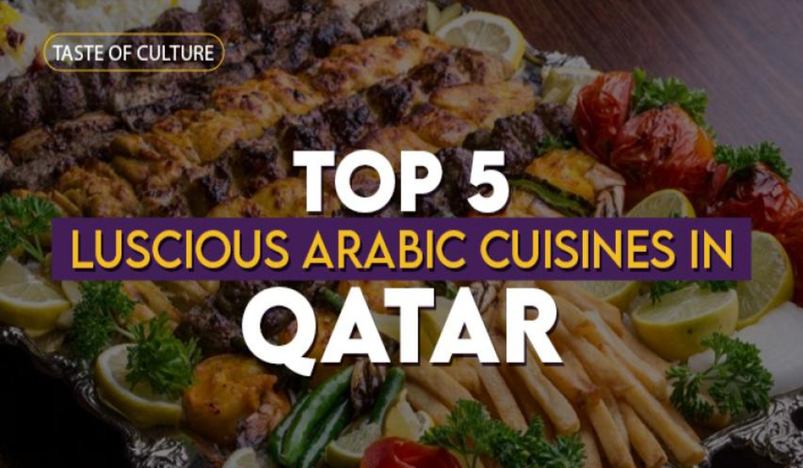 Luscious Arabic Cuisines
Qatar is one the safest countries in the world to work, travel and live and hence has witnessed many foreigners coming into the country for various purposes.
That being the reason, Qatar has different kinds of restaurants and food outlets for all individuals to explore different kinds of cuisine in the country.
However, one of the must-try cuisines for people coming in this middle eastern region is of course the local traditional luscious cuisines. 
Therefore, if you are in Qatar for leisure purpose or for business, or residing here, make sure you try some of the best Arabian cuisines in the country that can make you a happy and filling soul at the end.
Let us have a glance at some of the most must-try delicious and luscious tastes of the Arab region:
1. Shawarma
veryone who has been in Qatar or any of the middle eastern region would never miss this opportunity of having Shawarma.
One of the preferred choices and very-well fond cuisine in the region is certainly the Shawarma as its palate goes a long way wanting us to taste it over and over again. 
Shawarma is believed to be derived from a Turkish name meaning 'Turning' and provides the perfect taste of the middle east.
 The meat is heated and small pieces are shaved off and flavoured to fill in a wrap along with sauces and pickled vegetables. 
The price of the Shawarma in Qatar is reasonably priced varying between QR 5 and QR 10. 
2. Kabab
One of the versatile dishes in the region is Kabab itself as different restaurants in the country provides excellent grilled mead in addition to different kinds of bread.
Located in Bin Omran area, Kebab King, is one of the apt restaurants to try some of the best Kabab dishes with great offers.
Even in Old Al Ghanim, there are many restaurants with special kabab items and grills for its customers. 

Lamzani Grill and Khosh Kebab are some of the most famous spots for Kababs lovers in the Doha city who have been dishing out excellent kebabs and attract a sizable crowd. 
3. Machboos 
An authentic rice-based cuisine, Machboos is served with a variety of marinated meats or sea foods just the way you want them.
It may include a rose water or lemon juice sprinkled before serving to add extra flavours to the dish.
If all the spices in this luscious food are not sufficient, you can ask for a spicy salsa dip that the restaurant will be happy to serve you to have along with it.
4. Falafel
Falafel is one the Arabian dishes that is served with a dip called Tahini just for your snack mode.
A deeply-fried balls, it comes along with some ground chickpeas and fava beans, which is a popular local dish that gives you a mouth-watering experience.
Although it is a traditional Arabian dish, many parts of the world has this type of cuisine as it gets popular on a daily basis. 
A lot of restaurants in Qatar offers Falafel and its sandwich such as outlets like Al Rabwah restaurant and Petra. 
5. Fatayer
riangular-shaped pastries made of bread dough and filled with palatable ingredients such as spinach, cheese, or meat makes Fateyer one of the must-try dish in Qatar.
These are easy to pick up, and are often brought to many parties and picnics for a great time of refreshment and to make one energize.
The Soft bread dough is used rather than pastry, to enclose the filling and to make one's soul merry.