Lusail Sports Club Delivers FIFA World Cup Legacy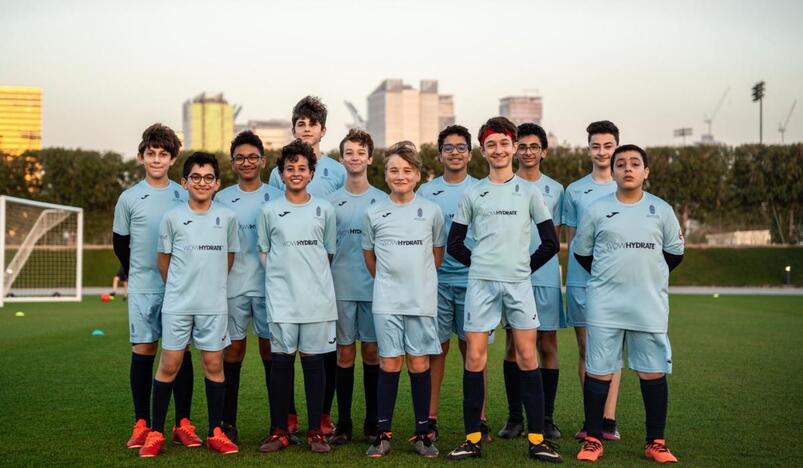 Lusail Sports Club hosts weekly football training sessions for aspiring young athletes
Nawaf Al Mudhakha President of Lusail Sports Club emphasized on the crucial role the club has played in delivering the legacy of the 2022 FIFA World Cup Qatar leading up to the start of this prestigious tournament. 
He put great emphasis upon the club's active engagement in football promotion at a community level. He believes that Lusail City is a modern sports destination that attracts not only those living in lusail but also those who are residents of its surrounding areas.
 
Al Mudahka in a recent statement on the Supreme Committee for Delivery and Legacy website mentioned that: "This is a community space, not just a sports club. These world-class facilities are for the residents of Lusail. They bring people together from different cultures and nationalities to train here. The players start from a very young age and can go all the way through to the first team."
Lusail Sports Club is located near the Lusail Stadium which will host the Lusail Super Cup on Friday 9th September, a match between Saudi Al-Hilal and Zamalek Egyptian Clubs followed by a concert of the Arab star Amr Diab. 
It will also host the World Cup final on Qatar National Day. Lusail Sports Club is located inside the Al Egla Training site. 
The Al Egla Training site has become a popular sports destination over the past few years. 
It also hosts weekly football training sessions for boys and girls from across Qatar; they serve in Lusail Club's commitment in developing a sustainable community legacy of the 2022 FIFA World Cup Qatar. 
Ciaran Kelly, Lusail SCs Technical Director explained how the Lusail Club benefited from its collaboration with the Supreme Committee for Delivery & Legacy (SC), the primary organization responsible for Qatar 2022 infrastructure and legacy.
He stated that: "through a partnership with the SC, we were able to use the facilities here at Al Egla. We currently have 600 players in the academy, with some as young as three.
 We are so fortunate to use Al Egla, which gives the entire Lusail community access to a World Cup training site". 
Al Egla training site has received praise for its awe inspiring facilities from the young athletes that train there every week. 
One of the young players Jada Alami who plays for the girls U16s team  expressed her  joy saying that "it's crazy to think there will be famous players playing on this exact pitch. I cant believe that Neymar or Messi will be training here,"
Another young player from the U17s boys team Sanjar Ovezob stated that: "The pitch is perfect, playing here is comfortable and easy. It's one of the best facilities I've played at." 
The Al Egla Training site will also host training sessions for the Korean and Tunisian teams during the upcoming FIFA World Cup. 
Over 30 training facilities including Al Egla, will serve as the supporting pillars for Qatar's compact tournament strategy. 
It means that the players will no longer be traveling back and forth between training facilities and accommodations, they'll be staying and training at the same place, a first in modern FIFA history. 
Furthermore, less travel will allow the players more time to rest and recuperate after heavy training sessions. 
The close distance nature will also bring multiple benefits for the fans. 
It allows them to be able to attend upto 2 matches a day during the start of the tournament and explore a variety of tourist attractions that Qatar has to offer, all of which are located at a short walk from the stadiums.