LUSAIL INTERNATIONAL CIRCUIT REVEALS TROPHY FOR FORMULA 1 QATAR AIRWAYS QATAR GRAND PRIX 2023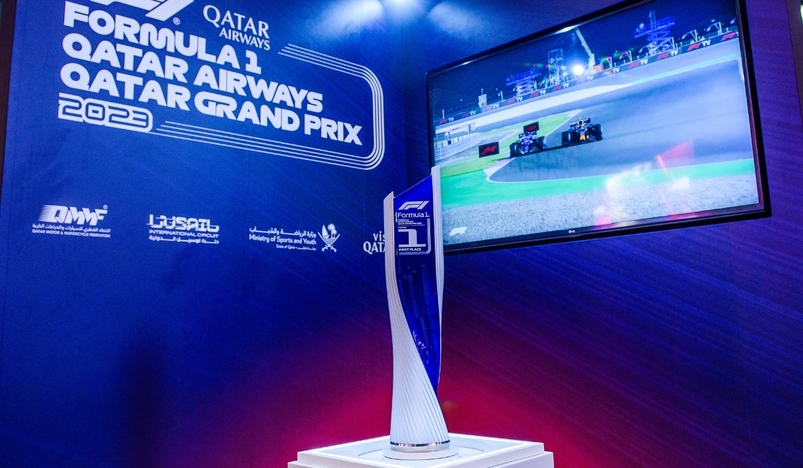 Lusail Circuit Unveils Qatar Grand Prix 2023 Trophy
Doha, Qatar, 1 October 2023 - Lusail International Circuit partnered with Pininfarina, an Italian design and architectural firm renowned for its iconic works in the automobile industry, to create the official trophy for Qatar Grand Prix. The trophy for the FORMULA 1 QATAR AIRWAYS QATAR GRAND PRIX 2023 is a fusion of speed, culture, and craftsmanship.
Pininfarina took inspiration from the dynamism of FORMULA 1, crafting a trophy that captures the heart of the recently remodeled Lusail International Circuit (LIC). The development and production process of the trophy was executed through a three-month collaborative effort between Pininfarina and LIC. 
The project enlisted the help of artisans with first-hand experience in hand-crafting expertly crafted wave-like patterns that pay homage to Qatar's sand dunes with a deep-purple resin plaque with a geometric style representing the traditional Sadu carpet, adding depth and a vibrant touch. The satin aluminum finish enhances the trophy's elegance, mirroring Pininfarina's signature style. The combination of such elements celebrate Qatari culture and Lusail's identity as a motorsports hub.
Pininfarina, through Pininfarina Segno, its atelier dedicated to bespoke design creations - utilized state-of-the-art technologies like laser printing to reflect elements unique to Qatar while maintaining a contemporary design. The trophy weighs approximately 3.6 kgs with a height of 55 cm. While the new trophy maintains certain elements from the one featured in Qatar GP 2021, it offers a distinct and innovative perspective on Qatar's growing culture of motorsports. The trophy is symbolic of the contrast between Qatar's rich heritage and modernity. 
"The trophy is a testament to Pininfarina's commitment to precision and craftsmanship. It embodies our shared values, representing the pinnacle of both design and Qatar's deep-rooted passion for racing." said Abdulrahman bin Abdullatif Al-Mannai, President of Qatar Motor and Motorcycle Federation and Lusail International Circuit.
"The trophy of Lusail wants to be a celebration of Qatar where the progress runs fast, and natural and cultural heritage are the essence of the country." affirms Paolo Pininfarina, Chairman of the Group. "Pininfarina took inspiration from these elements and from its legacy in the field of performance and aerodynamics, to create a trophy that represents the new icon of Lusail circuit. Thanks to the competences of our highly skilled artisans, the design was turned in a marvelous piece of art." 
This unique trophy will be awarded to the champion of FORMULA 1 QATAR AIRWAYS QATAR GRAND PRIX 2023 against the iconic backdrop of the Lusail International Circuit celebrating the fusion of speed and Qatar's legacy of motorsports in the region. 
For more updates on FORMULA 1 GP, follow Lusail International Circuit:
Twitter: @lusailcircuit
Instagram: @lusailcircuit
Facebook: @Lusail Circuit Sports Club