Longest Serving Palestinian Prisoner Released from Israeli Prison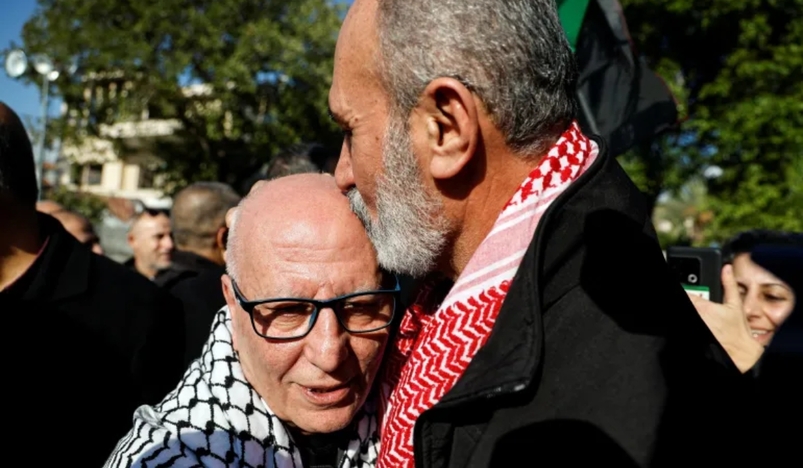 Karim Younis
The longest-serving Palestinian prisoner, Karim Younis, has been released after serving 40 years in Israeli prisons.
Israeli prison authorities released Younis, 66, from Hadarim prison just north of Tel Aviv at dawn on Thursday morning.
He was arrested in 1983 and charged in Israeli courts with the killing of an Israeli soldier in the occupied Syrian Golan Heights three years prior.
Younis hails from the Palestinian village of Ara within Israel, where large crowds of relatives and friends greeted him on Thursday.
"I would have liked to seize my freedom with my other brothers in prison. I was freed, but I left the other prisoners behind," Younis said in an interview with Al-Araby TV amid celebrations over his release. "I hope that we can soon celebrate the freedom of all the prisoners."
Reporting from Ara, Al Jazeera's Imran Khan said Younis was released at 5:30am (02:30GMT) and that people had poured into the streets of his village to welcome him.
"He was a key figure in the Palestinian struggle," said Khan. "He is seen as somebody who was a rising star within Palestinian politics when he was arrested and charged with murder."
While the vast majority of Palestinian prisoners in Israeli jails are from the occupied West Bank, Younis is a Palestinian citizen of Israel.
"The Palestinians say he was simply resisting the occupation, the Israelis say this was an internal Israeli matter. He was originally sentenced to life, which was then commuted to 40 years. He is being released simply for the fact that he served his sentence," added Khan.
Israeli military intelligence visited Younis' family prior to his release and "told them not to mark it", said Khan. However, it appears that the family and villagers in Ara have disregarded those instructions.
According to local media reports, Younis was released by Israeli authorities without prior notice early in the morning, in an effort to prevent supporters from gathering in front of the prison. Younis was dropped off in a police car at a bus station in nearby Raanana, north of Tel Aviv.
He managed to contact his family by using a passer-by's phone before he was picked up by a relative and brought to his hometown of Ara.
Israeli authorities have not commented on the reports.
Upon his release, Younis visited the grave of his mother who died eight months ago, with images of him emotional at the grave shared by local and international media outlets.
There are some 4,700 Palestinian prisoners currently held in Israeli prisons, including 150 children and 835 people held without trial or charge.
(Al Jazeera)