Leisure Parks Ramadan initiative with Qatar Red Crescent Society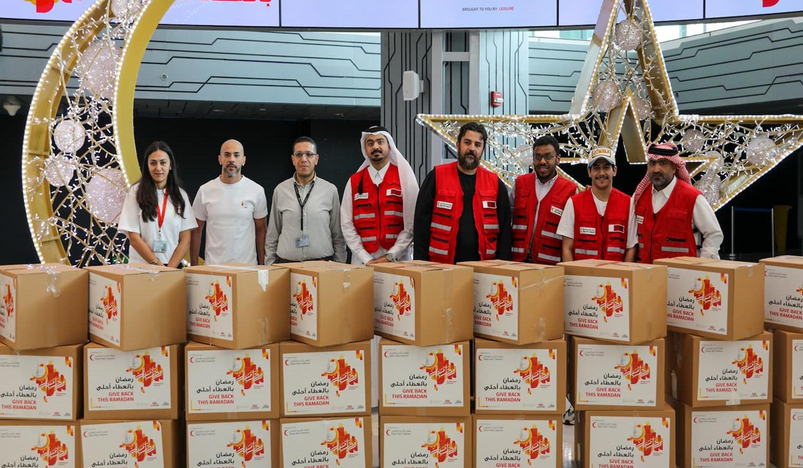 Leisure Parks Ramadan initiative with Qatar Red Crescent Society
Ramadan has always been a month of grace, blessings and gratitude, but also of new beginnings and hope. This year especially, Ramadan comes with an additional precious gift, time - time to spend with loved ones. Qatari owned company Leisure, owner and operator of ANGRY BIRDS WORLD™, SNOW DUNES™ and VIRTUOCITY™, located in Doha Festival City, have utilised the precious gift of time for the greater community by announcing their official partnership with esteemed charitable organisation Qatar Red Crescent Society (QRCS). 
Aiming to reach those most in need during Ramadan, whilst raising awareness of giving back to the community, Leisure Parks' employees and Qatar Red Crescent Society volunteers gathered in Leisure Parks' Atrium and packed boxes of non-perishable Iftar goods. Once packaged, these boxes were donated directly to those underprivileged in our society; encapsulating the spirit of giving during the Holy Month of Ramadan.
Sherif Elbassiouny, Managing Director of Leisure, says: "It is indeed our duty to inspire  the community and share what we have with those who are struggling to support themselves and their family by displaying our commitment to give back to the community we operate within whilst inspiring others to do so too.  
"The initiative with Qatar Red Crescent Society was initiated to encourage other market players to embrace their community spirit and support families across Qatar" Mr. Elbasassiouny added, "It is disheartening to see the number of people that have been affected as a direct result of the pandemic." 
Faisal Mohamed Al-Emadi, CEO of QRCS, thanked Leisure Parks for their noble action to help those in need, under their corporate social responsibility (CSR) program. "We hope this attitude will be echoed and cherished across the entertainment and other industries in Qatar, towards our ultimate goal of being there together for people everywhere," he commented. 
According to him, this distribution is part of the QRCS Ramadan Iftar project, under the larger-scale Ramadan Campaign titled "Giving Sustains Good". Over the course of the month, thousands of families here in Qatar and beyond will be receiving food parcels, Ramadan provisions, and fresh Iftar meals to help them observe the ritual of fasting during these days of solidarity, mercy, and spirituality. 
"At all times, we are wholeheartedly dedicated to our social, charitable, and humanitarian mission," Mr. Al-Emadi promised. 
Operating between 8PM and 2AM, Qatar's number one entertainment hub continues the Ramadan Spirit as they host their Garangao celebration. Visitors can expect to see mascots of local characters from across the Qatari landscape, with a selection of sweet treats for the whole family to enjoy. As per Garangao custom, children are encouraged to wear their traditional clothes and come together as a community during this auspicious period. 
About Leisure Parks 
Leisure is a 100% Qatari owned company; a pioneer in the realm of operating entertainment destinations and a dynamic environment that creates memorable family experiences. Founded in 2018, the company offers a full range of activities and experiences for the whole family to enjoy. Located in Doha Festival City, Leisure Parks comprises of three indoor-outdoor theme parks: ANGRY BIRDS WORLD™, SNOW DUNES™ and VIRTUOCITY™. 
Angry Bird World
Through a range of over 20 high thrill rides suitable for all ages, the world debut of Angry Bird World  was introduced to Qatar in partnership with Rovio entertainment and developed over a sprawling 17,000 square meter area that transports visitors on an adventure with the renowned furious flock. 
Snow Dunes
Needing to beat the heat? Snow Dunes boasts -4°C temperatures thanks to the world's most advanced snow-production technology. This truly inspiring indoor snow themed park encapsulates a Qatari folklore tale of a cold wave in Spring that blankets the land in snow, set amidst an immersive Arabian style castle. 
Virtuocity
Want to escape reality? Virtuocity is the region's first dedicated digital gaming capital that merges the virtual world with real-life in a thrilling, and immersive environment. Teenagers and adults alike can enjoy V-Cube virtual reality experience, escape rooms and a multipurpose eSports arena equipped with state-ofthe-art technology. 
For more information, visit: 
https://www.angrybirdsworld.qa 
https://www.snowdunes.qa 
https://www.virtuocity.qa 
Contact:
Tel: +974 5582 2990 
Email: diana.barbu@leisure.qa