Legends League Cricket Masters in Qatar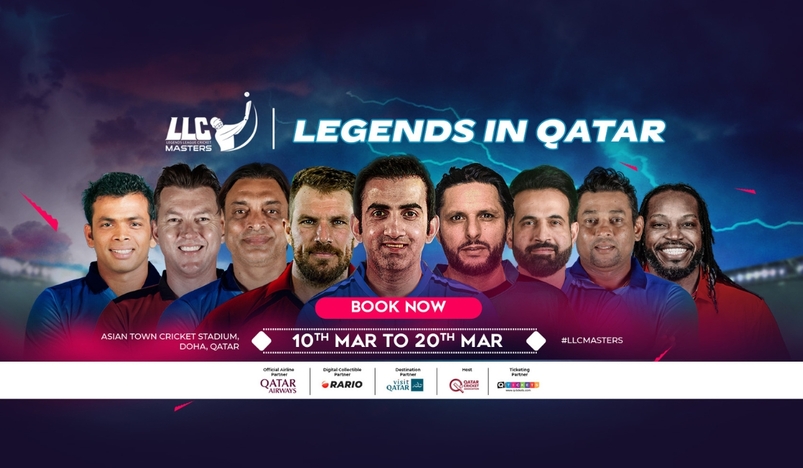 LLCM
The Legends League Cricket Masters is back with yet another season of incredible skill and sportsmanship!  The Qatar Cricket Association (QCA) will host the latest upcoming season of the Legends League Masters, the international edition of the Legends League, in Doha from March 10 - March 20 at 17:30.
The tournament was first held in 2018 and has since become a popular event among cricket fans worldwide. It offers a unique opportunity for cricket lovers to see some of the greatest players of all time come together and showcase their skills.
Featuring some of the biggest names in the sport, the premier T20 cricket tournament will see the 3 legendary teams battle it out for the trophy:
Some of the legendary players who will take part in this League include India's Gautam Gambhir, Irfan Pathan, Pakistan's Shahid Afridi, Shoaib Akhtar, Australia's Brett Lee, Shane Watson as well as Chris Gayle, and Lendl Simmons of West Indies.
The tournament has been held in various locations worldwide, including the UAE, Canada, and the United States, and is being held in Qatar for the first time. 
FIXTURES:
DAY 1 
Fri, Mar 10
India Maharajas v Asia Lions 
DAY 2
Sat, Mar 11
World Giants v India Maharajas
DAY 4
Mon, Mar 13
Asia Lions v World Giants
DAY 5
Tue, Mar 14
Asia Lions v India Maharajas
DAY 6
Wed, Mar 15
India Maharajas v World Giants
DAY 7
Thu, Mar 16
World Giants v Asia Lions
DAY 9
Sat, Mar 18
2nd Position v 3rd Position
DAY 11
Mon, Mar 20
1st Position v Winner Eliminator 
Following Qatar's immense success in hosting the best ever FIFA World Cup tournament, the QCA will be looking to recreate a similar atmosphere for all the cricket fans in the country and fans around the world when they stage the eight-match series which will take place at Asian Town International Cricket Stadium.
The president of Qatar Cricket Association, Sheikh Abdulaziz Bin Saoud Al Thani said "We at Qatar Cricket association feel elated to host Legends League cricket second season. We always strive for excellence in sports and are trying to make Qatar a sports-friendly destination. After the FIFA Qatar 2022 World Cup, Legends league cricket was a natural choice for us in cricket, with the biggest of legends playing in the league we look forward to having a wonderful tournament and making it a go-to cricket destination."
Hurry up! Book your tickets now on Q-Tickets.com