Lebanese singer Wael Kfoury to perform in Qatar at DECC on June 17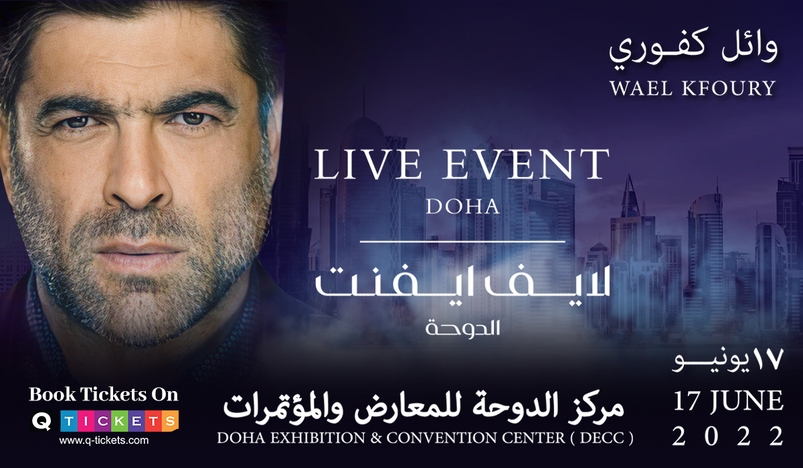 Wael Kfoury Live in Qatar
Lebanese star Wael Kfoury will be performing live in Qatar on June 17th 2022. The concert will take place at Doha Exhibition and Conference Center (DECC) in West Bay.
Michel Émile Kfoury, known by his stage name Wael Kfoury is one of the Middle East's most beloved and successful recording artists. He was born in 1974 and he is from the city of Zahlé in Lebanon. 
His career spanned over two decades where he first performed in "Studio El Fan," a televised talent search show that used to air on LBCI TV. Kfoury participated in the 92-93 television season, with stars like Elissa, Diana Haddad, and Moeen Shreif. He won the gold medal in the folk songs category. The show helped launch his career as one of the most successful music acts in the Arab world today.  
Wael Kfoury is known for his mesmerizing voice, confidence, stage presence, and charisma, and has been the subject of praise by many prominent music figures in the industry. He launched his professional career in 1994.
 
His first hit song, "Ma Wa3adtik Bi Njoum El Leil" was released in 1994 and was the first single from his first album, "Shafouha Wa Saro Ye'olou". In 1997, he released an album titled "Mayet Fiki," and his song "Min Habibi Ana" with Nawal Al Zoghbi was a huge hit in the Arab world, and it was this song that launched him them into superstardom.
The year of 1999 saw the release of his album "Hekayet Aasheq." After releasing his first album with Rotana records, "Saalouni," in 2000, which is also one of his most successful songs, he went on to record the 2002 hit "Omri Kello," "Bhebbak Ana Ktir" from "Wael 2006," and "Behin'' a song and an album of the same title in 2006.
With Rotana, Wael released 11 studio albums, and his last album with them 'W,' was released in 2017.  
Wael Kfoury has had a 28-year career that has seen him release many singles and sell out concerts time and time again. He has 16 studio albums to date and continues to release amazing music with captivating lyrics for his fans, earning him the title "The King of Romance". 
 
His last hit song was the song ''El Bint El Awiye'' or "The Strong Girl," which released in 2021 and generated over 130 million views on YouTube. It was written by Salim Assaf and Arranged by Omar Sabbagh. The song was shot at his luxurious home in his hometown Zahlé amongst his friends and family. 
Kfoury's last live performance in Doha was at Al Wajba Ballroom - La Cigale Hotel on May 26, where he sang to a packed audience. This time around this concert at DECC is being organized by Vogue Events. 
This concert will be held at the Doha Exhibition and Conference Center (DECC), near City Center and Gate Mall, which can be access from the DECC metro station in Westbay. The Doha Exhibition and Convention Center is a world-class venue for events and exhibitions. 
"This is going to be a memorable night for Wael Kfoury fans. We are glad to be able to provide online and offline ticketing solutions for this night of music and entertainment by none other than the King of Romance, right here at DECC in Westbay. We have been the leading ticketing partner and the go to place for all things entertainment, be it cinema or live events in Qatar for over 10 years. We are really excited about this concert and the numerous events lined up for the second half of this year as we get closer to the FIFA World Cup", said Mr. Bhaskar Bhatt, Senior Vice President of Q-Tickets.com. 
Where to Buy Tickets?
VVIP, VIP, Gold and Silver tickets will be available for purchase on Q-Tickets.com and the rates for the same can be found below:
• VVIP – 1200 QR
• VIP – 900 QR
• Gold – 600 QR
• Silver – 400 QR