Leave Entitlements for Employees in Qatar – A Comprehensive Guide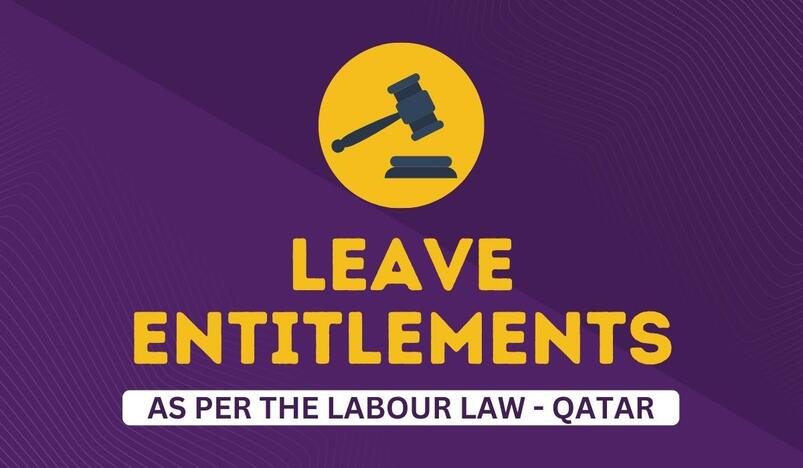 Leave Entitlements for Employees in Qatar – A Comprehensive Guide
In Qatar, employees are entitled to certain leave, which is governed by labour laws set by the government. As an employee, it is important to be aware of your rights to ensure you receive the necessary time off work.
In this article, we will be discussing the various types of leave available to employees in Qatar.
Under the Articles of Qatar Labor Law, employees are granted with following leaves (as per articles 78 to 85):
Annual leave

Sick leave

Maternity leave

Hajj Leave
Annual Leave:
All employees in Qatar are entitled to annual leave, which varies depending on their length of service. Employees who have worked for their employer for less than one year are entitled to two weeks of leave. For those who have worked between one and five years, the entitlement increases to three weeks, and employees who have worked more than five years are entitled to four weeks of annual leave. According to a 2021 report by the International Labor Organization, Qatar has one of the highest annual leave entitlements in the Middle East.
Sick Leave:
If an employee is ill, they are entitled to sick leave. The amount of sick leave available depends on the length of service and is calculated as follows:
First two weeks: Full pay

Next two weeks: Half pay

Next four weeks: No pay
Employees who require sick leave for more than eight weeks are considered for disability payments. As per Qatar Labor Law, employees are entitled to 90 days of disability payments, which is equivalent to full pay for the first 15 days and half pay for the remaining 75 days.
Maternity Leave:
Female employees in Qatar are entitled to paid maternity leave of 50 days, which can be taken before or after the birth of the child. In case of pregnancy complications or childbirth, the maternity leave can be extended for another 15 days. Employers must also provide female employees with suitable working conditions during and after pregnancy.
Paternity Leave:
Qatar Labor Law does not provide for paternity leave. However, some companies allow male employees to take time off for the birth of their child, which ranges from 3 to 7 days.
Hajj Leave:
Muslim employees in Qatar are entitled to Hajj leave, which ranges from 15 to 30 days, depending on their employer's policies. This is to enable employees to undertake the pilgrimage to Mecca, which is a fundamental tenet of the Islamic faith.
Annual Vacation:
In addition to annual leave, employees in Qatar are entitled to a one-month unpaid vacation, which can be taken after the completion of five years of service.
Employees need to be aware of their leave entitlements to ensure they receive the necessary time off for rest, recuperation, and personal commitments. Employers must adhere to the labour laws set by the government and provide their employees with appropriate leave. Qatar's labour laws provide comprehensive leave entitlements of international standards and reflect the government's commitment to protecting workers' rights.