Latest COVID-19 Measures to Follow in Qatar to Avoid Getting Penalties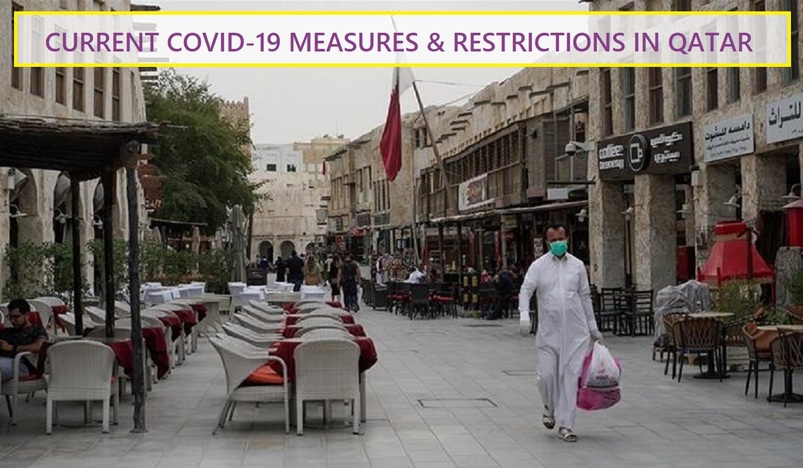 COVID-19 Restrictions and Measures in Qatar
As Qatar witnesses a drop in daily reported cases currently, the government has announced easing of coronavirus-related restrictions.
The number of daily cases has been drastically decreasing nationwide for the past months. Cases have dropped below 100 since September, new statistics from the Ministry of Public Health (MoPH) have shown.
The huge drop in the infections has been attributed to the combined impact of COVID-19 restrictions, increasing vaccination rates, and the overwhelming support of the community.
COVID-19 Restrictions (DO'S AND DON'TS)
In line with the cabinet decision based on Law No. 17 /1990 regarding infectious diseases, the competent authorities refer several people to the Public Prosecution for violating COVID-19 preventive and precautionary measures in force.
It is therefore important to follow the current policies imposed to curb the virus spread to avoid facing penalties or legal charges.
Here are some coronavirus-related Do's and Don'ts for your guidance:
DO
• Do wear a face mask in places where you need to wear one.
Remember: The Ministry of Interior (MoI) continues to refer people to the Public Prosecution for violating COVID-19 preventive and precautionary measures in force including those who are not wearing masks in certain areas.
To know when and where you should still be wearing a face mask in Qatar, read this article: Qatar Face Mask Policy: Your Guide to Wearing Masks in Qatar  
• Do install Ehteraz App.
Make sure you have an Ehteraz App installed in your phone and have it activated before leaving your house as authorities and establishments continue to check your health status via the app. Without this app, you will be denied access to most places in Qatar and you will be face hefty fines.
• Do comply with the conditions of quarantine.
Designated authorities arrest people who violated the requirements of the home quarantine, they are committed to following, which they are legally accountable for, in accordance with the procedures of the health authorities in the country.
Anyone who violates the quarantine will be subject to article no. 253 of law no. 11 of 2004, provisions of law no. 17 of 1990 on communicable diseases, and law no. 17 of 2002 on protecting society.
• Do maintain a safe physical distancing.
MoI arrest of violators of social distancing in implementation of the precautionary measures in force in Qatar, approved by health authorities represented in MoPH, to curb the spread of COVID-19.
DON'T
• Don't wear a face mask in places where you need to wear one. 
• Don't leave your house without installing Ehteraz App.
• Don't violate the conditions of quarantine.
• Don't come close to other people especially in public gatherings.
Easing of Restrictions
Face Masks
Masks regulations to be eased and offices can operate at full capacity following drop in daily cases.
Markets and Malls
Souqs, markets, and malls can now operate on every day of the week at full capacity, with children allowed to enter such facilities while abiding by the maximum number of customers allowed in each store.
Restaurants
Outdoor restaurants and cafes under "Qatar Clean" can also operate at full capacity, while those which have not been certified are allowed to operate at 50%.
Indoor restaurants and cafes under "Qatar Clean" are also allowed to operate at 75% while uncertified facilities can operate at 40%.
All restaurant and cafe workers must complete their required Covid-19 vaccines and children below 12 are allowed to enter with their families only.
Food Courts
Food courts are allowed to operate at a 50% capacity and all prayer areas and fitting rooms at malls are now reopening.
Museums and Libraries
All museums and public libraries are also allowed to operate at a full capacity.
Workplaces
Offices in the government and private sectors can resume operation at full capacity.
All employees and workers can return to their workplaces at full capacity. Those who have not yet been fully vaccinated are still obligated to conduct a rapid test.
Note: No further restrictions were announced, however, this comes as Qatar witnesses a drop in daily reported cases.
Vaccination Campaign
The hopeful figures come as health authorities in Qatar confirmed that over 81% of the country's total population have received 2 doses of the Covid-19 vaccine, marking a significant milestone in the country's rapidly expanding immunisation campaign.
Health authorities have been expanding the vaccination campaign, with the 3rd dose finally rolling out for high-risk groups.
Earlier this month, Qatar's MoPH began administering Covid-19 vaccine booster shots for high-risk individuals and announced plans to roll this out to the rest of the public in due course.
In total, more than 4.7 million vaccine doses have been administered since the start of Qatar's national vaccination program.
Community's Role
The MoPH said it is important for everyone to play their role in controlling the spread of the virus by following precautionary measures such as adherence to physical distancing, wearing a face mask, and washing hands regularly.
"Anyone suffering from COVID-19 symptoms should contact the 16000 helpline immediately. This is important as the earlier the disease is detected the easier it will be to receive the right treatment and recover from it," the MoPH added.