Large Quantities of Frozen Meat Seized for Violating Food Law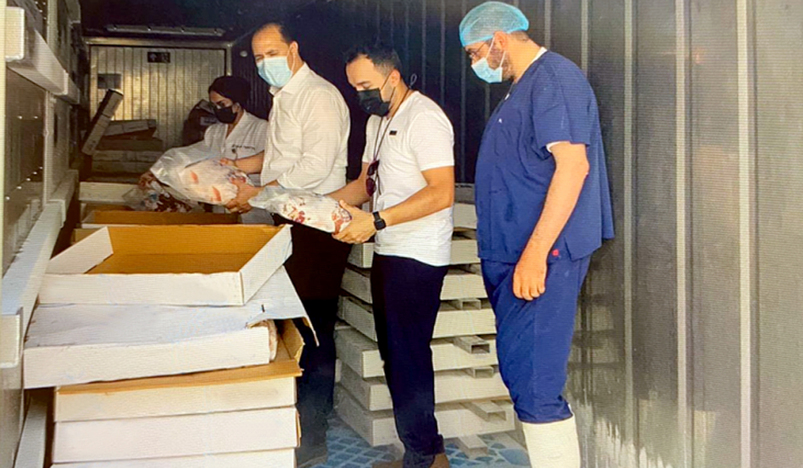 Frozen meat seized in Qatar
The Ministry of Municipality and Environment, represented by the central inspection team for health control at the office of the Assistant Undersecretary for Municipal Affairs, and in coordination with the competent municipality, seized about 5,500 kilograms of frozen meat prohibited from being circulated during an inspection campaign on a company, in violation of Law No. 8 of 1990 regarding the regulation of human food control.
Examination of the seized meat by specialized veterinarians revealed that the company had tampered with the method of preserving refrigerated meat, whose validity period does not exceed 14 days, and transformed it into frozen meat, and extended its validity periods for a whole year, in order to avoid spoiling it, which is a violation of the law regulating human food control in the State of Qatar.
3,000 kg of frozen meat were seized for the violation, and after tracking the company's other storage places, another amount estimated at 2,500 kg was seized, which was stored in one of the logistic warehouses, in violation for the same reasons.
Accordingly, legal measures were taken regarding the incident by issuing a violation report and seizing the quantities of seized meat in preparation for its destruction with the knowledge of the competent municipality in accordance with the procedures followed in this regard.
The Ministry of Municipality and Environment called upon the owners of food establishments and those in charge of them to abide by the laws regulating the work of these establishments, and the instructions of the competent supervisory authorities in order to avoid legal accountability, and to preserve the health and safety of community members.
SOURCE: QNA