Kuwait: Expats face deportation over protest against remarks on Prophet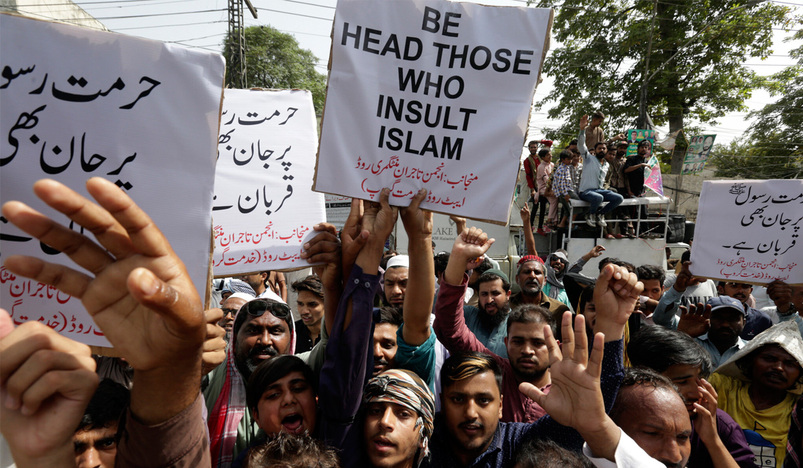 Pro-Prophet protest
Kuwaiti authorities have ordered the arrest of an unspecified number of expatriates who had organised a sit-in protest against recent derogatory remarks made by the spokespersons of India's ruling Bharatiya Janata Party about the Prophet Mohammed (peace be upon him), according to a Kuwaiti newspaper.
The protest was held after last week's Friday prayers in the area of Al Fahaheel in Al Ahmadi governorate, against offensive remarks made by officials in the ruling Indian party that sparked outrage in the Islamic world.
Kuwaiti newspaper Al Rai, citing security sources, said that the expatriate organisers of the protest will be deported because they had violated the country's laws that ban foreigners from holding sit-ins or demonstrations.
"Police are in the process of arresting and referring them to the Deportation Directorate to send them back to their home countries and not allow them to return to Kuwait again," the sources said without giving specific figures.
"All [foreign] residents in the country have to respect its laws and not to respond to any calls for sit-ins or demonstrations for any reason," the sources said. "Any law-breaking person will face a firm response." Foreigners make up nearly 3.4 million of Kuwait's overall population of 4.6 million.
Earlier this week, Kuwaiti police launched a security clampdown on illegal expatriates as part of efforts to expose violators of the country's residency and labour laws. Around 600 violators have been rounded up in the raids so far, Al Anba newspaper reported.
The crackdown is expected to pick momentum soon, according to a security source.
"The Interior Ministry, along with its intense campaigns nationwide, has made instructions to expedite the deportation of violators to prevent crowding inside the deportation prison," Al Anba quoted the source as saying.
Sponsors of the irregular expatriates, added the source, will be obligated to pay prices of their home return tickets. ?Last month, Al Anba reported that Kuwaiti authorities are likely to impose penalties on sponsors of foreigners who came to the country on visit visas and have not left in violation of rules. The penalties could include a two-year ban on those sponsors for obtaining any sponsorship visas.
- GULF NEWS