King of Spain Affirms Importance of HH the Amir's Visit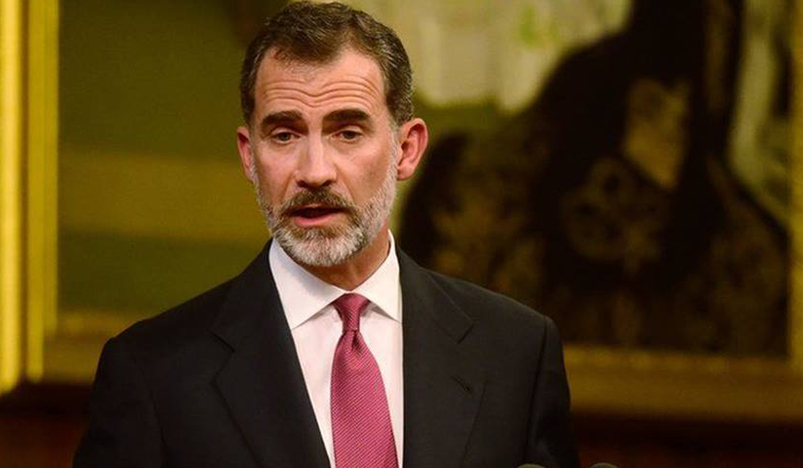 King of Spain Affirms Importance of HH the Amir's Visit
HM King Felipe VI of Spain welcomed HH the Amir Sheikh Tamim bin Hamad Al-Thani and HH Consort of HH the Amir Sheikha Jawaher bint Hamad bin Suhaim Al-Thani at the state dinner banquet hosted by His Majesty and HM Queen Letizia in honor of Their Highnesses at the Royal Palace today.
In a welcome speech, HM the King of Spain said: "It is an honor for me and the Queen to receive you and to welcome you and the important delegation that accompanies you on your first official visit to Spain," expressing his happiness for meeting HH the Amir at an important and meaningful timing, which is the celebration of the 50th anniversary of the establishment of the diplomatic relations between Qatar and Spain.
His Majesty stressed the importance of this visit in which it was decided to upgrade the distinguished relationship between the two countries to the level of a strategic partnership that looks forward to the future with a greater ambition.
His Majesty underlined that the relationship with the Arab countries is a fundamental pillar of the Spanish foreign policy, and it had important outcome, such as the Madrid Peace Conference in 1991 and the Euro-Mediterranean Conference in Barcelona in 1995. He noted that Spain wants in this context to strengthen its presence in the Gulf region and hopes to establish more stable and strategic ties that correspond to the increasing importance of this region in the world, in which he stressed that Qatar plays a major role.
HM King Felipe VI of Spain congratulated HH the Amir on the accomplishments achieved by the State of Qatar, noting that Qatar has turned into one of the most economically dynamic countries in the world, the most prominent and established in energy supplies, has the highest per capita income and the highest level of education, and has shouldered the responsibilities of facing great challenges, especially the organization of the FIFA World Cup Qatar 2022.
HM the King of Spain affirmed Spain's appreciation for Qatar's role in mediation and conflict resolution, and expressed Qatar and Spain's common aspiration for a comprehensive, just and lasting peace in the Middle East through the two-state solution.