King of Jordan Meets US House Speaker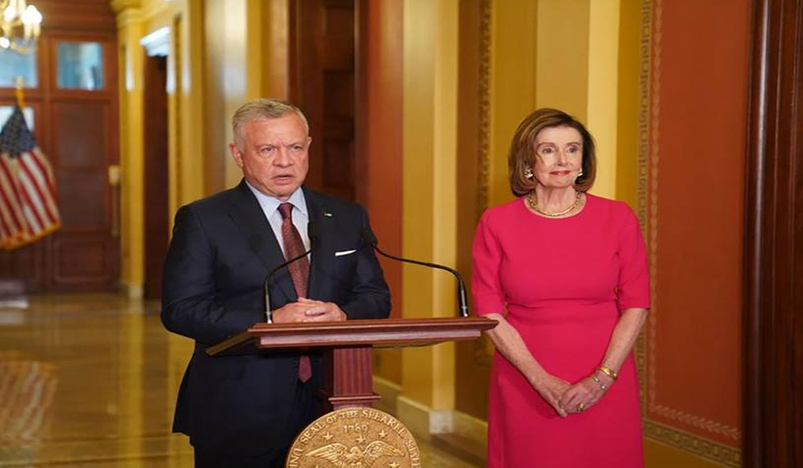 King of Jordan Meets US House Speaker
King Abdullah II of Jordan met with US House of Representatives Speaker Nancy Pelosi and House leaders.
In remarks to the media ahead of his meeting with Pelosi, King Abdullah commended the United States' support to Jordan. He said he looks forward to the meeting to discuss means of moving the region towards the light, and finding a new vision to the Middle East whereby leaders work toward achieving stability, especially with two years into the COVID pandemic, Jordan's News Agency (Petra) reported.
The King pointed to the impact of the crisis between Ukraine and Russia on stability and food security in the region.
Turning to the Palestinian cause, King Abdullah II reaffirmed the need to galvanize the peace process and relaunch negotiations between the Palestinians and the Israelis, on the basis of the two-state solution, guaranteeing the establishment of an independent Palestinian state on the 4 June 1967 lines, with East Jerusalem as its capital.
For her part, House Speaker Pelosi said she looks forward to discussing the issues of security, economy, and climate, adding that she is keen to listen to His Majesty's views on the issues of energy and water in the region, as well as addressing the implications of the pandemic.
The meeting touched on various regional crises and efforts to reach political solutions to them that would restore security and stability to the peoples of the region, in addition to efforts to combat terrorism.
US President Joe Biden is scheduled to meet Jordan's King on Friday to discuss the strategic partnership between the two countries and ways to enhance it in various fields, in addition to the latest regional and international developments. 
Source: QNA