KIAHF 2022 Auction Achieves Great Success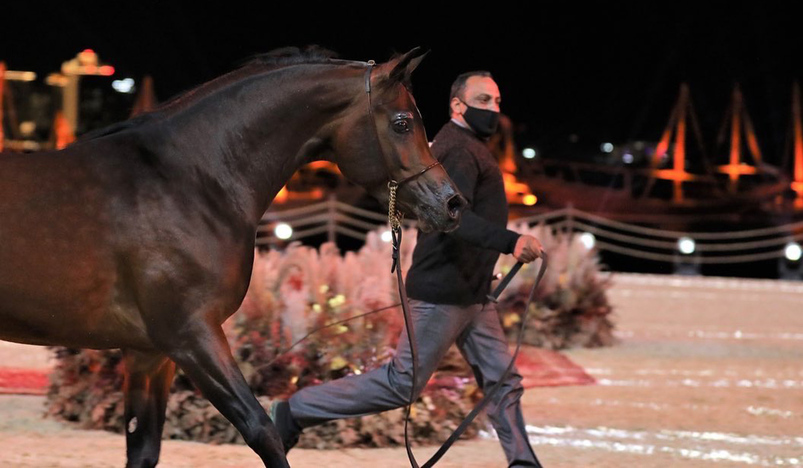 Katara International Arabian Horse Festival
The Auction of Katara International Arabian Horse Festival second edition (KIAHF 2022) took place at the Katara Esplanade on Monday evening, presenting 38 horses from the oldest farms and stables in the State of Qatar with a broad participation of horse owners.
The auction was attended by HE President of Qatar Football Association Sheikh Hamad bin Khalifa bin Ahmed Al-Thani, FIFA President Gianni Infantino, dignitaries, horse owners, breeders and equestrian sport lovers.
The auction event was held amidst strict precautionary measures in compliance with the safety standards followed in the country to prevent the spread of coronavirus with all social distancing measures being followed.
Commenting on KIAHFs successful staging, General-Secretary of KIAHF Organizing Committee Malika Mohammed Al Shraim said that equestrian is one of the most important sports for which Qatar provides great support, as it has worked tirelessly to implement international standards in the championships it organizes, which made it a global and distinctive sporting destination for horse owners and breeders and horse lovers who are looking for distinctive championships that contribute to preserving the authentic Arab heritage, and raise the name of Qatar high and make the nation proud in the equestrian field.
She added that the Katara International Arabian Horse Festival is one of the most important sporting events and seeks to protect the rich equestrian heritage through the diversity of its activities related to horses and equestrian sports, art and culture.
For his part, Nasser bin Sherida Al Kaabi of Qatar Racing and Equestrian Club, praised the professional organizational level of the KIAHF auction, which witnessed a qualitative and distinguished participation of the most prominent purebred Arabian horse breeds, noting that the beginning of the auction achieved great success amid great keenness by horse owners.
He added that the Katara International Arabian Horse Festival is one of the largest international festivals concerned with show horses, and witnesses a large presence of the best and most prestigious international horses, stressing that the festival wrote for itself a certificate of success thanks to the great cooperation between the constituent bodies of the organizing committee, foremost of which is the Katara Cultural Village Foundation.
He noted that the vision of the auction is based on the State of Qatar becoming a global center for Arabian horse auctions, the most ancient and of the highest quality, and promoting a culture of interest in auctions to participate in the championships of purebred Arabian horses that are organized locally and internationally. The auction also aims to provide an opportunity for interested owners, breeders and lovers of Arabian horses. Thoroughbreds, to acquire the best horses, especially that the horses offered in the auction are of the finest types and have previously won international and regional championships.
KIAHF is organized by Cultural Village Foundation, Katara, in association with Qatar Equestrian and Modern Pentathlon federation, Qatar Racing and Equestrian Club, and Qatar Foundation. The 11-day festival has a total prize QAR 17,083,500. 
QNA