Kanye West Supports Kim Kardashian, despite her controversial Met Gala look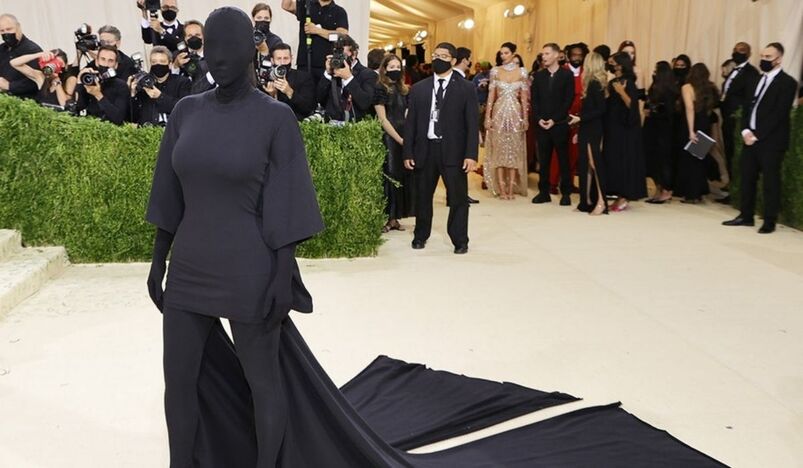 Kim Kardashian in her head-to-toe all black Balenciaga ensemble
Kim Kardashian's outfit at the Met Gala 2021 inspired so many vicious, funny, and genuinely inventive memes. When a celebrity like Kim Kardashian wears something outlandish like this, count on the internet to dissect it and convert it into hilarious memes in the most creative ways possible.  
For the Met Gala considering this year's 'American Independence,' perhaps a little too seriously, Kim Kardashian wore a T-Shirt dress with a full-body suit, jersey boots, pantaleggings, jersey gloves, and a mask covering her entire face with the exception of her hair, which protruded from the back.
Kim Kardashian Defends her 2021 Met Gala Look
Many have questioned her choice to wear the all black Balenciaga ensemble and how it fits with the theme. Kim Kardashian defended dress, which has been the most talked about topics since. Many people have questioned how Kim's faceless all-black Balenciaga outfit fit the event's "In America" theme, but she explained why her attire was so American.
She took to Instagram to defend her appearance, which has left many people perplexed. "What's more American than a T-shirt head to toe?" the 40-year-old actress captioned a photo of herself attending the Monday event.
Even though Kanye West and Kim Kardashian are no longer together, he always has her back. 
West offered his support for Kardashian's much-talked-about Balenciaga appearance at the Met Gala, just days after she stunned with her statement-making Balenciaga look. On Wednesday, the "Touch the Sky" singer shared two photographs on Instagram of his estranged wife's all-black, head-to-toe shrouded costume. He left it captionless, just like his prior post, and let the photographs speak for themselves.