Jumbo Electronics Announces the Mega Promotion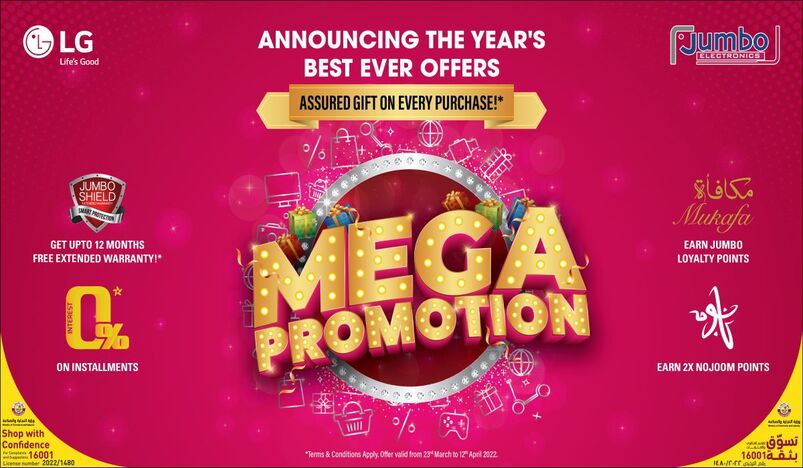 Mega Promotion
Doha: Today the rapid advancement in technology across consumer electronics & durables presents customers with a wide choice but also presents a unique challenge of making the right choice. In an effort to help consumers make informed decisions, 'Jumbo' has professionals who have undergone extensive training and have in-depth knowledge of products and brands available at the store. This enables them to do a quick assessment of the consumer's need and accordingly suggest the right product to them. Jumbo ensures it provides consumers with a safe and comfortable shopping environment at all their 13 stores across Qatar.
"Over the last couple of years, our homes have become the focus of our lifestyles. As a result, we see a strong demand from consumers wanting to celebrate their living spaces. Consumers constantly have a desire to upgrade to the latest gadgets & intelligent home appliances that drive convenience & productivity even from homes" said Mr. Sajed Jassim Mohammed Sulaiman, Vice Chairman & Managing Director of Jumbo Electronics Qatar.
In line with the long tradition, Jumbo is launching its bi annual Mega Promotion, keeping the customer's choice in mind. The promotion offers a wide range of assured gifts as per dedicated slabs. Customer's will not only get a benefit in terms of flat discounts on the world's leading brands, but will also receive an assured gift along with every purchase worth 1000 Qatari riyals and above. In addition to this, customers can also avail the monthly installment scheme using credit cards of leading banks, at 0% interest and pay over 6 or 12 months as per the respective bank's terms. Customers can also earn & redeem points through loyalty programs such as Air Miles, Jumbo Mukafa & Nojoom. Customers also have the opportunity to earn double Mukafa and those opting to purchase extended warranty on products will get upto 1 year FREE warranty during this period. 
The offer that starts from 23rd March and runs until April 12th 2020 offers are available at any Jumbo electronics retail outlet or online through www.jumbosouq.com.
Director & CEO, Mr. C.V. Rappai remarked "As Qatar enters into the glorious year of 2022 and gets ready to host the world's most prestigious sporting carnival, to match Qatar's discerning consumer's needs, Jumbo with its bouquet of high-quality premium products & brands strives to meet those growing aspirations".
Besides smartphones, TVs have been a consistent bestseller during the promotion period over the last few years. Rapid technological advancement in both these categories have led to continuous demand. Consumers are on a constantly look out for new technologies like OLED screens & better software integration to watch web-based content. Some of the LG TV's you can control by giving voice commands in English or Arabic.
Laptops & computer monitors have been steady performers as the pandemic saw an increase in demand for better solutions which enabled "Work & Learn from home". Gaming headsets & monitors are also gaining popularity among customers today. Similarly, convenience driven appliances like washing machines are reporting a strong growth and volumes. Consumers have many options to choose from a wide assortment of Brands across several categories and price range at Jumbo retail stores.