Jeremy Renner: Avengers actor thanks fans after being run over by snow plough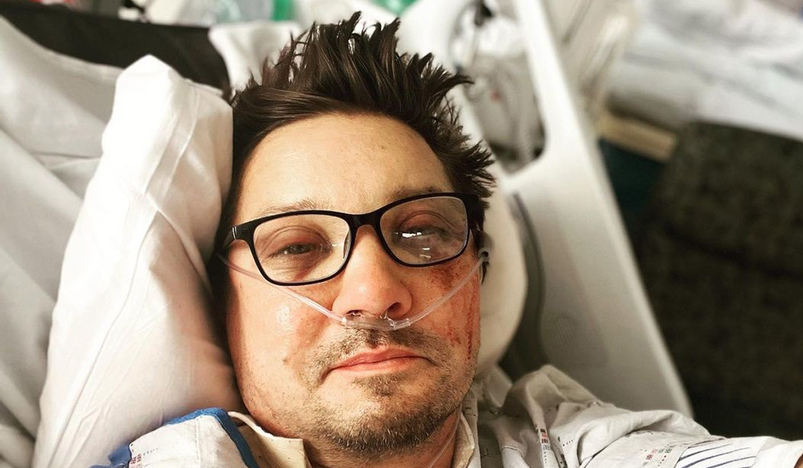 Jeremy Renner
US actor Jeremy Renner has thanked fans for their support after he was seriously injured by his snow plough.
Sharing a picture of his bruised face on Instagram, Renner said he was "too messed up now to type".
The Avengers star was airlifted to hospital on Sunday after the accident outside his home in Reno, Nevada.
Renner was run over by his own snow plough, which weighs at least 14,330lb (6,500kg) - three times as heavy as a car - the local sheriff said.
He suffered blunt chest trauma and orthopaedic injuries, his publicist said on Monday. At that time he was in a stable but critical condition in intensive care.
In an Instagram post from his hospital bed on Tuesday evening, Renner wrote: "Thank you all for your kind words. I'm too messed up now to type. But I send love to you all."
The tragic incident happened after a new year storm left around 3ft of fresh snowfall on the ground, Washoe County Sheriff Darin Balaam said in a press conference.
A family member driving Renner's car had got stuck in the snow near his house, the sheriff said. Using his snow plough, Renner successfully towed the car free.
He then got out to talk to his relative, but the snow plough began to move while empty.
Renner was trying to get back into the driver's seat to stop it moving, when the "extremely large" piece of equipment ran him over, Mr Balaam said.
The PistenBully weighs at least 14,330lb, he said. The average weight of a car, according to the US Environmental Protection Agency, is 4,289lb.
"An eyewitness detailed seeing Mr Renner getting into the PistenBully and not seeing him again until the PistenBully came to a rest in a pile of snow in front of his driveway," Mr Balaam said.
Renner is a "great neighbour" and always uses his snow plough to clear local roads, the sheriff added.
"Throughout the community he has been very generous and he's one of those individuals that most of the time you don't know he's doing it, but he has made a tremendous impact on this community."
At least 60 people in eight states were killed in the new year snowstorm. A day after Renner's accident, news emerged that rally driving champion Ken Block was killed when his snowmobile flipped at his ranch in Utah.
Two-time Oscar nominee Renner is best known for his role as Clint Barton/Hawkeye in the Marvel cinematic universe, starring in several Avengers films and in the spin-off television series Hawkeye.
He was nominated for an Academy Award for best actor for his role in The Hurt Locker in 2008, and for best supporting actor in The Town in 2010.
BBC News