Italian company joins DIMDEX 2022 to strengthen Qatar's maritime security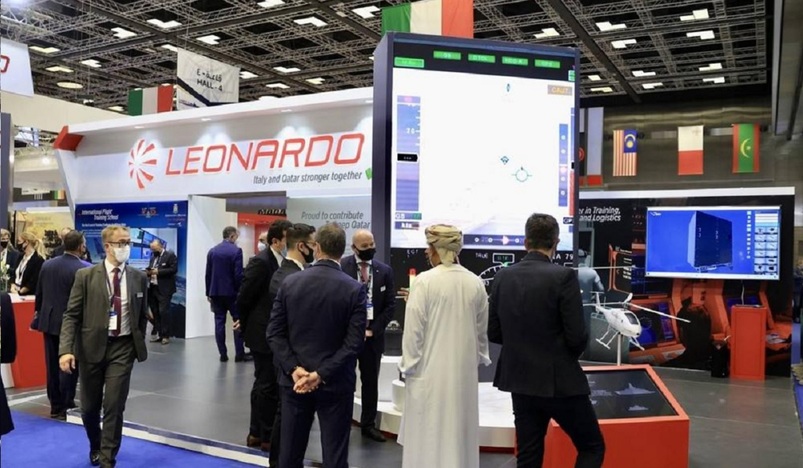 Italian Company, Leonardo, took part in the Doha International Maritime Defence Exhibition and Conference 2022
The Doha International Maritime Defence Exhibition and Conference 2022 (DIMDEX) is a crucial platform according to Leonardo — an Italian multinational company specialising in aerospace, defence and security, to strengthen its partnership with Qatar and showcase its advanced security and defence services to prospective partners.
DIMDEX
The 7th edition of the Doha International Maritime Defence Exhibition and Conference (DIMDEX 2022) was held from 21 to 23 of March 2022, under the patronage of HH Sheikh Tamim Bin Hamad Al Thani, Amir of the State of Qatar, and proudly hosted and organised by Qatar Armed Forces.
DIMDEX is a biennial event for the maritime defence and security industry and is established as one of the leading events that provides multifaceted entities with unlimited opportunities to initiate significant deals and partnerships.
Alessandro Profumo, Leonardo's Chief Executive Officer, said that the company's participation at the recently concluded event, is significant to its over 20 years of existence in Qatar, growing significant relations with the armed forces, government agencies as well as the private sector.
Profumo said:
"This exhibition is important to Leonardo because it gives us the opportunity to understand the region's security and defence needs, connect with key stakeholders in this critical industry, and understand what we can do more to meet our local partner's demands."
Leonardo recently delivered Qatar's first two NH90 Tactical Transport Helicopter (TTH), and the first two NFH naval helicopters will also follow after its qualification in the next couple of months. Deliveries will continue through to 2025. The delivery falls under a previous deal for 28 NH90s and comprehensive support, maintenance and training services and associated infrastructure, of which Leonardo is acting as prime contractor.
Maritime Security
The company's CEO disclosed that during this edition of DIMDEX, Leonardo and the Qatar armed forces signed a deal – further cementing the company's role in supporting the country's maritime security. The Italy-based company agreed to provide the Qatari Emiri Naval Forces (QENF) with a Naval Operation Centre (NOC) to ensure monitoring and control of territorial water, Exclusive Economic Zone (EEZ) and adjacent waters. At the same time, to enhance cooperation with other national agencies in charge of maritime security.
According to Leonardo, the NOC will provide command, control, and coordination of operations at sea, allowing the Armed Forces to carry out integrated monitoring by exploiting the high level of cooperation between all the sensors on the field.
Another vital partnership involving the company is the training of Qatar Emiri Air Force pilots — an agreement between QEAF and the Italian Air Force; Qatari pilots are flying Leonardo's M-346 advanced trainers at the International Flight Training School (IFTS) in Italy.
Cybersecurity Platform
Leonardo constantly updates its technology to counter growing threats. Its Cyber Range & Training Solution platform could simulate cyber-attack scenarios, allowing customers to assess the resilience of their systems against such incidents.
The Qatar Computing Research Institute (QCRI), 2021, contracted the company to supply this platform to facilitate the training of cybersecurity operators. With this, users would be able to practise their skills in simulated attack and defence scenarios, employing information technology (IT) and operational technology (OT).
Profumo stressed the company's commitment to sustainability, highlighting Scope 1 and 2, which cover direct emissions from owned or controlled sources and indirect emissions from the generation of purchased electricity, steam, heating and cooling consumed by the reporting company.
Profumo also mentioned the growing influence of unmanned aerial systems (UASs) in modern defence strategy. In this sector, Leonardo displayed its innovative AWHERO rotary unmanned air system (RUAS) at DIMDEX 2022. 
AWHERO has developed land and naval operations and can perform tasks such as maritime and border surveillance, homeland security, pipeline, and powerline monitoring, monitoring the environment and critical infrastructure, and supporting rescue efforts, disaster relief, and damage assessment during natural disasters. 
The CEO also highlighted the role of anti-drone technologies — or C-UAS, in today's scenario, with Leonardo able to provide highly tailored solutions for military and civil environments, like those operating with Italian, US and UK Armed Forces.
Leonardo is currently in the final stage of developing solutions based on a new digital approach thanks to advanced command and control systems, new radars and sensors and application data analytics and Artificial Intelligence-based technologies.