Iran arrests man after brown bear is beaten to death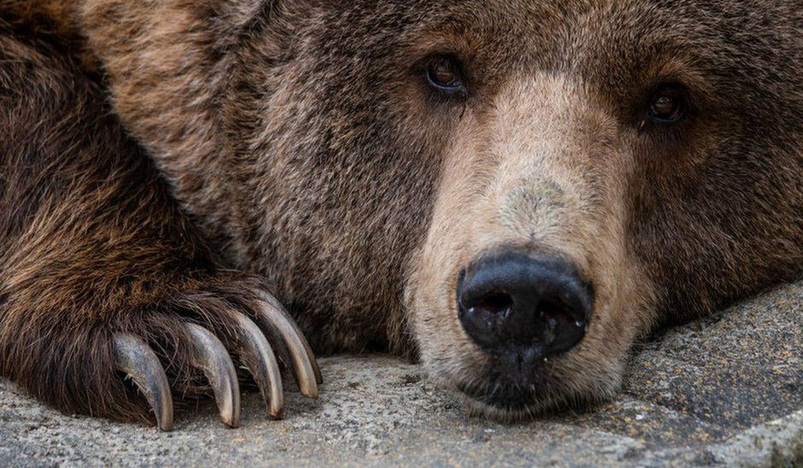 Brown bear
A man has been arrested over the beating to death of an endangered brown bear that wandered into a village in north-western Iran on Sunday.
Residents of Kenazaq, in Ardabil province, chased and hit the animal before using a tractor to restrain it, according to state news agency Irna.
A photo from the scene showed it pinned to the ground by a tractor wheel, with its neck tied to an earth mover.
Irna said the bear suffered a broken leg and pelvis and damage to its spine.
Irna reported that it was taken by environmental protection officers to a wildlife clinic, where it died from its injuries.
A local prosecutor denounced the "horrible" act, which he said had upset the population.
On Monday, the head of the judiciary in Ardabil announced that the "culprit" had been arrested, without identifying him, the semi-official Isna news agency said.
It is not known what, if anything, led the villagers to attack the animal.
Iran's population of brown bears, which is concentrated in the Zagros and Alborz mountain ranges, has decreased due to habitat loss, conflict with humans and hunting.
They are considered endangered by the International Union for the Conservation of Nature (IUCN), which monitors the conservation status of more than 100,000 species
Also in Iran on Sunday, an endangered Persian leopard was shot dead after attacking and injuring a policeman in the city of Ghaemshahr, north of the capital, Tehran.
A video posted on social media showed the animal standing on the front side of a building, above a bank, before leaping to the ground and causing onlookers to flee.
The leopard was later captured and transported to a wildlife refuge but died of the gunshot wounds.
Environmental protection officers are investigating whether the animal entered the city from a nearby forest or was being kept illegally as a pet and escaped.
BBC