IPL Mega Auction 2022: Iyer, Shardul, Chahar, and Kishan set to hit pay dirt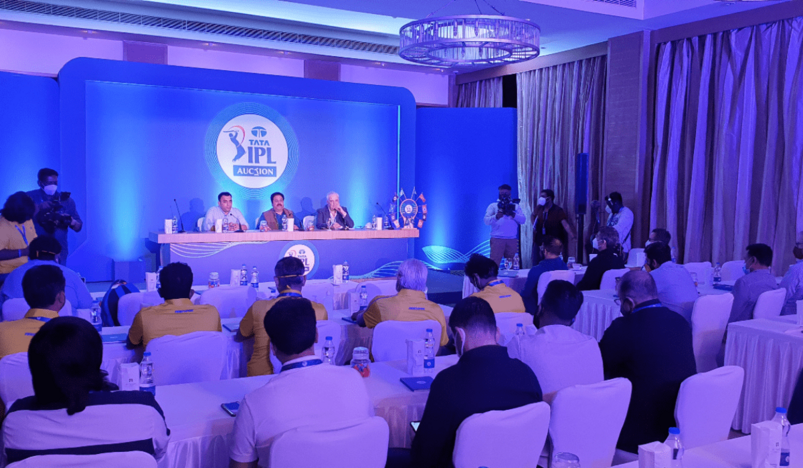 Mega IPL Auction 2022 Live Updates: According to IPL rules, each team can retain a maximum of four players, bringing down their overall kitty from the approved Rs 90-crore limit. (Photo: IPL/Twitter)
IPL Mega Auction 2022: Iyer, Shardul, Chahar, and Kishan set to hit pay dirt
IPL Mega Auction 2022 Team Players List, CSK, RR, MI, KKR, RCB, PBKS, SRH, DC, LSG Team 2022 Players List: 590 cricketers, including 227 overseas candidates up for grabs during the two-day event
IPL Mega Auction 2022 Team Players List, CSK, RR, MI, KKR, RCB, PBKS, SRH, DC, GT, LSG Team 2022 Players List: The 15th IPL auction is the last mega-event as the BCCI is planning to do away with the concept since most franchises don't want their stable core to be tinkered with.
The 10 teams in the league, following the addition of Gujarat Titans (GT) and Lucknow Supergiants (LSG), will be bidding heavily for the Indian players in a list of 590 cricketers, including 227 overseas candidates up for grabs during the two-day event. This year's auction might witness the maximum number of Indian million-dollar buys (Rs 7.5 crore and above) with more than 10 cricketers set to cross the Rs 10 crore bid range and some expected to hit close to Rs 20 crore.
While Iyer could be the highest ever auction buy (in the 20 crore range), the likes of Shardul and Kishan (keeper-batter), with their bouquet of skills, can also fetch anything in the range of Rs 12-15 crore or even upwards if some franchisees get into intense bidding wars.
??????-?????????????? ???????? ???????????????? ???????????? ?????? ?????? ??????! ?? ??

How excited are you for the #TATAIPLAuction 2022? ?? pic.twitter.com/R5TFi8g6XE
— IndianPremierLeague (@IPL)
February 11, 2022
The story goes like this… After the inaugural Indian Premier League auction in 2008, then Royal Challengers Bangalore owner Vijay Mallya got a phone call from a friend, who "congratulated" him for building "a very good Test team". RCB were in for a rude awakening in the opening game, when Brendon McCullum blasted 158 not out off 73 balls, while RCB's top order – which included Rahul Dravid, Wasim Jaffer, and Jacques Kallis – fizzled.
Fourteen seasons down the line, as the stage is set for another mega auction ahead of the 15th edition of the tournament, franchises have become smarter. They have got an understanding of the T20 format and its requirements. Franchises now focus on current form and potential. They want value for money.
The auction list of 590 cricketers has 10 marquee names upfront, each having a base price of Rs 2 crore. They would open the proceedings of a two-day auction in Bengaluru on Saturday and Sunday. Six of those players – Ravichandran Ashwin, Trent Boult, Shikhar Dhawan, Faf du Plessis, Mohammed Shami and David Warner – form the OT (over thirty) brigade. Don't be surprised to see one or two of them going unsold in the first round of the auction.
"It's a two-day auction and while you go to the room with a certain plan, opportunities might arise and you have to be ready with adequate money to be part of a bidding war," said a franchise chief executive.
Take the case of Dhawan. He is 36 years of age and has been left out of India's T20I set-up. His T20 strike rate is touching 125 openings the innings and according to some franchise insiders, the left-hander is being looked at as a bargain buys rather than someone who prompts the owners to break the bank.
A similar thought process exists for 37-year-old du Plessis despite his match-winning 59-ball 86 for Chennai Super Kings in last year's final. His IPL form last term didn't lead to Cricket South Africa considering him for the T20 World Cup. He is unlikely to be a hot property at this year's auction either.
"To a certain extent, old bonding plays a part. But beyond a certain level, you cannot be looking at what I would say is our attachment. It is going to be decided on the future of the team," CSK chief executive Kasi Viswanathan told The Indian Express.
Source: TheIndianExpressNews