IPA Qatar participates in WAIPA World Investment Conference 2022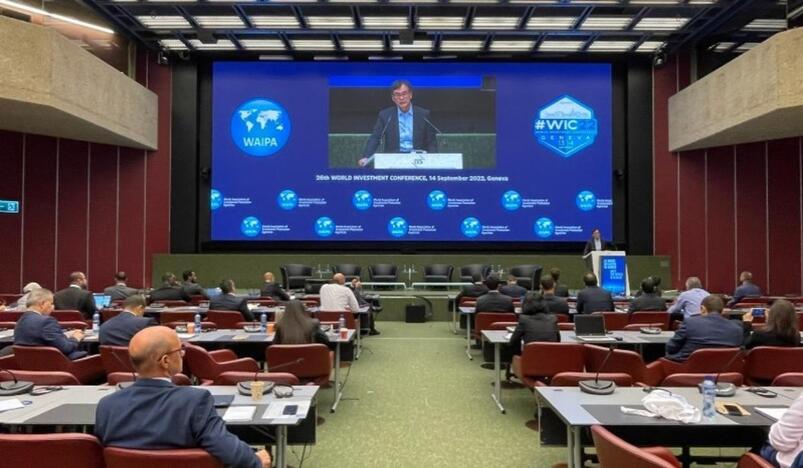 Image Source: Invest Qatar
The Investment Promotion Agency Qatar (IPA Qatar) participated in the 26th World Investment Conference, hosted by the World Association of Investment Promotion Agencies (WAIPA), in Geneva, Switzerland, from September 13 to 14. Held under the theme of "IPAs shaping the future of FDI", the 26th edition convened investment promotion agencies (IPAs), alongside high-level business and political representatives from more than 100 countries, who addressed current economic and social issues that may affect global investment flows and policy considerations.
Leveraging Qatar's position as a strategic hub on the world investment map, IPA Qatar's participation aimed to promote the country's promising business landscape, while discussing economic development and investment attraction with counterparts. The Agency also led a series of business engagements and networking meetings to exchange views on the latest investment trends and explore new multilateral partnership opportunities, in addition to widening its network with potential investors.
IPA Qatar's senior delegation also joined the "High-level Working Group for Global Startup Support Pillars". The session provided a structured dialogue to identify unique support pillars of the global startup ecosystem through the experiences of countries that are pioneers in creating such robust mechanisms in their economies. Focusing on building capacities and developing an Action Plan for the Global Startup Ecosystem, the session will result in developing a Global Startup Toolbox. The Toolbox will be released internationally to serve as a guiding source for national governments, innovation agencies, and startup ecosystem enablers in developing pathways for nurturing startups and creating a vibrant innovation environment.
Hosted since 1995, the WAIPA World Investment Conference (WIC) offers formal panels, networking opportunities, and social events for the members. This year's agenda tackled various topics, such as the energy transition investment trends, building a sustainable global startup ecosystem, opportunities, and challenges of digital FDI, and the reshuffles in global value chains and their effects on investment opportunities.
Source: Invest Qatar