Invest Qatar Announces Qatar Pavilion at 4th China International Import Expo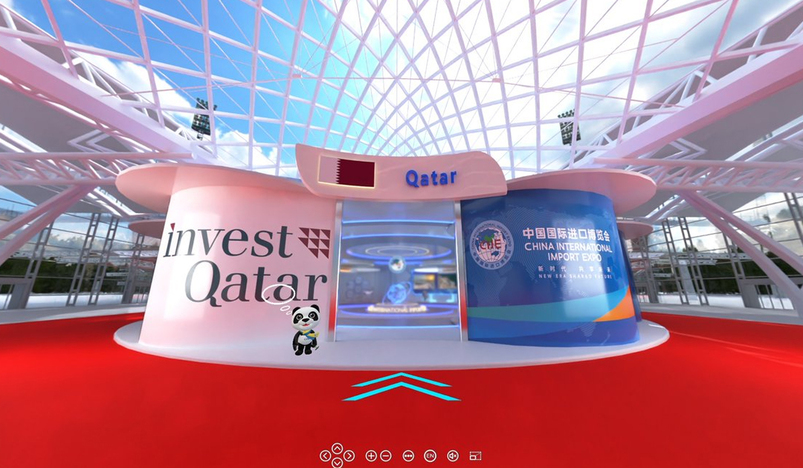 Invest Qatar Announces Qatar Pavilion
Invest Qatar announced that it will host a virtual Qatar Pavilion via an online exhibition on the official website of the 4th China International Import Expo (CIIE). The Expo, which is organized by the Chinese government, will be held virtually and in Shanghai over five days between 5-10 November 2021 and comes under the theme "New Era, Shared Future".
The Qatar pavilion, which is the first of its kind for Qatar at the annual exhibition, will comprise of four sub-themes: Culture and Tourism, Development Achievements, Leading Industries, and a Representative Entities area made up of the Ministry of Commerce and Industry; the Qatar Financial Centre; the Qatar Free Zones Authority; and the Qatar Science and Technology Park. Qatars participation in this years Expo aims to present the States fertile business landscape and the services of its licensing platforms to international companies and entities from around the globe.
Commenting on Qatars participation in the Expo CEO of IPA Qatar Sheikh Ali Alwaleed Al-Thani, , said: "We are delighted to represent Qatar at the countrys first pavilion at this years China International Import Expo. Attracting foreign investment continues to be a key pillar of our national growth and diversification strategy, and our participation will also strengthen our cooperation with key partners such as the Peoples Republic of China to drive bilateral investment and development between our two countries. Our participation will also showcase our countrys attractive pro-business climate to investors from around the world that are attending the Expo, and we will continue to work closely with new and potential partners to increase opportunities for foreign investment into Qatar."
For his part, HE Ambassador of the People's Republic of China to the State of Qatar Zhou Jian said "On behalf of the Chinese government, I would like to express my appreciation to Qatar for its support and active participation in the 4th CIIE. Qatar has participated in all editions of the CIIE since its first session in 2018, and Qatars participation reinforces a positive message that both China and Qatar are committed to further deepening their economic, trade and investment cooperation."
Hosted by the Chinese Government, the CIIE aims to strengthen international procurement, investment promotion, cultural exchanges, and open cooperation between countries globally and to connect exhibiting countries with participating representatives from both the public and private sectors. More than 3000 enterprises from 127 countries and regions will display their quality products and services at this years event.
Source: QNA